Procedure for SCC Policy and Procedure Development and Management
Division: Institutional
SCC Policy Number: SPR1.9-1P
Issued: 7/26/2019
Revised: 8/23/2019
Approved SCC President/CEO: 8/23/2019
Reference KCTCS Policy:
---
Procedure:
SCC adheres to KCTCS policy and procedure first, but when additional policies and procedures are required, this procedure will be used to develop, approve, and implement SCC policies and procedures.
Overview:
Policy is not developed lightly and should be seen as a means for adding detail to existing system policy that meet the local need. SCC policy is not intended to replace system policy and may not supplant or supersede existing system policy. SCC policy should provide clear guidance for SCC employees and ensure students and employees are treated fairly.
SCC operates using a shared governance system consisting of four area councils and one association. Each of these groups is represented on the Leadership Council where policy and procedure approval takes place. Any of the four councils and association may introduce policy and procedure for consideration and approval by the Leadership Council. The Leadership Council must give each policy at least two readings at two separate meetings before approving. Procedures must have at least one reading before approval by the Leadership Council.
While any of the four councils and association may develop and present policy to the Leadership Council for approval, policy must be reviewed with all applicable college offices while in development. Policies must also be reviewed by all four councils and one association before approval. It is highly encouraged that any group developing policy work closely with the office primarily responsible (OPR) for implementing the policy prior to bringing it to the Leadership Council for approval.
Process:
Establish need. The need for a specific policy and/or procedure is determined and discussed by the individual(s) within their particular council leadership. A full discussion about the purpose of the policy and why it is required should be determined. Once the decision to move forward is made, a working draft is developed.
The working draft is coordinated with offices on campus to solicit their input. For example, if the policy is being developed by faculty members, but impacts Student Affairs and the Business Office, both offices should be consulted and any inputs added to the draft. Once input from these offices is complete and the decision to move forward is made, a proposed draft using the formats shown in Appendix A (policy format) and/or Appendix B (procedure format) is presented to the appropriate council for approval to add the policy and/or procedure to the Leadership Council agenda for a first reading.
The appropriate council (faculty, staff, management, or executive) or SGA, using their individual processes, reviews and votes to either forward the proposed policy to the Leadership Council or to reject it.
The appropriate council Leadership Council member presents the policy and/or procedure for addition to the Leadership Council agenda at the agenda setting meeting. The Agenda Setting Committee may add it or return it for modifications. Once added to the Leadership Council meeting, it becomes part of the Consent Agenda, and copies of the policy and/or procedure are available to all Leadership Council members and posted on the KCTCS SharePoint site for others to access.
The Leadership Council (LC) meets, and if not pulled for separate discussion, the policy and/or procedure will be approved for the first reading. The LC may also discuss and disapprove the policy and/or procedure pending additional changes, or the LC may disapprove the policy in its entirety. Procedures are approved or disapproved for consideration with the first reading. Policies disapproved are returned to the nominating council for revision and possible resubmission.
Once approved for the first reading in the Leadership Council, the policy is available for additional review and comments until the second reading at the next Leadership Council meeting. Following the first reading at the LC meeting, KCTCS Legal department will review all SCC policies to ensure compliance to state and federal law as well as KCTCS policies. Additionally, SCC Director of Diversity, Equity, and Inclusion will review SCC policies to ensure language and intent that supports diversity, equity, and inclusion. Suggested changes will be available prior to the second reading. During the second reading, additional non-substantive changes may be made before final approval. These include typographic or grammar changes and do not affect the intent of the policy. Once all changes are made, the final vote is taken for the policy. If approved, the policy and/or procedure is forwarded to the VP of Administration to be numbered, signed, and posted. All employees, SGA members, and SCC Board of Directors receive an electronic copy.
All policies and procedures are effective based on the effective date listed on the original approval or review.
Substantive changes or removal of approved policies will be approved through a single reading as a consent agenda or action item.
Flowchart:
Use the following flow chart for reference as the process described above is accomplished.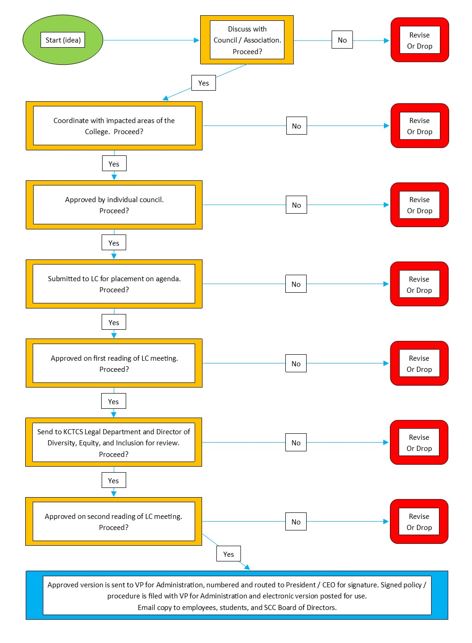 Review:
All policies and procedures are reviewed annually during the spring semester to become effective on July 1 of that year, unless otherwise noted. Each area vice president is responsible for ensuring policy and procedure reviews occur, where ample opportunity for input by all college employees, SGA members, and SCC Board of Directors can be obtained. Policies being reviewed require only one reading for approval in the Leadership Council meeting. Dates reviewed and approved should be added to the policy/procedure with date approved.
Policy/Procedure Numbering:
KCTCS policies are organized in specific groups for listing and review. SCC policies and procedures will be numbered to correspond in the same major areas. The VP of Administration determines the appropriate number for each policy/procedure after it is approved. Generally, if an SCC policy/procedure directly supports a KCTCS policy, it will utilize the same numbers as the KCTCS policy it is supplementing. If the SCC policy is more detailed or less detailed, it would add or remove the last placeholder number to allow the reader to locate the parent KCTCS policy more easily. For example, if the policy was about Performance Review, KCTCS policy 2.5, and the SCC policy and/or procedure pertains to a broad number of sub areas in 2.5, the SCC number would be SP (policy) or SPR (Procedure) 2.5-1 (add-2, -3, etc. for subsequent policies/procedures). If the example SCC policy pertains to PPE Appeals, the number would be SP2.5.1.4-1 since the KCTCS parent policy is 2.5.1.4. The prefix of SP or SPR and the -1, -2, -3, etc.,
immediately identifies policy or procedure as an SCC document. The numbering matrix is shown below and provides initial guidance for SCC policy/procedure organization. Final numbering assignment will be determined by the VP of Administration.
| | | | |
| --- | --- | --- | --- |
| AREA | KCTCS Section Number | SCC OPR (Office of Primary Responsibility) | NOTES |
| Administration/Governance | 1 | President's Office | Also includes system policies management |
| Human Resources | 2 | VP of Administration | Also includes faculty rank, promotion, leave, attendance |
| Equal Opportunity, Benefits, Health and Safety | 3 | VP of Administration | Also includes speech, alcohol, emergency response, email, motor vehicle use, employee benefits |
| Academic and Service | 4 | VP of Academic Affairs | Also includes IT, technology, social media |
| Financial | 5 | VP of Administration | Also includes major equipment/facilities planning, budget management |
| Student Affairs | 6 | VP of Student Affairs | FERPA, student publications, grievance |
| Independent Foundations, Grants, Contracts | 7 | VP of Advancement | Fund raising guidelines, disclosure, naming buildings |

Posting/Reference for Use:
The VP of Administration will receive an electronic version of the approved policy or procedure from the Leadership Council and complete the following process:
Assign the appropriate SCC policy or procedure number.
Place the effective date and other header information as required.
Proofread the policy or procedure, noting any corrections. No substantive changes may be made to an approved policy or procedure without approval of the Leadership Council.
Forward a paper copy to the president's office for signature.
Make a PDF copy of the signed policy/procedure and maintain a file of all signed policies and procedures in the VP of Administration office.
Post the approved policy/procedure to the SCC Policies and Procedures webpage for access.

Send a link to the new or revised policy/procedure to all employees, the SGA President, and to the SCC Board of Directors.