CDL Program
Learn To Drive The Big Rigs!
CLASS "A" TRACTOR-TRAILER/COMMERCIAL DRIVER TRAINING COURSE
(877) 629-9722 (ext. 6692)
(606) 451-6692

This Certificate Program is approved, authorized and licensed by the Kentucky State Board for Proprietary Education.
Tractor-Trailer / Commercial Driver Training Highlights
This course is designed for individuals with little or no commercial driving experience. This program includes all the learning tools needed to pass the Class "A" CDL driver's test. The individual will receive a learner's permit, cover endorsement preparation and DOT rules and regulations, vehicle inspection, log books, map-reading, trip planning, and complete vehicle training to prepare for an entry-level position in the trucking industry. In addition, the program includes the Class "A" CDL road test. A certificate is awarded upon completion. Training is scheduled around holidays and interruptions caused by weather or other unforeseen circumstances.
Course Outline / Classroom – 40 hours

Orientation
CDL Permit Study
Endorsement Study
Log Book / Hours of Service
Map Reading / Trip Planning
DOT Regulations
Hazard Perception
Night Operation
Extreme Driving Conditions
Railroad Crossing Safety
Accident Reports
Combination Vehicles
Driving Range / Road Skills – 120 Hours

Pre-Trip Inspection
Couple / Uncouple
Straight-Line Backing
Offset Backing
Parallel Parking
Shifting / turns
Double Clutching
Hazard Perception
Uphill / Downhill Grades
Ramps
Lane Changes
Space Management
Class "A" CDL Skills Test
Program Information
The course consists of 160 hours and may be completed in approximately 4 weeks. Classes are 40 hours per week, Monday through Thursday, 8am to 7 pm, with an hour for lunch and two 15- minute breaks. No classes are held on Friday.
Program Entry Requirements
A high-school diploma or GED is not required.
Be able to read, write and speak the English language
Be able to meet the Federal Department of Transportation (DOT) physical requirements
Be able pass a drug screen
Have a valid driver's license at the time of class registration
The program may train individuals 18 and over, but has limited job-placement assistance resources for individuals under the age of 21.
It is recommended that the student obtain a copy of their Motor Vehicle Report (MVR) from the Circuit Court Clerk's office prior to starting the program.
The following may disqualify individuals:
Driving record inconsistent with industry standards for entry-level driving positions
History of drug or alcohol abuse
History of mental disorder
Permanent disability or other physical limitations
Course Fee - $4,100
160 Hour Class "A" Tractor-Trailer/Commercial Driver Training Program
Included in fees:
DOT Physical / Drug Screen
Instruction Permit
Kentucky Commercial Driver's License

Refund Policy
Withdrawal with refund (less any expenses incurred) must be in writing by the end of the second day class meets. After the second day of class, the school does NOT refund any tuition or partial tuition if the school is capable and willing to train the student. In the event the student does not pass the DOT physical, any monies paid toward tuition will be refunded, minus the cost of the DOT physical.
Payment Methods
Personal financing, such as your own bank
Loans from family members
Loans from life insurance policies
Refinancing of an existing loan
MasterCard / Visa / American Express
WIOA - Workforce Innovation and Opportunity Act
TAA – Trade Adjustment Assistance
Kentucky Farm Worker Programs
(Contact your local job service office to see if you qualify for WIOA, TAA or KY Farm Workers benefits)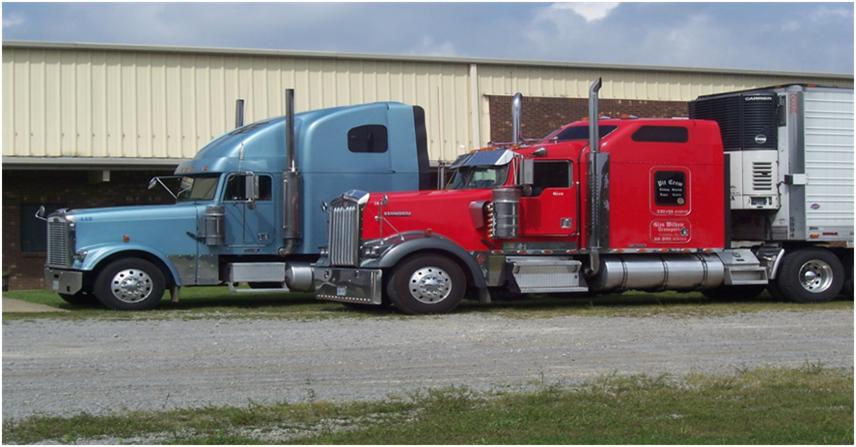 Contact Information
Our classroom is located at:
Somerset Community College
Somerset Campus South
230 Airport Road – Bldg. 1
Somerset, KY 42501
606-451-6692
SCCWorkforceSolutions@kctcs.edu