First generational college student Tyler Stapp finds success: scheduled to speak at SCC event
Published on Nov 2, 2023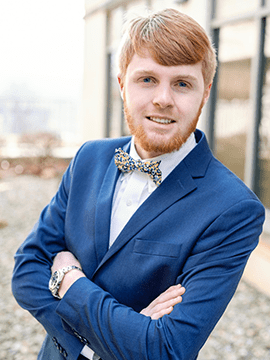 Tyler Stapp is a true SCC success story. Stapp was the first person in his family to receive a college degree and continued his higher education to acquire multiple college degrees and now owns a successful business.
While at SCC he had an all-in mentality and served as the Student Government Association (SGA) president. In addition to SGA, Stapp was also involved in Alpha Delta Pi.
"Getting more involved in these organizations made me more connected to staff members and students, which resulted in life-long connections," Stapp said.
During his time at SCC, he pursued a dual academic path, completing pre-nursing and business courses, which led to the attainment of a CNA license, an Associate in Arts, and an Associate in Science degree. Additionally, he received a distinguished leadership award from SCC President Dr. Carey Castle, an Alpha Delta Pi leadership award, was an honor scholarship recipient, was appointed to the SCC Board of Directors while SGA president, and earned a volunteer award for his 1,500 hours of community service renovating the Student Union building. He achieved all of this while working full-time in the medical industry.
After SCC, Stapp quickly found himself taking the next step in his higher education journey. He pursued and acquired a Bachelor's degree in business from University of the Cumberlands in 2021 and finished his Master's degree in 2022.
Like many other students, Stapp had other responsibilities he juggled while in college. He worked full time in the medical industry during the pandemic, all while balancing a full load of college credits and volunteering his time to multiple non-profit organizations.
With his background in the medical industry and knowledge of business, Stapp became an entrepreneur with the launch of his business, Stapp's Enterprises.
However, the road to this success may not have looked probable for Stapp when he was in high school.
"I have had a lot of people try to push me down over the years. "They said I would never amount to anything," Stapp reflected.
Stapp battled a medical condition that led to him having brain surgery while in school at Russell County High School. Before his surgery, he had 1.2 GPA.
After recovery, Stapp was able to raise his GPA to 3.75-3.9 by the time he graduated high school in 2018.
When he went to college, Stapp realized he had some gaps to fill in his education due to his medical condition through most of high school and due to his recent brain surgery, he wanted to stay close to home.
Stapp quickly learned that being a first Generational College student had some challenges.
"I was very far behind from an educational standpoint," Stapp said. "I was playing catch up and still wasn't prepared for college. I heard about TRIO and SCC Student Support Services and decided to reach out for some assistance navigating this new college experience."
Stapp began to take gap courses at SCC and started to get involved on campus.
Rebecca Thurman, an Academic Advisor at SCC, remembers Stapp from her first interaction with him.
"Tyler is such a wonderful and inspirational young man. We first met during an SCC Open House on the Somerset Campus," Thurman said. "To watch his progress and continued growth is such a humbling experience. I am blessed to have had him in TRIO Student Support Services."
Stapp still stays connected to his SCC family he acquired at the beginning of his higher-education journey.
"I still have professional and personal friendships with many people at SCC that have helped me get to where I am now in some way," Stapp said.
SCC president Dr. Carey Castle confirmed Stapp's effort in making lasting connections.
"I was very appreciative of his willingness to stop me in the hall or come by the office to discuss any issues or news that was important to him and our students. I think most of all, he cared. He demonstrated this by the work he did for SCC and the students such as the Student Union Building."
Currently, Stapp serves on the Kentucky Rural Health Association board, serves as a member of American College of Healthcare Executives and a participant in the BRIGHT Leadership Kentucky 2023 cohort. He is working on growing his business that focuses on helping non-profit independent organizations mostly rooted in independently owned healthcare facilities. As if that was not a full plate, he has added real estate and finance to his business reach.
"My business was inspired due to my experience of working in hospitals during the pandemic. I wanted to help independent hospitals use their finances better and create a better environment and experience for those who work at the facilities and need to use the services of the hospitals," Stapp said.
Stapp continues to advance his career and is working on some low-income housing projects in Kentucky and is providing an after-school program in high schools that teach teenagers personal finance.
The South Central Kentucky Chamber of Commerce recognized Stapp with the 40 under 40 award. Stapp says he wants all his decisions and time to impact society positively. It is his passion.
"My goal is to keep making a difference in society," Stapp said. "That is my passion that drives me to keep going for the next big thing in my career, to impact Kentucky communities."
Castle praised Stapp for his impact on the community.
"I always saw Tyler as a "doer" while he was a student at SCC. He was very involved with student activities and leadership and wasn't afraid to get involved. Those type of attributes are very apparent now as I see him working in our communities and Commonwealth," Castle said. "He was a great student, now headed down the path of a successful man who will continue to contribute for the better of our communities."
The community is invited to hear Stapp speak at the 2nd annual 1st Gen Day at SCC on November 8, at 11 a.m. in the Harold Rogers Student Commons, Citizens National Bank Community Room. He will be addressing First Generational college students and sharing some wisdom he has gained along his successful journey.