Somerset Community College Health Science Division Announces October Student of the Month
Published on Oct 12, 2023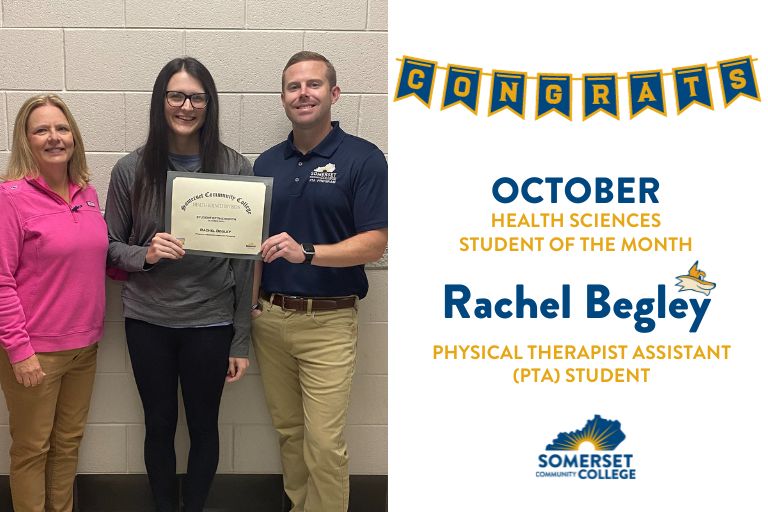 A student currently enrolled in second-year studies in the Somerset Community College (SCC) Physical Therapist Assistant (PTA) Program has been named the recipient of the SCC Health Sciences Division's Student of the Month for October. Rachel Begley of Springfield, KY received the award and is now a candidate for the Division's Student of the Year, to be announced in May 2024.
Begley is a member of SCC's Physical Therapy Service Organization, was appointed to serve on the PTA Program Advisory Committee, and was named to the APTA-Kentucky All-Academic Team. She has participated in fundraisers for the Foundation for Physical Therapy Research and volunteers for the Special Olympics and March of Dimes.
Physical therapist assistants work under the supervision of a physical therapist to provide patient services that alleviate pain, restore function, and improve performance. SCC's program is highly regarded nationally, having been named the "Most Successful PTA Program" in the United States fourteen times by the Foundation for Physical Therapy Research. Many students have received state and national recognitions and have been elected to leadership positions. October is National Physical Therapy Month.
Begley was recommended for the award by program faculty members Dr. Corey Moore and Dr. Melanie Hines. "Our program is lucky to have many outstanding students" states Dr. Moore. "Rachel is an excellent representative of her class and our program. She is hard-working, respectful, and compassionate. Qualities that are highly valued in the field of physical therapy. I look forward to watching her develop into a fantastic physical therapist assistant.
Begley is expected to graduate with an Associate of Applied Science Degree from the Physical Therapist Assistant Program in May 2024, with plans to work in central Kentucky and possibly pursue a doctorate degree.
For more information about the SCC PTA Program, contact the program coordinator Dr. Corey Moore.