SCC Department of Theatre & Film to hold auditions for Almost, Maine by John Cariani
Published on Aug 16, 2023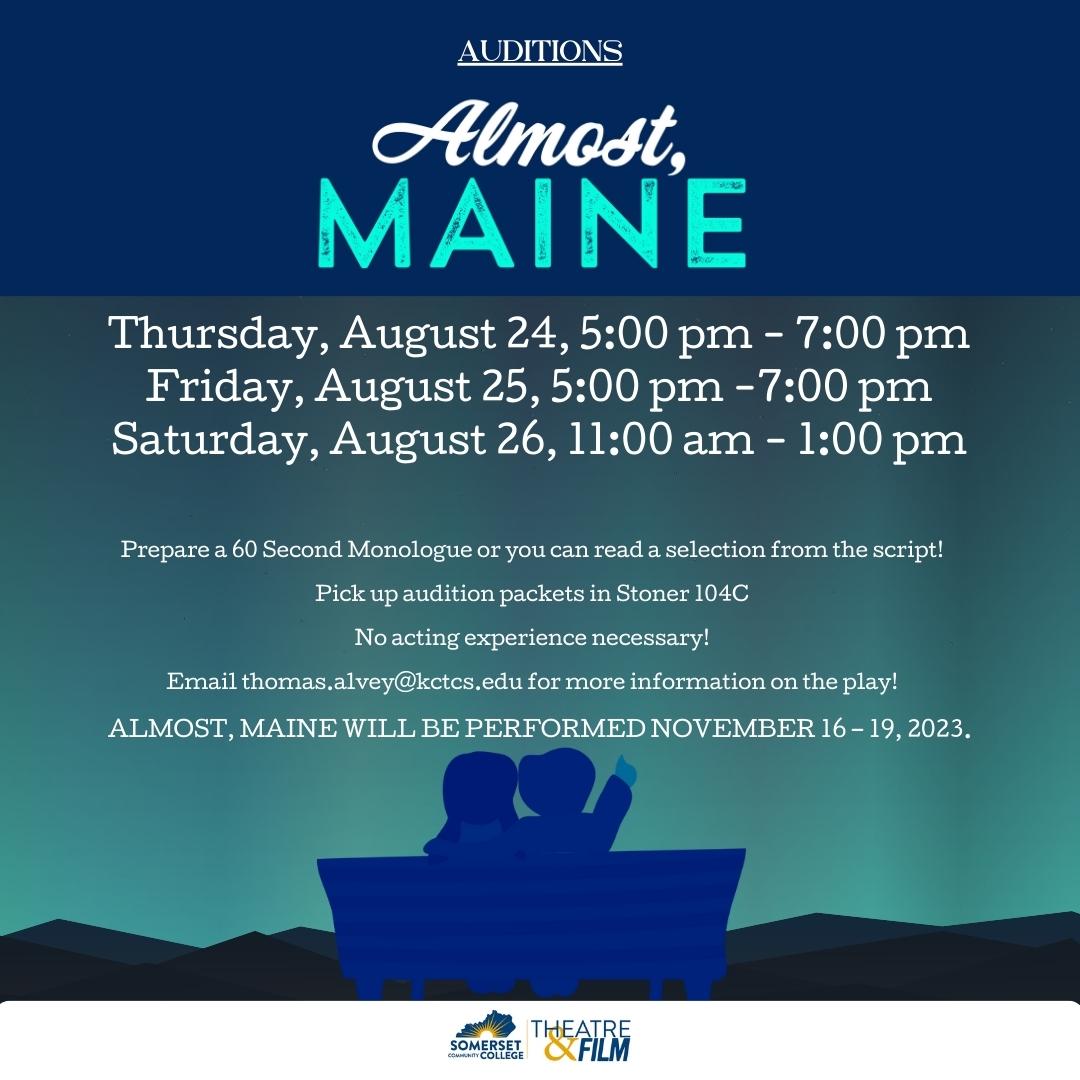 Somerset Community College (SCC) Department of Theatre & Film is excited to announce auditions for their upcoming fall production, Almost, Maine by John Cariani. Open to all community members, students, faculty, and friends, auditions will take place at the Stoner Little Theatre on the SCC North Campus, 808 Monticello St., Somerset, Kentucky 42501.
About the Play
Welcome to Almost, Maine, a place that's so far north, it's almost not in the United States. It's almost in Canada. And it's not quite a town, because its residents never got around to getting organized. So it almost doesn't exist. One cold, clear, winter night, as the northern lights hover in the star-filled sky above, the residents of Almost, Maine, find themselves falling in and out of love in unexpected and hilarious ways.
Audition Details
Auditions will be held on August 24 and 25 from 5:00 p.m. to 7:00 p.m., and on August 26 from 11:00 a.m. to 1:00 p.m. Participants are required to prepare a 60-second monologue that showcases their stage presence and acting range. For those without a prepared monologue, selections from the play will be provided for a "cold read" to showcase acting ability. Audition packets with selections from the script can be picked up from SCC North Campus, Stoner 104c.
As part of the audition process, all actors are requested to bring a headshot and acting resume if available. Additionally, a contact form and conflict sheet will be filled out at the audition time. Please ensure you provide a valid email address that you check regularly, as email will be the primary method of communication with actors.
Performance Dates
Almost, Maine will be performed from November 16-19, 2023.
For those interested in working on available crew positions, interviews will be conducted during the audition dates.
Contact Information
For any inquiries or to schedule an alternate audition date before August 24, please email Thomas Alvey.
We look forward to seeing you at auditions and bringing Almost, Maine to life on our stage this fall!