SCC student Kaylee Fitzgerald wins Outstanding PTA Student Award
Published on Feb 23, 2023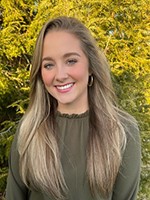 Kaylee Fitzgerald of Somerset Community College (SCC) received the Academy of Orthopaedic Physical Therapy's Outstanding PTA Student for 2023.
Kaylee serves as the co-fundraising chair, historian, and treasurer of her class of 2023. She was appointed by the SCC President, Dr. Carey Castle, to the Student Advisory Board as the Class of 2023 PTA Student Representative and was selected to serve as an SCC Student Ambassador through a highly competitive process. She is an active member of the PTSO, APTA-Kentucky, and APTA- Kentucky Student SIG and was named to the 2022 APTA-Kentucky All-Academic Team.
Kaylee has been active in many charitable and community service activities, including SCC's Share and Care Center, March of Dimes, Parkinson's Moving Day, and Special Olympics FunFitness Event assisting with track and field events. She has also served as a coordinator and participant in activities to support the funding of research for the Foundation for Physical Therapy through the Marquette Challenge, with Somerset Community College named the "Outstanding PTA Program" nationally in 2022. She is currently participating in fundraisers for the 2023 Challenge.
Kaylee is happily married to her middle school sweetheart, Austin Fitzgerald of Owenton, Kentucky. She is expected to graduate from the Physical Therapist Assistant Program in May 2023, with plans to work in an outpatient orthopedic clinic in Northern Kentucky and plans on advancing her education to obtain her DPT.