SCC Alumni Spotlight: Jamie H. Vaught reflects on time at SCC in his latest book
Published on Feb 22, 2023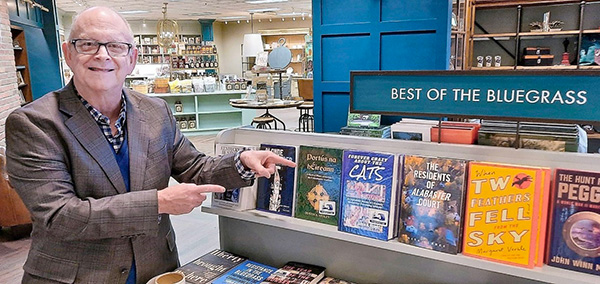 In the spring of 1975, Somerset Community College (SCC) student Jamie H. Vaught saw an opportunity and took advantage of it. His determination and persistence then set the stage for a passion that has continued for nearly 50 years—as a sportswriter covering University of Kentucky (UK) sports.
The opportunity that Vaught took advantage of was in getting his first media credential (press pass) to cover a UK basketball game. He recalls the story of attending a Wildcat contest as more than just a spectator in his latest book, "Forever Crazy About the Cats: An Improbable Journey of a Kentucky Sportswriter Overcoming Adversity."
The 416-page book, Vaught's sixth on the UK Wildcats, recalls his career as a sports columnist for "The Cat's Pause" magazine and several state newspapers. Part memoir about his long, adventurous career of covering UK basketball and football, the book also chronicles the author's struggle in overcoming personal adversity—a devastating hearing loss since birth.
The book is filled with his encounters with many UK players, coaches and fans over the past 50 years and tells how he has adjusted to his hearing loss "with the help of a powerful hearing aid, lip-reading, determination and intelligence…"
Vaught grew up in Science Hill and is a graduate of Somerset High School. He will return to this area on Saturday, March 4 for a book signing at the Pulaski County Public Library from 10 a.m. until noon.
The book is dedicated to the memory of Vaught's parents and includes chapters titled, "Rupp's Runts," "The Issel, Pratt, and Casey Years," "Tubby, Teaching and Stoops," and "Coach Cal Brings Glamour Back," just to name a few. Besides the focus on his association with UK sports, Vaught also includes many details of growing up in Science Hill and the Somerset area. Readers from Pulaski County will find many local names and places included on the pages.
A 'credentialed' sports reported at SCC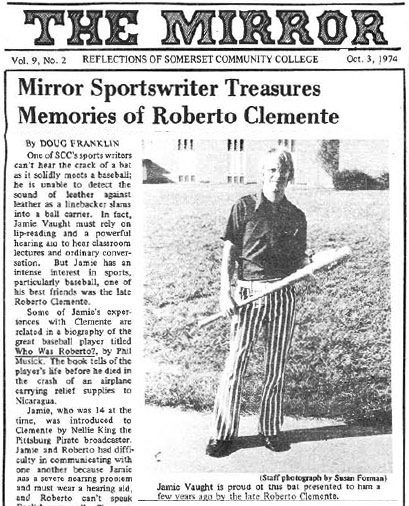 It was during his second semester at Somerset Community College (SCC) that Vaught got the idea to request media credentials for a UK game. His opportunity came when the SCC Cougars basketball team were scheduled to face the UK junior variety team in a preliminary game before the UK-University of Mississippi (Ole Miss) varsity contest at Memorial Coliseum in Lexington. (At the time, SCC and other community colleges in the state were a part of the UK system.)
A sports enthusiast for many years, Vaught was reporting on sports for the college's student newspaper at the time, "The Mirror."
Here's how he recalls the scene in his book:
"I was thinking about covering both games on that Monday evening, and I asked our faculty newspaper advisor, professor Don Orwin, about that opportunity. He smiled, commenting that would be awesome if I somehow could get a media credential to cover both games. That would be a huge thrill to watch the games from the floor, sitting on press row."
It wasn't easy, but Vaught was eventually awarded the pass and "that was my first media credential which meant that I would get to cover a doubleheader—my first UK varsity basketball game as a sportswriter and SCC-UK junior varsity matchup."
Vaught notes in his book that he took his first college journalism course under Orwin, who he says, "was a little strict but very personable and knowledgeable." Orwin taught journalism and served as advisor for SCC's student newspaper for nearly 30 years.
In a recent interview, the author noted that his first sports byline came while he was a student at Somerset High School, but that at SCC "I gained more valuable journalism experience … in writing for the campus newspaper..." Vaught says Orwin taught him "the importance of meeting the newspaper deadlines for story assignments…"
After leaving SCC, Vaught attended UK where he was sportswriter and sports editor of "Kentucky Kernel," the student newspaper. He went on to earn two degrees—a bachelor's in accounting and a master's in business administration (MBA). In addition to writing and photography, he is a full-time, tenured professor at Southeaster Kentucky Community and Technical College. He and his wife, Deanna, live in Middlesboro and they have two grown children, Janna and Warren.
Vaught recalls his time at SCC in the mid-1970's
In an email interview with Vaught, he provided additional insight into his new book and life at SCC during his time there in the mid-1970's. Here are his comments:
"I certainly remember the student lounge was pretty full. Between classes, I'd see my friends and classmates there and we would talk about anything, including homework and UK basketball."
"In the book, I also talked about covering the men's basketball team at SCC, including a game with the UK junior varsity team — which had a future pro football player Derrick Ramsey — at Memorial Coliseum. About a year or two later, when former UK standout Terry Mills joined SCC as the head basketball coach, I did a story on him in 'Kentucky Kernel' at UK."
"He (Don Orwin) certainly prepared me very well when I joined the 'Kentucky Kernel' at UK as a sportswriter for the campus daily newspaper after transferring. Even though I was awestruck when dealing with UK coaches like Joe B. Hall and Fran Curci at the beginning, I was ready."
"Some of my SCC instructors included author Billy C. Clark. In his ENG 101 class, he encouraged us to keep writing over and over every week, and I eventually began to improve. So, he played a critical role in my writing career. I remember that he would smoke a pipe in the classroom. Also, Dr. Mary Bacon, who taught accounting, was very pleasant and a very good advisor. I was an accounting major who later transferred to the UK, and all my credits transferred, so she did a good job advising. I also enjoyed Ms. Goldie McCann's psychology class where I did a research paper on my childhood friend and baseball superstar Roberto Clemente about his possible hypochondria."
Besides the book signing at the Pulaski County Public Library on March 4, Vaught will also be meeting the public on Saturday, March 11 in Hazard and Paintsville. The book is also available on Amazon and selected Kentucky outlets.