SCC Theatre and Film Presents: Steel Magnolias by Robert Harling
Published on Oct 27, 2022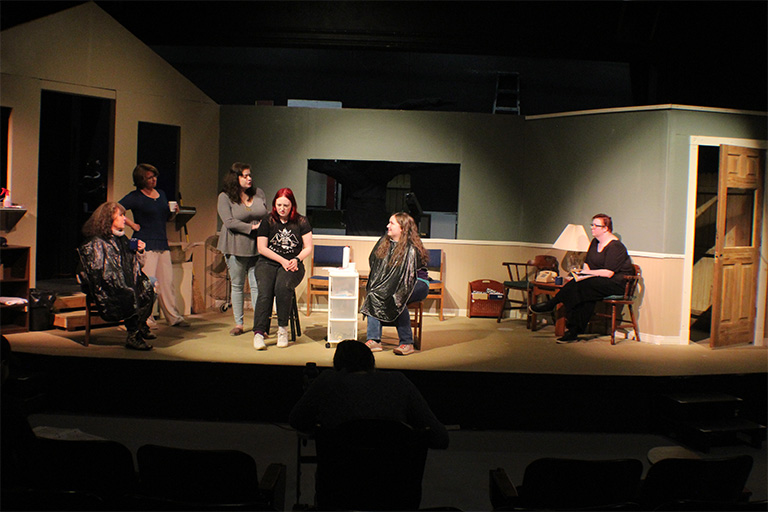 Somerset Community College Theatre & Film Department will present Steel Magnolias by Robert Harling November 17-19 at 7:00 p.m. and November 20 at 2:00 p.m. in the Stoner Little Theatre on the North Campus of Somerset Community College.
This hilarious and touching tale is set in Truvy's beauty salon in the fictional Chinquapin Parish in Louisiana, where anybody who's "anybody" gets their hair done. With her eager assistant with a storied past, Annelle (played by SCC student Alexia VanNoy), the out-spoken, wise-cracking Truvy (played by community member, Tiffany Warren), dispenses shampoo and free advice to her many clients, including the rich curmudgeon, Ouiser (played by SCC Faculty Debra House), an eccentric millionaire, Miss Clairee, (played by community member Martha Pratt) and the local social leader, M'Lynn, (played by SCC faculty, Johnna Atkinson-Bigelow) whose daughter, Shelby (played by SCC student Zoe Brown), is about to marry a "good ole boy." Basis for the 1989 film, Steel Magnolias is filled with the same hilarious quips and devastating monologues audiences have come to love.
Alexia VanNoy (Annelle) is very excited to be a part of Steel Magnolias at SCC's theater. She recently worked with Flashback Theater Co. in the role of Effie in The American Parade and as the understudy of Mary in Mary: Her Story. Alexia started her theater journey as a high school freshman and did mainly musicals such as Beauty and The Beast, and Once Upon a Mattress.
Tiffany Warren (Truvy) is a Theatre BA graduate from NKU and alumni of SCC. At SCC, she was in Midsummer Night's Dream and Radio Suspense Theater: The Final Episode. Working with Flashback Theater, she has been in shows such as The American Parade, The Dollmaker, and The Lady's Not For Burning.
Debra House (Ouiser) has been a professor at SCC for more than 25 years. She is married with 3 children and lives in Laurel County. Past performances include roles in the musicals: Fiddler on the Roof, 42nd Street, and Seven Brides for Seven Brothers. In her free time, Debra enjoys reading, sewing, and spending time with her family.
Martha Pratt (Clairee) is excited to return to SCC for Steel Magnolias. She previously appeared on Stoner Little Theater's stage in The Dining Room, A Midsummer Night's Dream, and Radio Suspense Theatre: The Final Episode. She works as a Patient Services Coordinator for PT Solutions Physical Therapy by day and an actor by night, primarily through Flashback Theater Co., her theatre home since 2018.
Johnna Atkinson-Bigelow (M'Lynn) is excited to be returning to the stage after performing in Mary: Her Story and The Mousetrap with Flashback Theater Co. She recently concluded a 25+ year acting hiatus while raising her children, Braden and Brynlee. After receiving her Theater degree from Georgetown College and Communications degree from UK, she has been teaching at Somerset Community College for 30 years. Johnna is married to her biggest fan, Brad.
Zoe Brown (Shelby) has appeared in many roles with the Gusto Theatre Company, including Titania in A Midsummer Night's Dream and co-writer and co-director for The Legend of Charlie Copperhead. This is her first production with SCC. She has played piano since the age of 6.
Tickets for Steel Magnolias will go on sale in Stoner 108 starting November 2, 2022. Box office will be open Wednesday through Friday, 1:00 p.m. to 4:00 p.m.
Please contact Julia Chereson or Thomas Alvey for more information.