SCC's Honor Society Enters 'Exciting' Post-COVID Era with New Inductees
Published on Oct 17, 2022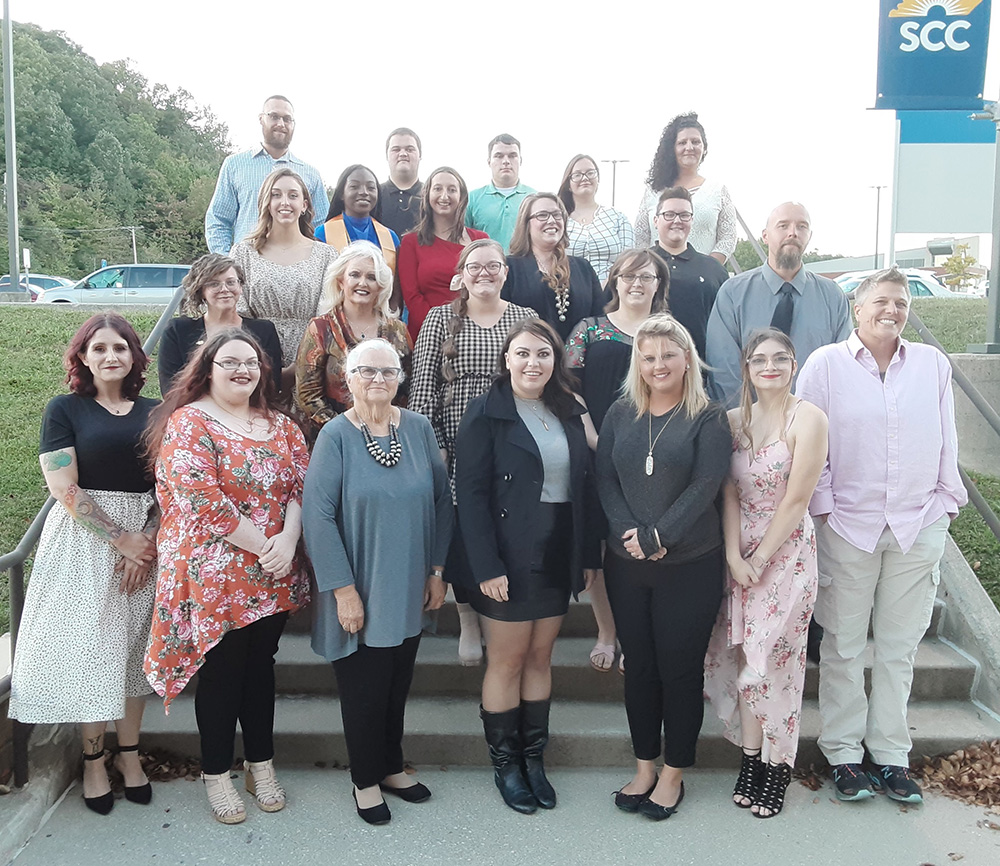 After seeing Somerset Community College's chapter of the Phi Theta Kappa (PTK) Honor Society experience a renewal of sorts in the spring semester, faculty advisors are anticipating a full-blown renaissance this fall.
Their optimism stems from a significant recent jump in student membership. On September 29, twenty-two students were inducted into SCC's Omicron Zeta chapter in a well-attended ceremony at SCC's Laurel County Campus – more than double the number who joined during spring inductions last March, the chapter's first in nearly two years after all but shutting down during the COVID pandemic.
"This is the biggest crowd we have had for an induction ceremony in many years, certainly since before COVID," longtime PTK advisor and ceremony emcee Johnna Atkinson-Bigelow said. "It is so good to see, and it bodes well for the (academic) year to come."
An additional 40+ people attended the candle-light ceremony in support of the 22 inductees, among them family members, friends, chapter advisors, and SCC administrators.
The new PTK members are Jennifer Aleshire (Pine Knot), Cori Brinson (Somerset), Kimberly Brown (London), Lakyn Collins (Somerset), Danielle Dobbs (Somerset), Nicole Flannery (London), Elizabeth Hoskins (Monticello), Barron Killion (London), Heather Leach (London), Caleb Long (Monticello), Amanda Merkel (Somerset), Michelle Mwasumbi (London), Mitchell New (Somerset), Bethany Phelps (Somerset), Josette Pitman (Somerset), Kallie Powell (Monticello), Loren Queener (Corbin), Sierra Roberts (Somerset), Hope Salyers (Liberty), Kathryn Spradley (London), Trent Watson (Stanford), and Megan Wright (Somerset).
Founded in 1918, Phi Theta Kappa is the oldest and largest honor society of its kind. According to chapter advisor Dr. Amanda Waterstrat, the organization recognizes outstanding student scholars and provides them with opportunities to develop their academic potential, gain leadership experience, and connect with fellow community college scholars around the region, country, and world.
"The faculty and staff advisors who sponsor the Omicron Zeta chapter are real champions of student success," Waterstrat said. "It's an honor to be part of a great team of colleagues who work so hard to support students."
The Omicron Zeta chapter of PTK, which was chartered at SCC in 1966, has been recognized nationally as a top chapter in years past, Atkinson-Bigelow said, and the newest inductees have the potential to make their own mark. "It's exciting to see this new group of students and to think about what they may be able to accomplish," she said.
The next step for the chapter advisors is to identify and train leaders from among the new inductees. Seemingly right on cue in support of that effort, the Kentucky Region of PTK is holding its Honors in Action and Leadership Conference in Louisville on October 14-15. The theme of the gathering is "Learning through the Art of Play."
"Phi Theta Kappa membership begins with recognition, but it offers so much more for students who get involved," Waterstrat said. "I've seen student leaders in PTK take on extraordinary scholarly and service projects that connect them to their peers, to faculty, to staff, and to the broader community. They learn so much about themselves and grow as students and leaders."
To become eligible for membership in Phi Theta Kappa, students must have a 3.5 grade-point average after completing 12 or more credit hours of college-level work and be currently enrolled and pursuing a degree or certificate. In addition to gaining leadership skills and networking with other high-achieving college students, PTK members also become eligible to apply each year for a wide range of valuable scholarships.
"Our students have received lots of scholarships (over the years) to support their transition either into a career or into a transfer college or university," Waterstrat said. "We have a student who was in our [Physical Therapist Assistant] program being recognized this fall at an event in New York City. He won a PTK scholarship that will provide him funds to help him to transition into the workforce. We've had multiple students receive full Phi Theta Kappa scholarships at the University of Kentucky over the years. In fact, we have a student doing that right now."
PTK's 2023 All-USA Academic Team Scholarship Application opened on Oct. 1, and chapter advisors are currently accepting submissions. "We encourage all eligible PTK students to contact us for more information," said Omicron Zeta advisor Jeff Harris, who, with fellow advisor Dr. Melissa Adams, is assisting scholarship applicants. "When it comes to money for their schooling, they should leave no stone unturned!"
For more information about Phi Theta Kappa, students can contact any of the Omicron Zeta chapter advisors: Dr. Amanda Waterstrat, Johnna Atkinson-Bigelow, Kimberly Land, Dr. Melissa Adams, Kathy Howard, or Jeff Harris.