SCC Distinguished Alumni and Friends to be Inducted into Hall of Honor
Published on Sep 15, 2022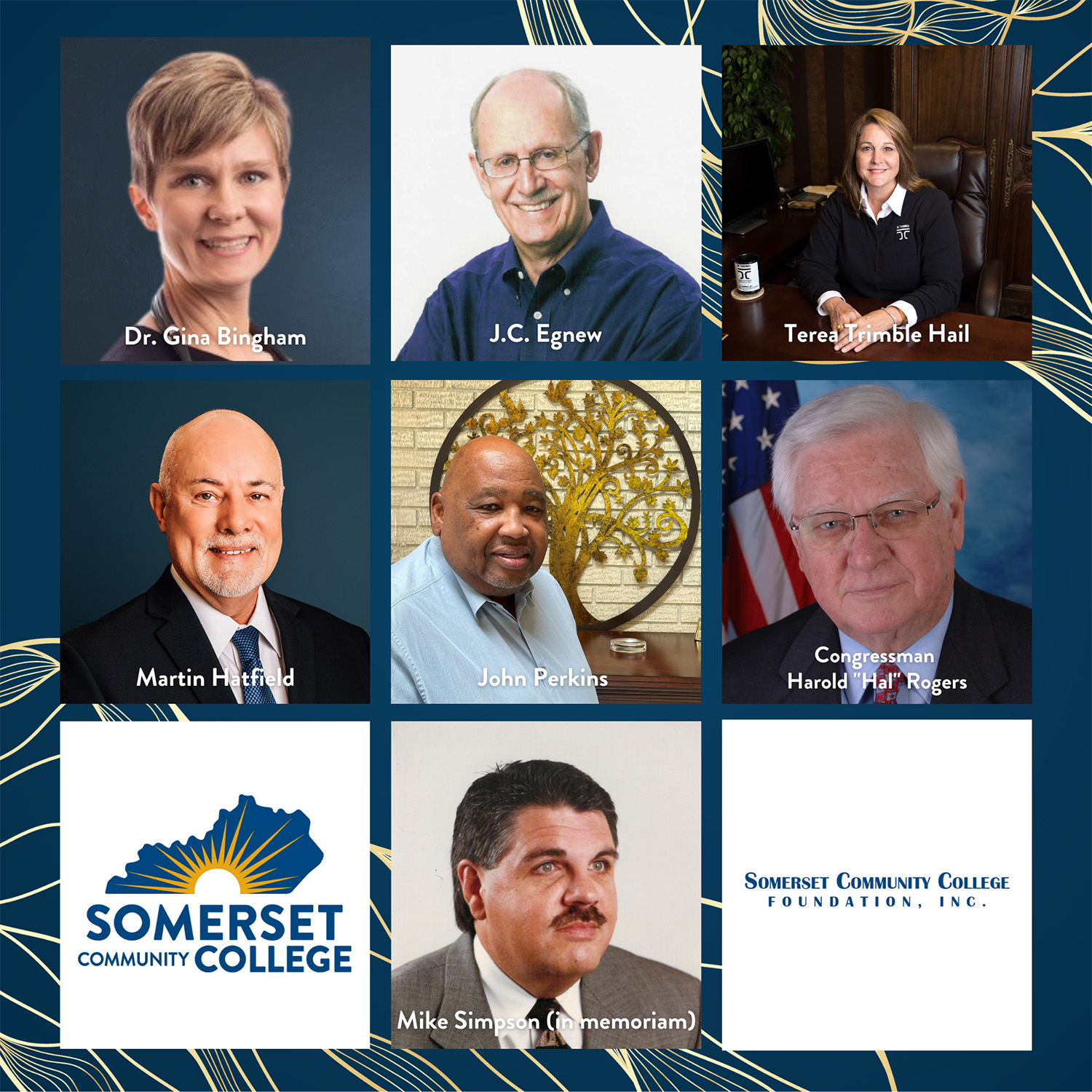 Five distinguished alums of Somerset Community College and two community leaders will be recognized at the SCC Foundation Hall of Honor Dinner & Auction on October 13 at The Center for Rural Development.
This event hasn't been held for several years due to the pandemic and leadership changes at SCC. Still, the College is excited to bring the event back to recognize individuals who have made a lasting impact on Somerset Community College and the communities in which they live.
Inductees include Dr. Gina Bingham, J.C. Egnew, Teresa Trimble Hail, Martin Hatfield, John Perkins, Congressman Harold "Hal" Rogers and Mike Simpson (in memoriam).
"This will be a wonderful event and a great way to recognize alums of SCC and community leaders who have made a difference in SCC over the years," commented Cindy Clouse, SCC vice president of advancement and executive director of the SCC Foundation. "Each person being honored has been successful in their career field and has contributed greatly to the success of SCC. We are proud to call them SCC Alumni and Friends!"
Dr. Gina Bingham is from Tyner, Kentucky, and is a physician practicing internal medicine and pediatrics at London Women's Care. Dr. Bingham attended Somerset Community College from 1994-1996. She transferred to the University of Kentucky, where she received her BS in Agricultural Biotechnology. She was accepted into the University of Kentucky College of Medicine where she received her MD degree with high distinction. She completed a combined residency in internal medicine and pediatrics at UK. Dr. Bingham is married to James Spencer. They have a fur baby named Ruby and enjoy raising cattle and chickens on their farm in Jackson County.
J.C. Egnew is from Stearns, Kentucky, and is chairman and CEO of Outdoor Venture Corporation. Egnew is a former NASA engineer responsible for the startup of five manufacturing facilities and creating more than 1,000 jobs in this area. He is a past chair of the McCreary County Education Foundation and chaired the capital campaign which was instrumental in establishing the SCC McCreary Center. Egnew continues to be a major supporter and partner of Somerset Community College. Egnew has been married to Azalie for 54 years and they have two sons, Chris and Alex.
Teresa Trimble Hail is from Somerset, Kentucky and is president and co-owner of D.C. Trimble, Inc. Hail attended Somerset Community College in the summers of 1980 and 1981 while attending the University of Kentucky. She received a B.A. in Education in 1985 and M.S. in Education in 1989. Hail worked in education at the beginning of her career and worked at SCC as an instructional specialist where she supervised the computer lab and helped students in computer programing. Hail is no stranger to SCC with serving as a past vice chair of the SCC Foundation Board, volunteered for Kids Kollege, International Festival, and even performed in a Little Theatre production as a blind classmate of Helen Keller in Miracle Worker. Hail is married to Scott and they have two sons Chris (Ciara) and Cameron Hail.
Martin Hatfield grew up in Nancy, Kentucky and has served as the Pulaski County Attorney for 12 years. He also served as an Assistant United States Attorney for the Eastern District of Kentucky for 16 years. Hatfield attended Somerset Community College from 1976-1978 and played basketball for the Runnin' Cougars. He transferred to Eastern Kentucky University and then on to the University of Louisville School of Law and graduated in 1984. Hatfield served on the SCC Foundation Board and recently, along with his siblings, established an endowment at SCC in honor of his parents, Avery and Lois Hatfield. Hatfield is married to Debbie and they have two daughters, Mackenzie Patrick and Madison Hatfield.
John Perkins is from Somerset, Kentucky and served as Postmaster in Somerset for over a decade and has many years of public service, including serving on the Somerset Community College Board of Directors. Many know John for his BBQ business, Johnny B's, and even though he has officially retired, you can find the sauce in several states and large retailers like Kroger and Liquor Barn. He attended SCC in 1968 and again in 1973. Perkins also attended Eastern Kentucky University before joining the Air Force, serving 14 months in Vietnam. Perkins and his wife, Nellie, have been married for 54 years and their four children are Beverly, Kathy, John, and Stacy.
Congressman Harold "Hal" Rogers has served Kentucky's 5th Congressional District since 1981. Earlier this year, he became Dean of the U.S. House of Representatives, the nation's longest-serving Member in the House. Rogers has worked tirelessly for southern and eastern Kentucky and SCC is thankful for his assistance and constant support. He was instrumental in helping fund a building on the Somerset Campus that houses student services and several health care programs, and it is named the Harold Rogers Student Commons. He was also influential in establishing the University Center of Southern Kentucky and was the leading force in getting all partners involved, including WKU, UK, EKU, Morehead, and U of L. He is a graduate of Wayne County High School, University of Kentucky, and the UK College of Law. Rogers is married to Cynthia and resides in Somerset.
Mike Simpson (in memoriam) was from Somerset, Kentucky and was the former CEO of Cumberland Security Bank. He spent his entire 45-year career in banking at Cumberland Security and was a strong leader in the community by serving on many volunteer boards including Somerset Community College. He attended SCC from 1970-1972 and received his associate degree before transferring to the University of Kentucky. Simpson was married to Tammie Simpson and he passed away on April 5, 2022.
Presenting sponsors for the event include First National Bank of Russell Springs, Lake Cumberland Regional Hospital and Toyota of Somerset. Silver sponsors are Citizens National Bank, Fibrotex, Kentucky Broadcasters Association, Hinkle Contracting Company, Napier & Associates, South Kentucky RECC, and Somerset-Pulaski Economic Development Authority.
Bronze sponsors are Alton Blakley Family of Dealerships, D.C. Trimble, Inc., Gatormade Trailers, First & Farmers National Bank, Merrick Hardwoods, Inc., Prairie Farms/Somerset, Somerset 106/WTLO, Saint Joseph London, Somerset Pulaski County Chamber of Commerce, Southern Petroleum, and United Cumberland Bank.
For more information about the event or for ticket information, please contact Cindy Clouse, SCC Foundation Executive Director, at (606) 451-6618 or cindy.clouse@kctcs.edu.