TTAI Community Workforce Development Scholarships announced
Published on Jun 21, 2022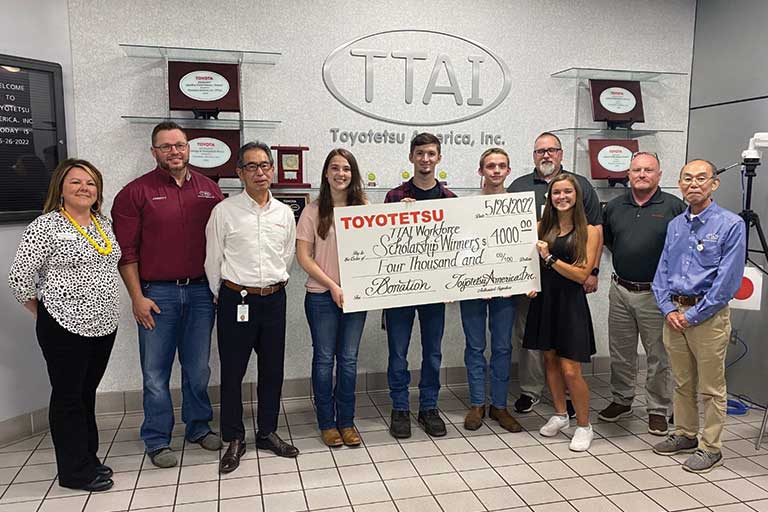 Four students from Pulaski County received the TTAI Community Workforce Development Scholarship to attend Somerset Community College (SCC) this fall.
The scholarship was established in November 2021 to give attention to the technical programs needed in our community. Donnie Slagle, Vice President of Administration at TTAI, said, "We need a workforce that is prepared with the appropriate soft skills, technical skills and work ethic to meet our business needs. This is one small way that we can help advance workforce development in our community."
SCC is pleased to announce the four scholarship award winners: Aliyah Edens from Somerset Christian School and plans to major in Cosmetology. William Rowland graduated from Southwestern High School and plans to major in Engineering. Tori Smith graduated from Somerset High School and plans to major welding. Tyler Stevens graduated from Pulaski County High School and plans to major in engineering.
At the end of May, the four scholarship award winners met with TTAI executives, received a tour of the facility along with a discussion about their future plans and opportunities at TTAI.
Dr. Carey Castle, SCC President commented, "We are so appreciative of TTAI for establishing this scholarship. TTAI is a wonderful community partner and we commend them for offering these scholarships to our students interested in a technical program. There is no better way to change a person's life and the success of our community than through education."
The $1,000 semester scholarships are awarded each year to four students, one from each of the four local high schools, renewable each semester. The scholarship can be used for tuition, books and other educational expenses with the following selection criteria:
Recent graduate from one of the four high schools
Resident of Pulaski County
Recipient needs to be enrolled in a technical program including health sciences
Recipient must maintain a 2.5 GPA to continue on the scholarship for the next semester
To learn more about establishing a scholarship or giving to Somerset Community College, contact Cindy Clouse, vice president of advancement at cindy.clouse@kctcs.edu or call 606-451-6618.