Math and Science Scholar program had successful year at SCC
Published on Apr 26, 2022
There is a group of Somerset Community College (SCC) students who've have had a lot going on during the past year— movie nights, game nights, visits to other colleges, lunches, parties and more. And while this camaraderie makes the gatherings fun, what brings them together is something a bit more academic—math and science.
These students are "electing to spend time together in this 'learning community' outside of class," said Debra House, an SCC physical science instructor. "I venture to say they all think of each other as friends."
Mathematics instructor Kathy Lewis says that members of the group are always looking to learn more inside and outside of the classroom. "If I would stay here until midnight, they'd be here," she said. "I mean they're gelling that much."
House adds, "It's almost like a math club, but we call it the MSSE (Math and Science Scholar Excellence) Project."
The two instructors noted that while the learning community is open to any SCC student who wants to participate, its beginning can be traced to a recent five-year grant from the National Science Foundation. The grant allows for 10 scholarships per year and in April 2021 the first set of scholarships was awarded to nine students.
Chemistry instructor Cecilia Ramilo, mathematics instructor Scott McClendon, and biology instructor Amanda Waterstrat, joins Lewis and House in selecting the recipients who must major in either Math, Biology, Chemistry, Physics or Engineering.
New scholarships will be awarded this spring. Also, this spring, three of the first group will graduate with scholarships — two to the University of Kentucky and one to the University of the Cumberlands.
Another benefit SCC has received from the grant is that "several general education courses have been redesigned for math and sciences and technology," Lewis said.
Scholarship recipients are required to participate in a variety of activities each semester including the visits to other colleges, poster presentations, and social activities. And while non-scholars don't have to join in these activities, House says "it's amazing how many take part." She also noted that "we make no distinction in class or on these trips as to who's a scholar and who's not a scholar."
Another component of this "learning community" at SCC is Mu Alpha Theta, a national mathematics honor society and the Math/Science Club. Scholarship recipients have joined classmates and other students, in both organizations, in promoting enjoyment and success in mathematics and science.
"The new emphasis on math and science at SCC is great for students," said AJ Tomkins a recent inductee into Mu Alpha Theta. "These courses are infamous for being challenging, so allowing a community to spring from this area makes learning fun and brings classmates together."
The instructors say they are excited about the new interest in these academic disciplines.
"They're (students) electing to spend time together and in this community outside of class. And that's something that's been missing here at SCC for a long time ... something to keep them here," House said. "It's a small start but I think it's a start in the right direction," she continued. "I really think that these kids are aching for something to get involved in. They've been cut off for two years."
To learn more about eligibility requirements and to apply visit the SCC Scholarship page at somerset.kctcs.edu/affording-college/paying-for-college/scholarships.aspx or contact the SCC scholarship office at 606-451-6644 or email sccscholarships@kctcs.edu.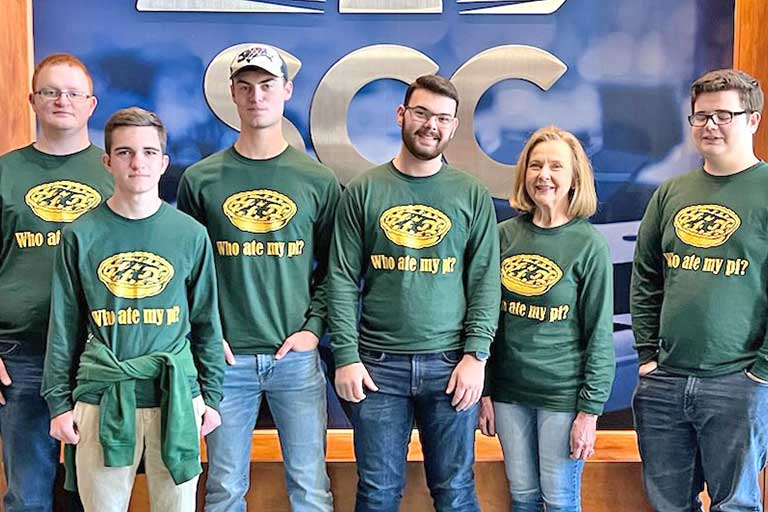 Shown celebrating Pi Week during March were, from left, Jonathan King, Eli Adkisson, Aaron Cook, Samuel Moore, instructor Kathy Lewis, Wesley Reynolds. Shirt design by Samuel Moore.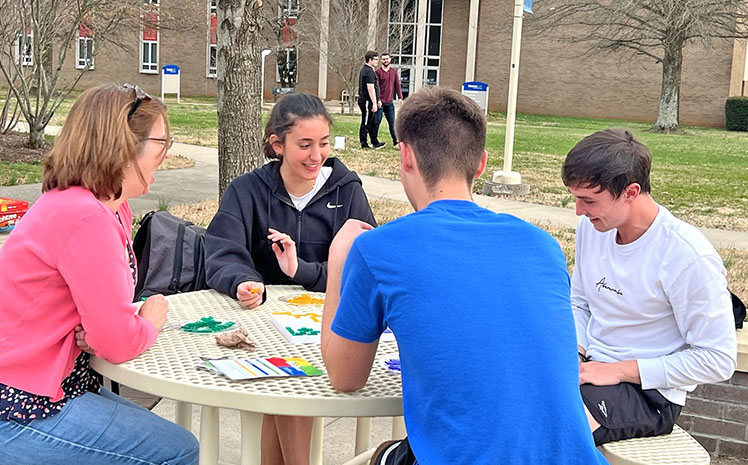 Game night for Math and Science students.