SCC's honor society holds first induction ceremony in more than two years
Published on Apr 19, 2022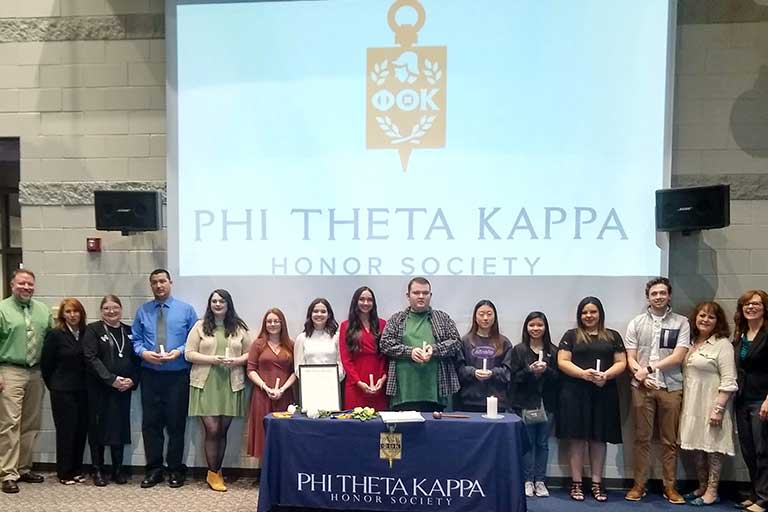 Over its first 53 years in service to the students of Somerset Community College (SCC), the Omicron Zeta chapter of the Phi Theta Kappa (PTK) Honor Society was nothing if not consistent, bringing new, high-achieving students into the fold twice a year every year through the first two months of 2020.
But as with most organizations and institutions across the country, Omicron Zeta saw its operations derailed by the COVID-19 pandemic beginning in March of that year.
Concerns among PTK leaders about putting students at risk of contracting the virus combined with the health protocols that limited in-person activities effectively shut the chapter down for the better part of two years following its previously most recent induction ceremony in February 2020.
However, a semblance of normalcy returned for PTK at SCC on March 24, when ten new student members were inducted into the Omicron Zeta chapter during a "renewal" ceremony in the Rogers Student Commons attended by family, friends, chapter advisors, former PTK members, and SCC administrators.
The new PTK members are Dustin Alton (Somerset), Cristen Bingham (London), Alicia Briseno (London), Alex Chmura (Monticello), Leah Hollis (Somerset), Seth Keeney (Somerset), Minseo "Ashley" Kim (Somerset), Naomi Phillips (Mt. Vernon), Chestina Trayney (London), and Austin "AJ" Van Hook (Somerset).
PTK chapter advisor and Kentucky Regional Coordinator, Dr. Amanda Waterstrat expressed excitement at the prospect of Omicron Zeta finally getting back to its mission and focus – student growth.
"Phi Theta Kappa membership begins with recognition, but it offers so much more for students who get involved," Waterstrat said. "I've seen student leaders in PTK take on extraordinary projects that connect them to their peers, to faculty, to staff, and to the broader community. They learn so much about themselves and grow as students and leaders. It is inspiring."
Dr. Clint Hayes, Senior Vice President of Academic Affairs at SCC, shared similar sentiments when he addressed the new PTK inductees. "Going to college and getting involved in organizations like Phi Theta Kappa is part of learning about the world and how you fit into it," he said.
Prior to the induction, which involved the new members participating in a candle-lighting ritual, Hayes thanked longtime PTK advisor Johnna Atkinson-Bigelow for her 30 years of service to the Omicron Zeta chapter, presenting her with a commemorative pin. Hayes also acknowledged and thanked Dr. Waterstrat for her five years as chapter director. The chapter also welcomed three new advisors: Kathy Howard, Jeff Harris, and Dr. Melissa Adams.
Atkinson-Bigelow served as the keynote speaker at the ceremony. In her address, she emphasized the PTK's pillars of student growth – scholarship, leadership, service, and fellowship. She became emotional when explaining the importance of fellowship, something that had been lost to a large degree during the pandemic.
"The opportunities to get to know one another, to encourage one another, to travel with one another will come again," she said. "And we understand now better than ever before how precious those opportunities are."
Phi Theta Kappa is an international scholastic honor society with a two-fold mission: to recognize and encourage the academic achievement of college students and to provide opportunities for individual growth and development through the aforementioned pillars. Founded in 1910, it is the oldest and largest academic honor society of its kind.
To become eligible for membership, students must have a 3.5 grade-point average after completing 12 or more credit hours of college-level work, be currently enrolled and pursuing a degree or certificate. PTK members are able to gain leadership skills and to network with other high-achieving college students. They also become eligible to apply each year for a wide range of scholarships that are, in total, worth millions of dollars.
The PTK Omicron Zeta chapter is currently recruiting among its membership for new chapter officers, who will receive orientation/ training in May.
For more information about Phi Theta Kappa and/or chapter leadership opportunities, please contact one of the following chapter advisors: Amanda Waterstrat (amanda.waterstrat@kctcs.edu), Johnna Atkinson-Bigelow (johnna.atkinson-bigelow@kctcs.edu), Sarah Modgling (sarah.modgling@kctcs.edu), Melissa Adams (melissa.adams@kctcs.edu), Kathy Howard (kathy.howard@kctcs.edu), or Jeff Harris (jeff.harris@kctcs.edu).