TTAI establishes a new scholarship program for graduating high school seniors at Somerset Community College
Toyotetsu America, Inc. (TTAI) has established the TTAI Community Workforce Development Scholarship at Somerset Community College (SCC). Beginning in the Fall of 2022, four students will be chosen to receive this scholarship, including students from each of the four local high schools in Pulaski County; Pulaski County High School, Somerset Christian School, Somerset High School, and Southwestern High School.
Each scholarship is $1,000 per semester and can be used up to four semesters totaling $4,000 per student. The scholarship can be used for tuition, books and other educational expenses and the following is the selection criteria:
Recent graduate from one of the four high schools
A resident of Pulaski County
Recipient needs to be enrolled in a technical program including health sciences
Recipient must maintain a 2.5 GPA to continue on the scholarship for the next semester
Donnie Slagle, Vice President of Administration at TTAI announced the scholarship at the Somerset Pulaski County Chamber of Commerce luncheon on November 2, 2021. Slagle commented, "Government, non-profits nor education alone can fill the needs of a qualified workforce without the participation and input from local industry. We need a workforce that is prepared with the appropriate soft skills, technical skills and work ethic to meet our business needs. We are excited to offer these scholarships to graduating seniors and to help advance workforce development in our community."
"SCC is grateful to TTAI, Donnie Slagle and his entire TTAI staff for investing in our students. These scholarships will help our students get a certificate or degree, which will assist them in creating a better life for themselves and their families and contribute to the workforce in our communities, stated Dr. Carey Castle, President/CEO of SCC.
To apply for the TTAI Community Workforce Development Scholarship and other scholarships offered at SCC, visit somerset.kctcs.edu/scholarships. All recipients will be screened and chosen by the SCC Scholarship Committee.
To learn more about establishing a scholarship or giving to Somerset Community College, contact Cindy Clouse, vice president of advancement at cindy.clouse@kctcs.edu or call 606-451-6618.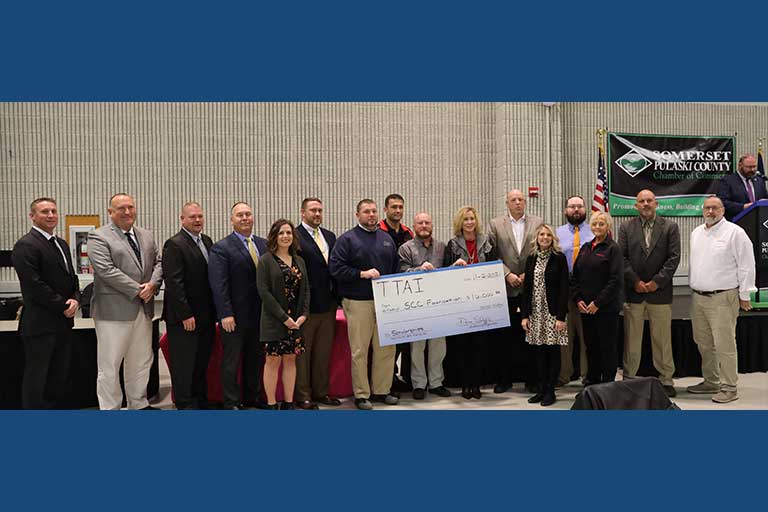 Caption: TTAI Vice President of Administration, Donnie Slagle, presents a check to Cindy Clouse, SCC Vice President of Advancement to establish the TTAI Workforce Development Scholarship program for graduating high school students attending SCC. From left to right: Somerset Independent Schools Superintendent, Kyle Lively; SHS Director of Programs, Tim Ham; Pulaski County School System Superintendent, Patrick Richardson; PCHS Principal, Rodney McAninch; PCHS Councilor, Kathryn Claiborne; SHS Principal, Jeff Wesley; TTAI representative, Jarritt Sharpe; TTAI representative, Jeremy Ballard; Donnie Slagle; Cindy Clouse; Somerset Christian School Administrator, Dr. Ron Gleaves, SCS Assistant Principal, Melissa Phelps; SWHS Councilor, John Hargis; TTAI representative, Virginia Chestnut; SWHS Principal, Mark Flynn, and TTAI representative, Mike Morgan.