Kentucky's Touchstone Energy Cooperatives awards Lineman Scholarships to SCC students
Published on Nov 3, 2021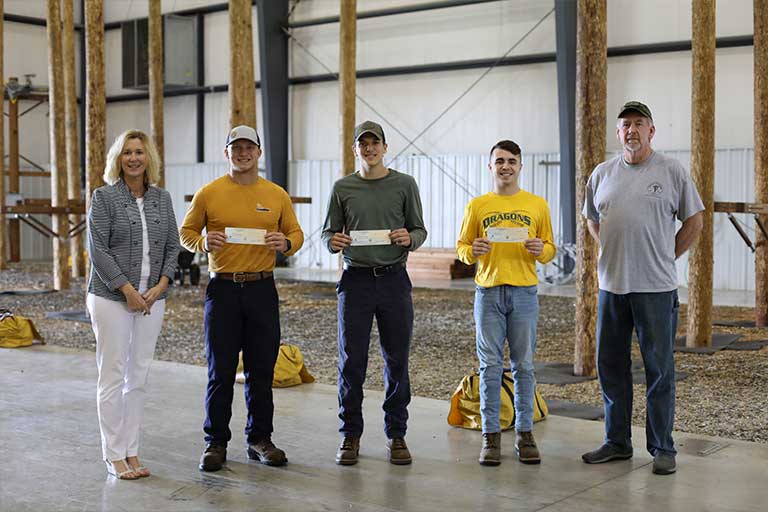 Three students enrolled in the Somerset Community College (SCC) Lineman Training program received $2,000 scholarships from Kentucky's Touchstone Energy Cooperatives. The scholarships may be used for tuition, supplies, fees, and other expenses related to the program.
Clayton Goodin is from Pineville, Kentucky, and graduated from Pineville Independent in 2020. He stated, "I am hoping to complete lineman school and secure a good job that will allow me to take better care of myself financially and ease some of the financial burden on my mom."
Calen Squires is from Greensburg, Kentucky, and graduated from Green County High School in 2020. Squires always dreamed about being a lineman just like his grandfather. He commented, "After doing research, the SCC Lineman program is the most successful program in the state! Along with the fact, the majority of all graduates of the course have great success in being offered amazing employment opportunities even before the course ends."
Caden Townsend is from Somerset and graduated from Pulaski County High School in 2020. Townsend commented, "I want to use all the knowledge and skills learned during the 8-week program not only to stand out but be a leader for others. I want to be mentally and physically strong enough to endure the dangerous and long workdays. Above all else, help others and help keep the lights on."
The SCC Lineman Training Center has one of the most expansive indoor training facilities and comprehensive curriculum in the nation. It is an 8-week program that will prepare apprentice-level students for employment in the electrical industry. Students spend approximately 200 hours in the field performing various training activities, including tool & equipment operation, climbing, rigging, underground distribution, and simulated emergency storm restoration.
For more information about the program, contact Carol Wesley, lineman recruiter, at 606-451-6697 or carol.wesley@kctcs.edu.
To view other scholarships available at SCC, visit somerset.kctcs.edu/scholarships. To learn more about giving to Somerset Community College, contact Cindy Clouse, vice president of advancement at cindy.clouse@kctcs.edu, or call 606-451-6618.