MLT Graduates find success at Lake Cumberland Regional Hospital
Published on Mar 18, 2021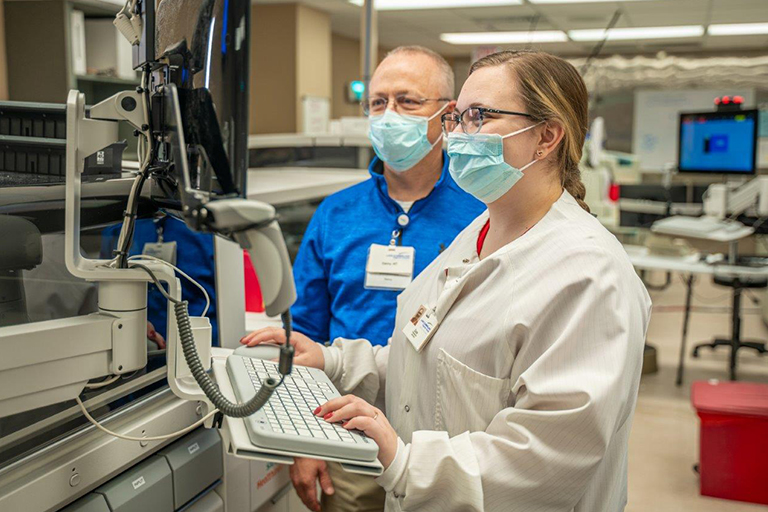 Danny Stevens struggled to decide what career path was right for him. After a year of dead-end jobs after high school, he decided to "give college a try." He enrolled at a four-year college as a full-time student and focused on general education classes. After taking a course to determine what fields would fit me, he settled on becoming a Medical Laboratory Technician (MLT). Stevens says, "After learning Somerset Community College (SCC) offered an MLT program, he transferred to SCC to be home, reduce cost, travel time and the ability to work more hours."
Stevens is a 1995 graduate of the MLT program at SCC, earning an Associate Degree in Applied Science. "The staff and faculty at SCC and the MLT program provided me a friendly and supportive environment. I was blessed with a Laboratory Technician job before I even graduated the MLT program at Wayne County Hospital."
Currently, Stevens is the Laboratory Supervisor at Lake Cumberland Regional Hospital (LCRH), where he has been employed for over 15 years. "As laboratory technicians, we build on the foundation of our education, with the years of experience in the laboratory. The laboratory is always growing and changing with new technologies, methodologies, and new challenges, such as the Covid-19 pandemic," said Stevens.
Stevens has also worked for SCC and the MLT program as an "Instructional Specialist" preparing lab exercises for students. Those exercises have been helpful for students like Susie.
When Susie is not spending time with her family on her grandparent's dairy farm, you just might find her at work in her new career as a Medical Laboratory Technician at LCRH, where Stevens is her supervisor.
Susannah (Susie) Roy will graduate from SCC's Medical Laboratory Technology program in May 2021. "I have always been interested in healthcare and helping others, but I have always preferred more hands-on work with the science behind healthcare. When looking for a career path, I knew I wanted something that offered both of those things, and MLT was the answer," said Susie.
Both students specifically talked about SCC's MLT instructors, Kimberly Land and Donna Ratliff. The agreed-upon sentiment by both students emphasized that these instructors were "very supportive and provided one-on-one time in labs, answered any questions we had, and also informed us of job opportunities in the area."
SCC and LCRH have a great relationship and value the local partnership in keeping students in the local community and in preparing students to enter the field of MLT. The hospital is eager and grateful to have SCC graduates join their team often even before graduating the program.
Susie said "I began clinical(s) at LCRH in the fall of 2020 and started working as a phlebotomist soon after. During my time here (the hospital), the staff has been so welcoming and willing to teach me in every area of the profession."
Her current job duties include processing and preparing patient samples, communicating with doctors and nurses, and training in other departments such as microbiology. "After graduation from the MLT program in May, my responsibilities will only grow," said Susie. "I am eager to have these added responsibilities because I know that it will even further fulfill my desire to help patients. A lot of the work we do is behind the scenes and can easily be forgotten, but an MLT does not go into the field looking for recognition. We do our jobs because we want to be hands-on in aiding the doctor in the patient's diagnosis."
"I am forever thankful and grateful for the staff at LCRH, Kimberly Land, and Donna Ratliff. They have went above and beyond to prepare me for my career," states Susie, "With their help and support, I have decided to continue my education at the University of Kentucky to earn my Bachelor's degree in the Medical Laboratory Scientist (MLS) program for the Fall of 2021."
The job opportunities for MLT's are growing, especially during COVID. Both Danny and Susie encourage anyone interested in the healthcare field to look into the laboratory as a possible career path.
According to EMSI Data, the occupational summary for medical laboratory technicians earn a medium hourly income of $22.95; and jobs are projected to grow 13% per year to 2,316 by the year 2026 in the Commonwealth.
Students who successfully complete the MLT program at Somerset Community College are eligible to take the national certification examination administered by the Board of Registry of American Society for Clinical Pathology and become a certified Medical Laboratory Technician (MLT) (ASCP).
SCC's MLT program is accredited by the National Accrediting Agency for Clinical Laboratory Science. For more information about SCC's program, please contact Donna Ratliff, SCC's MLT Program Director, at 606-451-6845 or donna.ratliff@kctcs.edu.