The staff of SCC's The Bridge receives Gloria Stanton Memorial Award
Published on Jan 4, 2021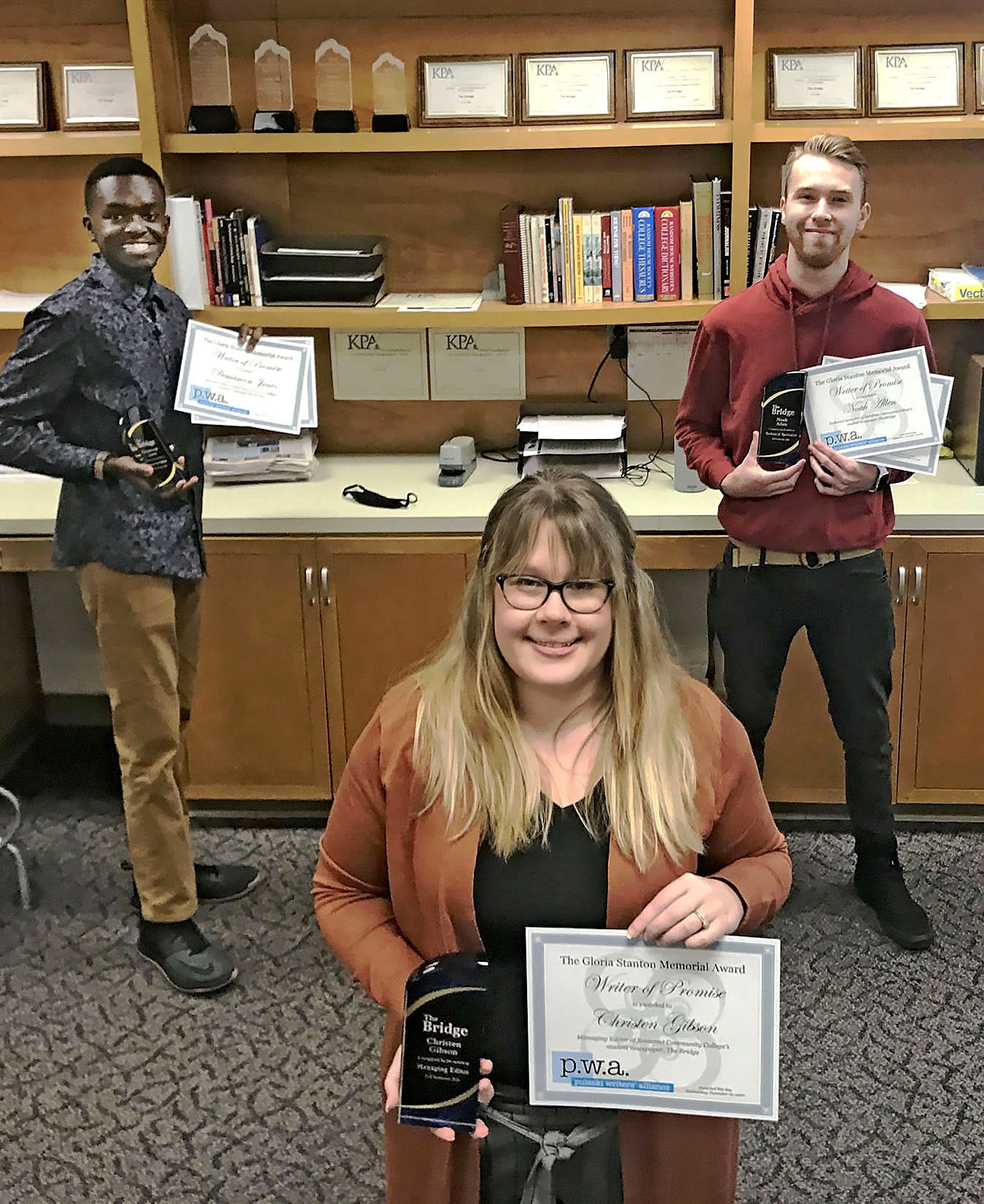 The staff of Somerset Community College's (SCC) student newspaper, The Bridge, has been named the recipient of the 2020 Gloria Stanton Memorial Writing Award by the Pulaski Writers' Alliance (PWA).
The longstanding writers' group bestowed the award, given annually to local writers of promise, in December to The Bridge's managing editor, Christen Gibson; its assistant editor, Demareon Jones; and its technical specialist, Noah Allen.
The award came with a cash endowment of $50 for each student.
Over the two pandemic-marred academic semesters of 2020, Gibson, Jones, and Allen, with the occasional input of various volunteers, were able to publish five monthly issues of the student newspaper and produce nearly a dozen episodes of The Gateway, the Bridge's new bi-weekly podcast.
The staff was also able to greatly expand The Bridge's social media presence, according to Jeff Harris, one of the newspaper's faculty co-advisors. "That the staff was able to accomplish so much this year – and all of it of such high quality – is impressive," Harris said. "But to do it during a pandemic is impossible. I'm still not sure how they did it."
The staff's podcast, which included an episode in which Gibson, Jones, and Allen interviewed Somerset Mayor Alan Keck about the controversial University of Somerset, broke new ground for The Bridge, said the newspaper's other faculty co-advisor, Stuart Simpson.
"It was Demareon's brainchild, and he, Noah, and Christen made it happen, week after week," Simpson said. Staff members shared the responsibilities of scheduling guests, researching issues, writing questions, interviewing guests, editing both the video and audio footage, and uploading the completed episodes to social media and multiple streaming sites, he said.
Gibson, who graduated from SCC in December with two Associates of Arts degrees, plans to major in journalism at Eastern Kentucky University, beginning later this month. It is a great honor to receive the Gloria Stanton Memorial Writing Award, she said.
"I could not have asked for a better way to end my time at The Bridge as I embark on the next step on my journey as a writer," Gibson said. "The experience and success I gained this semester as editor was more than enough, but the Stanton Award is the cherry on top of the dessert."
Stanton, a founding member of Pulaski Writers' Alliance, was a prolific free-lance writer, with hundreds of her poems, articles and stories published in various magazines, journals, and anthologies. She edited several books, including Sailing East and West, Out of the Fog, When You Seek Me, Bobbie's Joke Book, and Crisis in Green Valley. She also wrote a book of her own, Growing Up on Park Point in the 1940s and 1950s, about her upbringing in Minnesota.
Stanton and her husband, Oris, moved to Somerset in 1991. Both taught at Somerset Community College for several years.
Gloria Stanton passed away on April 15, 2015 – three days shy of her 75th birthday – from complications of signet cell carcinoma, a rare form of cancer.
"I knew Gloria well," Harris said. "She was a beautiful person and a terrific writer, and I know that she would be pleased with the PWA's decision to bestow this year's award on these students. (Gibson, Jones, and Allen) are writers, first and foremost. Whether they're producing news articles, columns, podcast episodes, social media content, or what have you, they do it with an audience in mind, how best to communicate an idea to an audience."
The staff and advisors of The Bridge are also awaiting word from the Kentucky Press Association on the results of its annual Excellence in Kentucky Newspapers contest. Over the past four KPA competitions, the Bridge staff has received a total of 59 awards, including one first-place finish, two second-place finishes, and a third-place finish in the prestigious General Excellence category.
For more information about The Bridge, contact faculty advisors Stuart Simpson (stuart.simpson@kctcs.edu) or Jeff Harris (jeff.harris@kctcs.edu).