SCC Creates WiFi Parking Lot Zones for Students
Published on Aug 12, 2020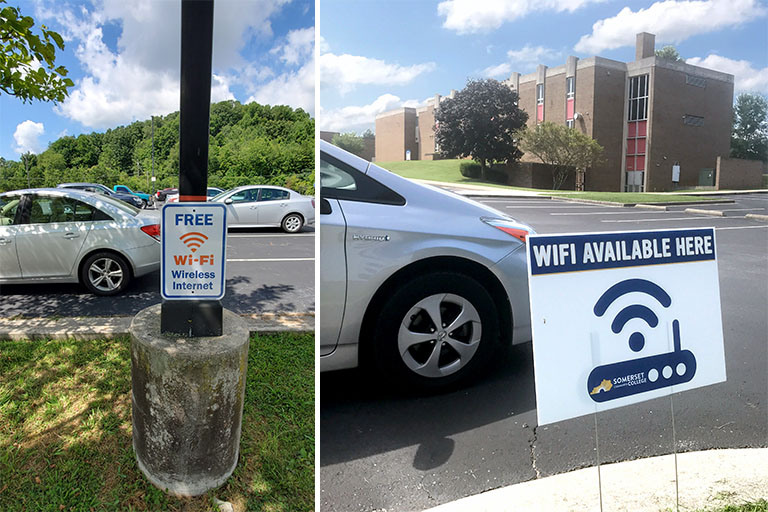 Somerset Community College is helping students overcome one of the main obstacles to distance learning—quality Internet service—by providing Wi-Fi hotspots in the college's parking lots.
As SCC shifted to additional distance learning due to the COVID-19 virus, so did the need to provide students with access to the technology required for remote studies. And that's where outdoor wireless Wi-Fi comes into play.
The free service can be accessed by anyone night or day and is the same high-quality Internet that is available inside SCC buildings. Anyone not attending or associated with the college can sign in as a "KCTCS-guest." The service is operational at all SCC locations except the Clinton and Casey Center, where it will be available soon.
"A lot of times people have a device, either computer or phone, but they might not have the service they need," says Dr. Bruce Gover, Vice President of Institutional Effectiveness at SCC. He noted that this could also include faculty and staff.
And, while the system is already available for the Fall 2020 semester and provides "minimal coverage," Gover says the college has already put in an order for 15 more ports and that they should be operational "by the middle of the fall semester."
"The ultimate goal is that if a student drives into a main parking lot area (at SCC) they should have it (Wi-Fi)," he said. Chris Roberts, SCC Information Technology Project Manager, says that the additional ports will be installed as they come in and agrees that Internet access should be "available everywhere in all (SCC) parking lots" in the coming months.
Signs are posted in parking lots at the college showing where the service is currently available. Locations of the Wi-Fi hotspots are:
Somerset Campus—Southeast corner of Stoner Hall parking lot.
Laurel Campus—Building 2 parking lot.
McCreary Center and Russell Center—Anywhere in their parking lots.
Clinton Center and Casey Center—Coming soon to the parking lot.
This service is important because over a third of students in Kentucky don't have adequate access to the Internet at home, according to a recent study by Common Sense Media, a national advocacy group focused on digital access and safety for children and families. The study puts Kentucky as the eighth-worst state in the nation for student Internet access.
Gover said the benefits of the Wi-Fi access go beyond support during the pandemic. "This helps the COVID response, but it also provides a service in non-COVID ways," he said. "In other words, students' in-between classes can sit in the convenience of their vehicle and do their coursework without having to go to a computer lab. And, faculty, the same way. It's a good service for our college to provide."
Classes start August 17 and there is still time to enroll. SCC will be offering late starting fall classes that run 12 weeks starting September 14, 2020, or the second 8 week session starting October 12, 2020. If you have been delayed in getting back to school this is your chance to still get all or most of your classes in this fall! We have 8, 12 and 16 week options ongoing all year long.