SCC Announces Dean's List for Spring 2020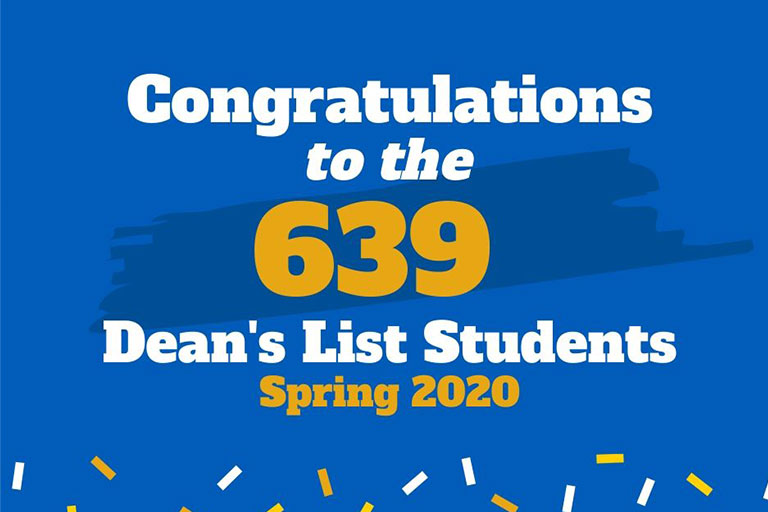 Somerset Community College (SCC) is proud to announce the names of those students named to the Dean's List for the spring 2020 semester. The spring semester concluded in May and a total of 639 students were named to the list.
To be a member of the Dean's list, a student must maintain a 3.5 grade point average and be a full-time student at Somerset Community College. A full-time student must take 12 credit hours during a semester, excluding developmental classes.
Congratulations to these students for their academic excellence. Dean's list honorees include the following (sorted by county then last name, first name.):
Adair:

Carney, Ronnie
Chapman, Andrea
Chapman, Robert
Cole, Taylor
Konsavage, Josiah
Moore, Samuel
Moore, Samuel
Smith, Zachary
Stearns, Joshua
Stotts, Jesse
Todd, Paul

Barren:

Blount:
Casey:
Brown, James
Cravens, Jesse
Durham, Wade
Irvin, Jennifer
Jones, Alyssa
Kane, Alexis
Lucas, Anna
Nivar, Breanna
Passmore, Grace
Patterson, Lukas
Runion, Jennie
Shirk, Mary
Streetman, Tesa
Woodrum, Deidra
Brown, James
Cravens, Jesse
Durham, Wade
Irvin, Jennifer
Jones, Alyssa
Kane, Alexis
Lucas, Anna

Clay:
Bargo, Michael
Boley, Jordan
Bush, Jessica
Bush, Travis
Collins, Christie
Collins, Cory
Feltner, Brianna
Feltner, James
Fields, Elizabeth
Fultz, Stephanie
Holland, Joamber
Hundley, Brittany
Hundley, Sara
Hunley, Shelby
Marcum, Summer
Murray, John
Owens, Christina

Clinton:
Alexander, Khiara
Arms, Corey
Barnes, Natasha
Carder, Amber
Cecil, James
Cowan, Seth
Drew, Robert
Gibson, Konner
Gill, Delanna
Harvey, Kathleen
Huckaby, Nakisha
Mason, Kelsea
Melton, Silas
Moons, Isabelle

Cumberland:
Anderson, Briley
Andrews, Jackson
Dicken, Madison
Kaczorowski, Justin
McCloughan, John
Scott, Crystal
Wilson, Curtis

Elliot:
Estill:
Fayette:
Coleman, Richard
Hisle, Aaron
Coleman, Richard
Hisle, Aaron

Garrard:
Boggs, Madison
Marlowe, Brittany
Harlan:
Boggs, Madison
Marlowe, Brittany
Jackson:
Bargo, Mckenzie
Bowles, Courtney
Deaton, Heather
Dezarn, Bethany
Hartsock, Jacob
Hartsock, Jasmine
Hicks, Haley
Jones, Cassie
Maupin, Tristan
Mcqueen, Rachel
Neeley, Clayton
Opdycke, Jazmine
Peters, Megan
Works, Rebecca

Knox:
Bargo, Allison
Brewer, Benjamin
Burke, Jessica
Chadwell, Tiffany
Clark, Breona
Collier, Cameron
Collins, Jobeth
Dean, Victoria
Gray, Aaron
Hensley, Anabelle
Hensley, Ronald
Henson, Kathryn
Hill, Andrew
Laxton, Michael
Lefevers, Ashley
Lockard, Noah
May, Josh
Mills, Robert
Mitchell, David
Owens, Jenna

Laurel:
Allen, Allison
Allen, Beverly
Allen, Nicholas
Ball, Brittany
Ball, David
Bargo, Chase
Blankenship, Ashley
Blankenship, Holly
Blanton, Amber
Blue, Bryan
Bramlett, Latosha
Brantley, Nicholas
Brewer, Jordan
Brock, Tosha
Brown, Ashley
Bunch, Mackenzie
Bush, Austin
Cain, Allison
Callahan, Jasmine
Carpenter, Kayla
Coleman, Kevin
Collins, Jason
Cowie, John
Cromer, Bryonna
Cupp, Jennifer
Curry, William
Dalton, Angela
Day, Loni
Delguy, Olivia
Dugger, Tori
Ehlers, Alice
Escobar, Lorena
Farmer, Autumn
Farris, Zachary
Fouts, Amy
Garrett, Roger
Garrison, Ashley
Gross, Stacie
Harris, James
Hensley, Jalane
Henson, Amber
Henson, Beckie
Hinkle, Trisha
Hodge, Christian
Hodge, Travis
Houston, Brianna
Hubbs, Lauren
Jones, Chase
Jones, James
Jones, Timothy
Justice, Tonya
Kennett, Anthony
Kennett, John
Kilburn, Darawn
King, Sydney
Kott, Renee
Kott, Robert
Lowe, Julia
Madden, David
Martin, Heather
Martin, Matthew
Mccoy, Rachel
Mchargue, Stephanie
Mcintosh, Sarah
Messer, Brittany
Messer, Kaitlyn
Messer, Tamara
Mihalik, Katie
Miller, Deidra
Mills, Jennifer
Moody, Jeffery
Mount, Diana
Muise, Erin
Mullins, Brittany
Napier, Jeffrey
Newby, Destiny
Nieto, Ivan
Noe, Christopher
Pagán, Julia
Profitt, Mikayla
Robbins, Hannah
Robinson, Brooklyn
Robinson, Derrick
Robinson, Rachel
Savelyeff, Alexander
Saylor, Christopher
Schooley, Trevor
Sharp, Tucker
Simpson, Ronnie
Smith, Bailey
Sowders, Angela
Spurlock, Donna
Stogsdill, Dhaigun
Strange, Sharon
Tengler, Jared
Veach, Mary
Wagers, Billy
Watkins, Kelsey
Whitaker, Holly
Whitaker, Mitchell
Williams, Ashley
Witt, Mason

Leslie:
Lincoln:
Anness, Charles
Baker, Brandi
Charland, Aaron
Downs, Samantha
Johnson, Christopher
Long, Bianca
Mcqueen, Alyssa
Miller, Joshua
Padgett, Ethan
Sanford, Cameron
Swartz, Jedediah
Wall, Alex
Wesley, Taylor
York, Dylan
Anness, Charles
Charland, Aaron
Downs, Samantha
Johnson, Christopher
Long, Bianca

Madison:
Baker, Manda
Bargo, Jack
Bingham, John
Cain, Kenneth
Dennis, William
Garrison, Alexander
Grant, Matthew
Johnson, Shandi
Moore, Autumn
Pace, Ellen
Reinhardt, Michael

McCreary:
Bishop, Makayla
Clark, Indica
Corder, Cassondra
Cox, Tabitha
Duncan, Madison
Garcia, Desirae
Harmse, Heavenly
Hubbard, Leon
Jones, Lakeisha
Jones, Silas
King, Chelsei
Longmire, Hannah
Lowe, Sandy
Maggiora, Juanell
McGuire, Taylor
Miller, Sarah
Morgan, Katherine
Morgan, Reagan
New, Dillard
Perry, Brooklyn
Ridner, Devyn
Rose, Latitia
Sammons, Larry
Spradlin, Devin
Stephens, Chelsea
Stephens, Monica
Weaver, Brianna
Worley, Katie
Wright, Joshua
Bishop, Makayla
Clark, Indica
Corder, Cassondra
Cox, Tabitha
Duncan, Madison

Mercer:
Lester, Hunter
Wade, Kaleb
Powell:
Pulaski:
Abbott, Scotty
Agoncillo, Mary
Alexander, Marika
Allen, Jacob
Allen, Jacob
Allen, Nicholas
Allen, Noah
Allison, Jasper
Anderson, Elise
Anderson, Jesie
Arndts, Josie
Atkins, Brittany
Atwell, Sydney
Atwood, Caleb
Bader, Jasmin
Baker, Austin
Ball, Noah
Ballou, William
Barker, Madison
Beckman, Allie
Benien, Jessica
Bhatti, Melissa
Blevins, Dakota
Blevins, Paul
Bradley, Dakota
Brinson, Joel
Brinson, Johnathan
Brinson, Sarah
Brown, Shatrina
Brown, Tessa
Brown, Timothy
Brumley, Hunter
Bryant, Timothy
Bryant, Tyler
Burge, Rachel
Burgess, Shelby
Burke, Hannah
Burton, Ragan
Caldwell, Jessica
Campbell, Sierra
Casada, David
Chaffin, Dylan
Chasteen, Aaron
Childers, Zachary
Chitwood, Bethany
Clayton, Clarence
Clingerman, Samantha
Conley, Dillon
Conley, Lillian
Copenhaver, Daniel
Correll, William
Countryman, Austin
Crockett, John
Crubaugh, John
Curry, Abigail
Dalton, Christina
Daulton, Hunter
Davis, Noah
Dugger, Lashay
Duncan, Bethany
Duvall, Lauren
Dykes, Kenneth
Edens, Justin
Eggers, Erica
Elder, Sierra
El-Halawany, Anas
Farmer, Marta
Faught, Cody
Fisher, Jakob
Fisher, Rebecca
Floyd, Joseph
Ford, Timothy
Foster, Brooklyn
Frazier, Rebekka
Fugate, Ashley
Gholson, Nichalus
Gibson, Anna
Gibson, Zachary
Godbey, Bradley
Godbey, Haley
Godby, Bonnie
Godby, Sandrina
Goldson, Evan
Gregory, Jasmine
Griffith, Brandon
Griffith, Jeremy
Hall, Berwin
Hardwick, Rhys
Hargadon, Zach
Harper, Hunter
Haste, Shelby
Hawk, Donald
Haynes, Brooklyn
Haynes, Faith
Haynes, Lakisha
Hays, Dalton
Helm, Caitlyn
Hill, Darren
Hill, Niyah
Hines, Lillie
Huff, Miranda
Hutchinson, Mackinzie
Hutchinson, Mary
Joerger, Autumn
Johnson, Carley
Johnson, Krista
Johnston, Taylor
Jordan, Jillian
Kean, Nathan
Keith, Logan
Kennedy, Rebekah
Kent, Angela
Kessler, Lauren-Rose
Langendorfer, Dasian
Larue, Steven
Latham, Jason
Lay, Samuel
Maggard, Malachi
Maher, Hannah
Maybrier, Seth
Mckissic, Kiera
Meece, Marcus
Meece, Nathan
Middleton, April
Mikel, Kelsey
Miller, Steven
Mink, Brittany
Molen, Lillian
Montgomery, Aidan
Moore, Sarah
Muse, Aaron
New, Meghan
Newsome, Karen
Norton, Jessica
Parrott, Addy
Patel, Jay
Patel, Mishan
Patel, Niravkumar
Perry, Emmanuel
Ping, Colton
Pond, Elias
Prince, Mitchell
Ramirez, Adrianna
Ramsey, Shelbie
Randall, Stephanie
Reynolds, Caleb
Robinson, Braxton
Rowe, Gracie
Sanchez, Destiny
Schmidt, Somer
Shanks, Ryan
Shelton, Tamantha
Silvers, Paula
Sizemore, Matthew
Skulsillapakorn, Kanyawee
Smith, Jayla
Smith, Tyler
Spaw, Braydyn
Stein, Nathanael
Stewart, Zachary
Stigall, Austin
Stout, Virginia
Stringer, Terry
Sullivan, Raygan
Summers, Ashlyn
Taborda, Melissa
Tarter, Bailey
Tarter, Keely
Tarter, Zackery
Thomas, Cameron
Thompson, Daphne
Thompson, Norma
Thompson, Tyler
Thornton, Thomas
Tomlison, Jaymme
Troxtel, Jaclyn
Troxtle, Jeremy
Troxtle, Tonya
Tulcey, Monique
Turner, Mary
Van Hook, Shawna
Vaughn, Caleb
Warren, Crystal
Warren, Kylie
Warren, Stephen
Watson, Hayley
Weaver, Rylee
Westerfield, Branda
Whisler, Margaret
Williams, Theresa
Wilson, Nathan
Wright, Caleb
Wyant, Michael
Wyatt, William
Young, Mckenzie
Zheng, Yan

Rockcastle:
Allen, Carrie
Barnett, Kassandra
Bryant, Hannah
Bullock, Hazel
Cain, Kenneth
Carroll, Amanda
Daugherty, Tiffany
Davis, Kristen
Doan, Amber
Hayes, Dustin
Holcomb, Kristin
Mattingly, Ethan
Mcguire, Christina
Miller, Kagan
Mounce, Rebecca
Mullins, James
Neeley, Savannah
Robbins, Bethany

Russell:
Bentley, Kasey
Burchett, Chasity
Campbell, Joshua
Coffey, Cody
Evans, Kierstin
Garrett, Ryan
Gosser, Jill
Hudson, Stephen
Kerns, Michael
Larkins, Michael
Molter, Alexander
Pemberton, Kallie
Pepperkorn, Joseph
Popplewell, Michael
Prudente, Nayeli
Railsback, Kristina
Rigney, Kenneth
Roark, Christopher
Robertson, Cassidy
Russell, Bethany
Sidebottom, Neil
Thomas, Jacob
Thompson, Tavian
Willenbrink, Karen
York, Gabrielle

Warren:
Wayne:
Abbott, Heather
Atkinson, Shannon
Bell, Taylor
Brett, Logan
Bridgeman, Jacob
Carroll, Felicia
Coffey, Christy
Coffey, Trevor
Copus, Mahala
Davis, Taylor
Denny, Meagan
Dishman, Garren
Dishman, Savannah
Dobbs, Johnathan
Dobbs, Jonathan
Fisher, Courtney
Gregory, David
Guffey, Samuel
Haas, Kory
Hicks, Lydia
Honey, Angela
Hughes, Lauren
Jones, Jennifer
Kirby, William
Latham, Bethany
Latham, Bethany
Lowe, Ashley
Marcum, Abigail
Massengale, Brett
Massengale, Shelby
Mcfarland, Devin
Morales, Eduardo
Morrow, Jerel
Phelps, Austin
Phillips, Dustin
Piercy, Gary
Pitman, Taylor
Ramirez, Kimberly
Ramsey, Cassie
Reynolds, Andy
Reynolds, Diane
Ritterbach, Amber
Roberts, Grayson
Rose, Phillip
Simpson, Daron
Simpson, Rebecca
Smith, Jozey
Stinson, Cynthia
Stinson, Kelby
Stringer, Kayleigh
Swiger, Christopher
Tuggle, Kevin
Webb, David
Young, Amber
Young, Christina
Young, Letha

Whitley:
Barnett, Brittany
Belew, Makenzie
Brewer, Kelsey
Cain, Tristan
Couch, Joseph
Dillon, Christopher
Elliott, Brittany
Fuson, Deserae
Giles, Pamala
Gore, Shannon
Hendrickson, Gary
Hubbard, Zoe
Hutton, Chasity
Jones, Jason
Keller, Holly
Lawson, Bridgette
Lawson, Michael
Lequire, James
Lipsteuer, Desiree
Madon, Charles
Matney, Tresa
Mills, Aaron
Mills, Josh
Mills, Zachary
Monhollen, Mable
Napier, Alexis
Powell, Daniel
Powers, Jason
Price, Logan
Rice, Jason
Rice, Jerry
Saylor, Alex
Sevier, Jacob
Smith, Jennifer
Strickland, Shara
Strickland, Shara
Vanover, Ashley
Waltz, Ashlie
Wilson, Aaron
Wilson, Sadie
Wilson, Thomas
Woods, Kasey
Wright, Nicole