SCC PTA Student Named Recipient of Two Major National Awards
Published on Apr 30, 2020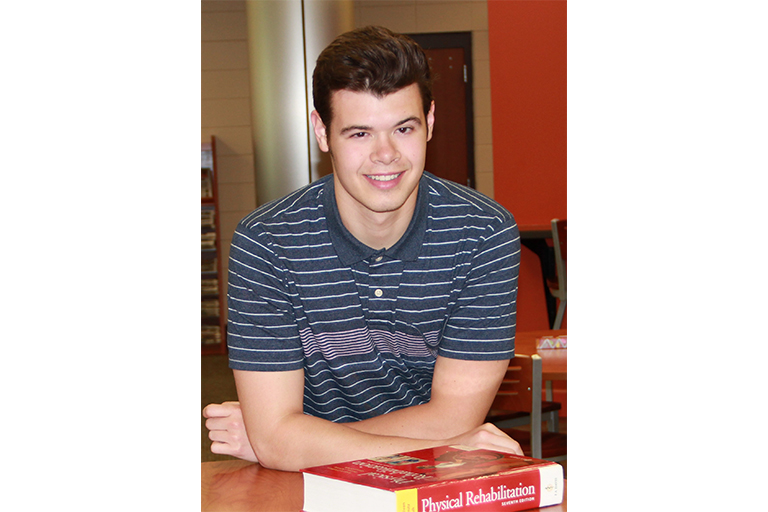 A student currently enrolled in second-year studies in the Somerset Community College (SCC) Physical Therapist Assistant (PTA) Program has been named the recipient of the 2020 Academy of Orthopaedic Physical Therapy's Outstanding Student Award and the American Physical Therapy Association's (APTA) Outstanding PTA Student Award.
Each award is presented to only one student nationally. Blake Eldridge of Eubank received the Orthopaedic Award at a ceremony at the APTA's Combined Sections Meeting in Denver, Colorado in February.
The criteria for both awards include academic and clinical performance, community service, campus involvement, and contributions to the physical therapy profession. The APTA Outstanding PTA Student award is especially significant, as recipients are peer-selected at a national level.
The nominations were supported by Matthew A. Smith, who served as Eldridge's clinical instructor, PTA faculty members Ron Meade and Steve Hammons. He worked as a physical therapy technician at PT Pros of Somerset prior to being admitted to the program.
Eldridge was previously named Kentucky's New Century Workforce Pathway Scholar in 2019, an award presented to the top community college student in Kentucky, and was named to the Kentucky Physical Therapy Association's All-Academic Team. He was appointed to the PTA Program's Advisory Board by the college president and is a member of SCC's Student Appeals Board. Within the PTA Program, he serves on the Special Events/Philanthropy Team and the Diversity, Equity and Inclusion Workgroup. He is a member of Phi Theta Kappa International Honorary, was named to the Dean's List, and attended SCC on the Marsha C. Johnson Scholarship.
In addition to being an active member of the APTA, Eldridge has participated in many community service activities, including the Kentucky Special Olympics, where he assisted with free health screenings for participating athletes. Other noteworthy activities include fundraisers for the March of Dimes, community participation in the Eastern Kentucky PRIDE Clean Sweep, and assisting in exercise programs for patients with Parkinson's Disease. He reports his favorite memories of SCC, though, are end-of-semester lunches with classmates at Cracker Barrel and post-exam volleyball matches with classmates at Pulaski Park.
"Physical therapy as a profession enables me to have so many opportunities, but most importantly, it allows me to make a difference within my community by restoring people's lives and functional abilities," states Eldridge.
Eldridge is the son of Jaime Buchanan of Eubank and Steve Eldridge of Eubank. He will graduate from the SCC PTA Program this May and plans to work in an outpatient orthopaedic setting in the central Kentucky area. He plans to further his education with a Bachelor's of Science in Healthcare Administration. He may ultimately obtain a doctorate degree in physical therapy.
For more information about the SCC PTA Program, please contact the director of the program at ron.meade@kctcs.edu.