SCC Expands Diesel Technology Program to Laurel Campus This Fall Semester
Published on Apr 24, 2020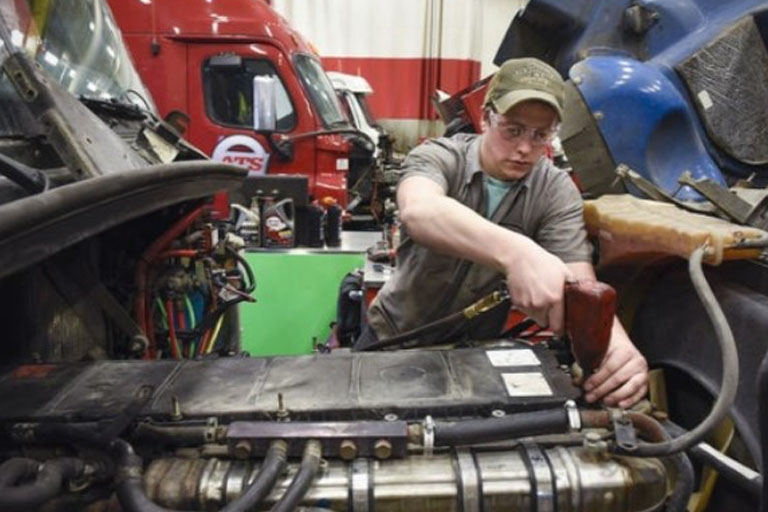 Diesel engines are the power behind our biggest machines—including trucks, farm equipment, and moving vehicles. This fall that massive power is coming to Somerset Community College Laurel Campus.
Expanding the Diesel Technology program to the campus "will be good for everyone...students and businesses," said instructor Adam Farmer.
"There are a lot of places for people (with this training) to go to work in the London area," he said. "We have already had a large amount of inquiries about the program."
Farmer noted that fall semester classes are set to begin in August and will be held on Laurel Campus south, 235 South Laurel Road, behind South Laurel High School.
Diplomas to successful students will be awarded for Medium & Heavy Truck Technician and Agriculture Diesel Technician. The program also offers coursework for 11 separate certifications.
Diesel Technology has been a successful program on the SCC Somerset Campus for many years.
Farmer said the decision to expand to the Laurel Campus was made following a meeting with area businesses last year. "We had a big turnout" and a lot of positive support from business and industry, he said.
Travis McQueen, interim Laurel Campus Director, agreed. "From our discussions in the past several months with business and industry professionals this is a much-needed program in our area," he said.
The community is already showing their support for the program with donations and scholarships. Two new John Deere engines have been supplied by Meade Tractor of London, and BoydCat in Louisville has also donated two engines.
Scholarships in the name of Randall and Victoria Weddle will be awarded to 10 students who enroll in the program—five women and five men. These scholarships are $2,500 per semester, merit-based and renewable for those who keep a 2.5 grade point average. They will cover the cost of tuition for 12 hours and will also help with the expenses for books.
Farmer said that a donor gave a $30,000 gift to the program to purchase high quality Matco Tools. "These are really good, name-brand tools," he said.
Both Farmer and program coordinator Ricky Harris said that the program's expansion will really benefit students. "There has always been a need for diesel technology instruction in the Laurel County area," Harris said. "Now, students wanting this instruction won't need to drive to Somerset."
McQueen said that "Our goal at Somerset Community College is to help students achieve 'a better life' and we look for this program to be a great addition to the many other wonderful programs we offer at SCC to help with that mission."
SCC is now offering Diesel Technology on Somerset and Laurel campuses. For more information about enrolling in the diesel program, call Adam Farmer, instructor of the Laurel Campus Diesel Technology program at 606-451-6821 or Heather Gambrel at 606-677-8329.
Visit us online at somerset.kctcs.edu to learn more about this program and many others offered at Somerset Community College.