SCC Offers Free Online Classes During Pandemic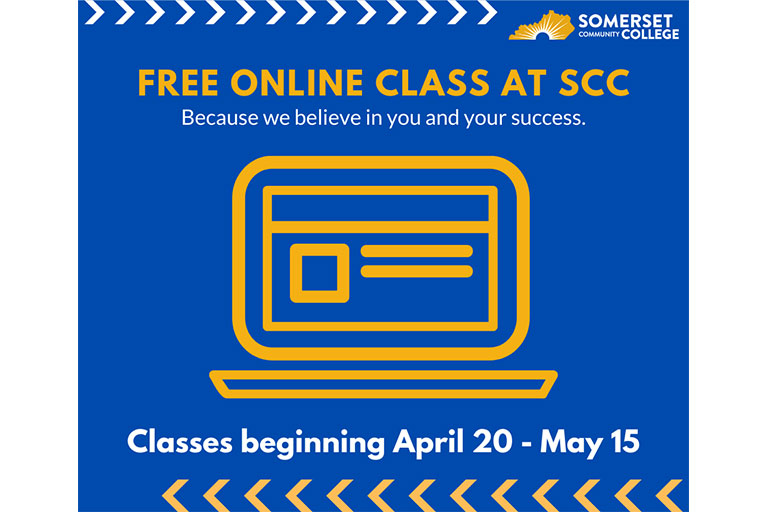 As we continue to navigate the unique public health challenge affecting our nation and commonwealth, Somerset Community College (SCC) is committed to serving our communities, citizens and industry partners during this pandemic.
SCC is offering FREE tuition for a one-credit online class to interested non-enrolled individuals looking for a pathway to a new opportunity or career.
Through SCC Workforce Solutions, individuals 18 and over will have the opportunity to choose one of three online classes to take FREE of charge, with no additional costs or fees for books or materials.
The following online classes are open for enrollment today. The classes will start April 20 and go until May 15.
Requirements: Students will need access to a computer and internet. Classes are open to prospective students in SCC's 13-county region (Pulaski, Laurel, Casey, Russell, Clinton, McCreary, Adair, Clay, Cumberland, Jackson, Lincoln, Wayne, Whitley.) All admissions and enrollment will be handled virtually through Workforce Solutions. Contact information is listed below.
Class options for ONE free class opportunity are as follows:
Digital Photography: Digital Photography I - Introduces the skills and techniques to capture and process digital photographs. Emphasizes basic digital camera operations and includes proper techniques to import and organize photographs while using appropriate resolutions and file formats.
To enroll, students should contact Kelly Strunk at 606-451-6692 or kstrunk0008@kctcs.edu.
Blueprint Reading Fundamentals: Blueprint Reading Fundamentals presents basic applied math, lettering, lines, multi-view drawings, title blocks, material lists and the drawing change system to teach how to read a simple blueprint. This skill is used by welders, machinists and throughout the construction industry.
To enroll, students should contact Kelly Strunk at 606-451-6692 or kstrunk0008@kctcs.edu.
5S Method: The 5S Method is a standardized process that when properly implemented creates and maintains an organized, safe, clean and efficient workplace. Improved visual controls are implemented as part of 5S to make any process non-conformance's obvious and easily detectable. 5S is often one element of a larger Lean initiative and promotes continuous improvement.
To enroll, students should contact Kelly Strunk at 606-451-6692 or kstrunk0008@kctcs.edu.
For more information visit https://somerset.kctcs.edu/covid-19/free-classes-at-scc.aspx
SCC is currently enrolling for summer and fall courses. Start your pathway to a better life. Please visit our website to enroll in classes today. Somerset.kctcs.edu.