SCC Opens Share and Care Center on Campus
Published on Feb 7, 2020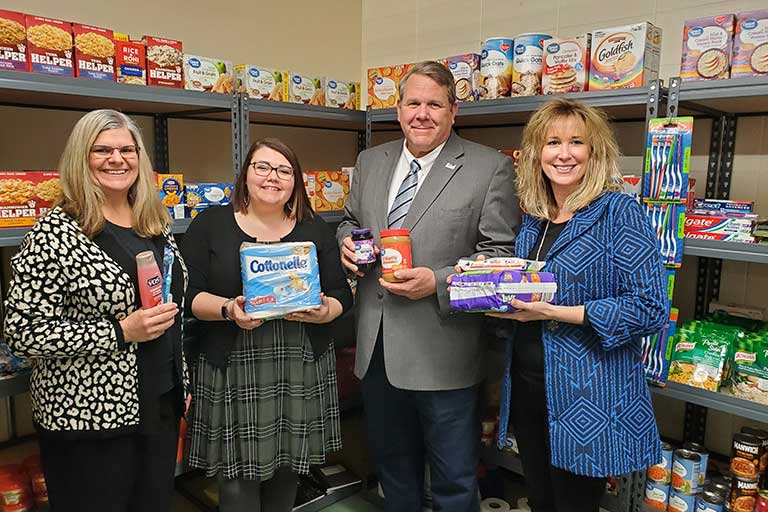 Monday, February 3, 2020 Somerset Community College's (SCC) Somerset North Campus hosted a grand opening for a new food pantry facility, The Share & Care center.
The Share and Care center is a free food pantry for students with food insecurity. Students can access the center with a current SCC ID. It is completely free and its visitors are kept anonymous. The motto of the center is "take if you need, give if you can".
Tracy Casada, Tawshiana Beggan, Dr. Carey Castle and Cindy Clouse, participated in the grand opening and several faculty and staff were also there to show support for this event. The Share & Care Center idea originated in staff council as a way to help our students and give to those in need.
"This past year when I became a staff council member, I volunteered to lead the initiative and bring the Share & Care Center to fruition," said Tawshiana Beggan, staff council secretary. "The center is not only a way to serve students, but to engage faculty, staff, student groups and the community in meeting local needs."
Thanks to a $2,000 grant from the Kentucky Community and Technical College System and a match from the SCC Foundation the pantry is fully stocked with supplies. Beyond that, staff, faculty, and community members have all contributed to making the Share and Care center a possibility.
"The purpose of the pantry is to help improve food insecurity on campus or, ideally, eliminate it completely and to improve the well-being of our students so they can focus on why they're here—to get an education," said Tracy Casada, vice president of student affairs. "This is just one way we are actively removing nonacademic barriers to increase student success."
At SCC we want our students to know that we value them and we know that assisting to meet their personal needs also aides them to attain their educational goals.
The Share and Care center holds not only food but also essentials such as laundry detergent, binders, diapers, toiletries and a few backpacks. A college student's purchase of these items often take the place of a meal.
The Share and Care center is located in Meece Hall Room 132, next to the Skills U and Work Ready office.
Donations for Share and Care center should be non-perishable food items. Those interested in making a donation to the center should contact Tawshiana Beggan at 606-451-6980. For monetary donations please contact Cindy Clouse at cindy.clouse@kctcs.edu.