International Festival to be Held October 17 at the Somerset Campus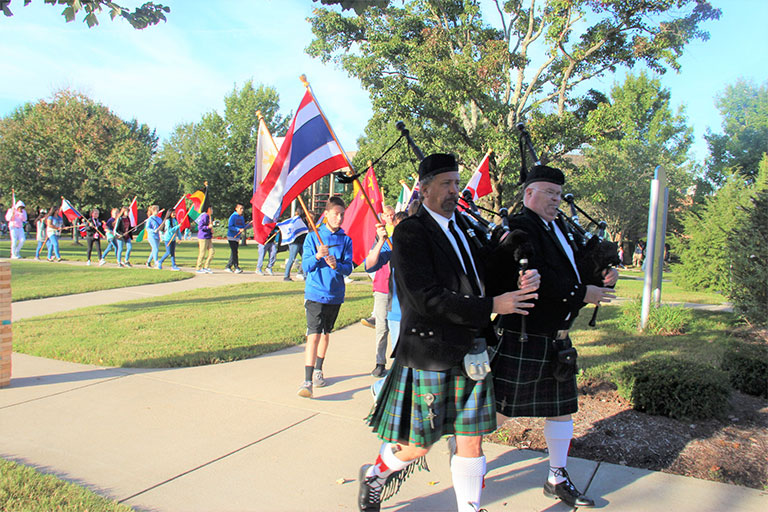 The Somerset Community College (SCC) International Festival, an annual event that introduces attendees to numerous culinary, art, educational and musical experiences from around the globe, will be held Thursday, October 17, in Somerset. The event is free and open to the public.
The theme for the 2019 International Festival at SCC is "Imagine All The People … Sharing All The World!" The SCC Somerset North campus, where activities will be held, is located at 808 Monticello Street in Somerset.
The SCC International Festival has been held at the college for the past 14 years. This year, activities begin at 9 a.m. and conclude at 3 p.m. Each year, numerous SCC students, faculty, and staff join with guests and community members to provide a unique cultural experience on campus.
Beginning with the Welcome and Parade of Nations at nine, featuring SCC President/CEO, Dr. Carey Castle, the Mayor of Somerset, Alan Keck, and County Judge-Executive, Steve Kelley. The Parade of Nations will be led, as usual, by Bagpipers Bart Davidson, and Jack Lewis.
Students attending the event from Meece Middle School march through campus with flags from different countries as part of the parade. Featured flags represent students from those countries. Assisting with the flags this year will be Donnia Sharpe, Upward Bound Director for Russell/Wayne/Clinton counties, and retired Somerset teacher, Mark Beasley, who loves to help and support our festival!
Exhibits/Presentations
Featured international sessions and exhibits include the Cosmetology International Fashion Display, International product display, and session by Peacecraft of Berea, KY., Somerset High School Spanish class exhibits, and our friends from Uganda will have a wonderful exhibit.
Two new exhibits featuring the Baptist Campus Ministry, and Avarro Noguera, owner of the local restaurant Pura Vida, who will speak about his home country, Costa Rica, and he plans to have a coffee demonstration in Rogers Commons, and a musical presentation in the Theatre!
Again this year will be a session on Thailand, featuring our SCC student from Thailand, Tong Tong. Another student, Victorio Flores, helped by bringing a community friend of his, Joseph Ehringer, who will feature karaoke music with an international flair. Our Bagpipers, Bart Davidson and Jack Lewis, will be featured again this year speaking about the History of Bagpipes and Scottish Highland Dress. SCC Student Ambassadors will help all around the campus. Some of our Ambassadors are international students, and they are excited about learning here at SCC.
Returning will be an SCC Common Read interactive display. The SCC Multicultural Club and the Student Government Association will return with their preview and announcement of the upcoming Day of the Dead event for later in October. A member of the SCC Diversity Initiatives Team, Nechalae Williams, plans to return with her Original Peoples' exhibit. One of our featured speakers from Lexington, Jim Embry, brings word from Italy where he has been speaking about the Slow Food Terre Madre Network. He always brings an interesting exhibit that heightens the attention of all observers.
A sampling of other special topics for 2019 include:
SCC Faculty Member Dr. Cecilia Ramilo- presentation about the Philippines
SCC Faculty Member Zhiming Xia-name writing in Chinese
The East/West Karate School of Somerset and London-Martial Arts demonstrations.
SCC Faculty Member James Taylor-update on the refugee crisis
Beloved Community Member Teresa Hail-Zumba demonstration
Middle Eastern Dance Ensemble from Berea College
SCC Theatre Director Steve Cleberg-International short films
Joan Brannon is returning to SCC after several years, bringing her skills with African Drumming
"We are excited to have more students from both the high school and college level play such key roles in our event," said SCC Director of Equity and Inclusion, Elaine A. Wilson. "I am confident they will add immeasurable value to the day. Students from schools in the SCC Service Area have been invited to attend and participate. We welcome elementary, middle, high school, and college students to participate whether from city, county, private, public schools, or from homeschools. We welcome everybody in the community to come because SCC loves bringing the world to the college in order for our community to see the world in one place – right here on our campus. We are also sincerely grateful for our media support from area newspapers and local radio station, WTLO. Word of mouth helps, too."
For musical entertainment, we are welcoming two new features, in addition to the bagpipers, we will have student and faculty-led karaoke. Joseph Ehringer of Science Hill will be featured in the Community Room around noon, and James Taylor of SCC will be featured outside the Meece Auditorium on the patio, near the Lake Cumberland Slaves Memorial. Both will be available for the enjoyment of our guests and our own students, faculty, and staff. Professor Taylor will be a part of a newly organized feature of our Recruiting Office which has been offering outside games and entertainment for all guests.
Food
The SCC Culinary Arts department will provide lunch free of charge for attendees. Featured dishes are inspired by foods from Italy, Greece, and Germany. In addition to lunch, guests will be treated to breads and cookies and coffee from very longtime supporters, Pulaski County Homemakers, the Wayne County Homemakers, and Baxter's Coffee will again be donating coffee for this year's event.
"For many years, the Pulaski County Homemakers have been bringing home-baked cookies for everyone's enjoyment, and the Wayne County Homemakers have been providing a table full of delicious bread for our attendees. In addition, Baxter's has generously donated coffee for our event for several years," said Wilson. "Given that we often have hundreds of students in attendance at this event, making, baking and bringing cookies, and breads, and coffee is no small feat. We certainly are so appreciative of the way these organizations continuously give back to our event and want to specifically recognize their generosity with our sincerest thanks."
A complete event schedule can be found at somerset.kctcs.edu/InternationalFestival.
To find out more about the event, or to discuss exhibiting items from other countries or cultures, contact SCC Director of Equity and Inclusion, Elaine A. Wilson at (606) 451-6915.