SCC Students Inducted Into Phi Theta Kappa Society
Published on Mar 7, 2019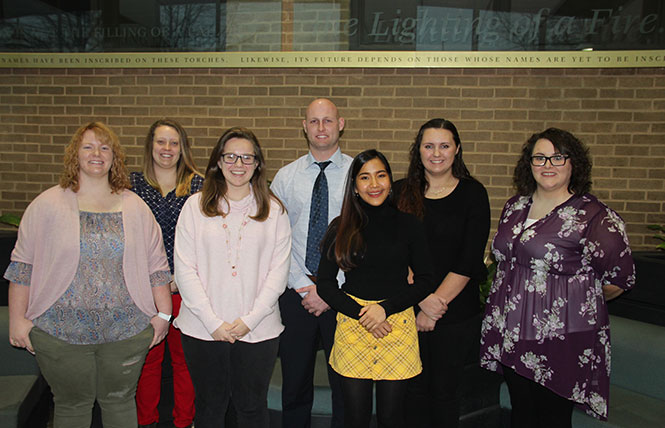 Somerset Community College's (SCC) Omicron Zeta chapter of the Phi Theta Kappa (PTK) Honor Society welcomed ten new members in an induction ceremony. Congratulations to all the new members, as the chapter celebrates its fifty-third year at SCC.
New members include Tiffany Chadwell, Shondah Cowherd, Ashley Dutton, Makenzie Gooch, Chasity Hutton, Jessie Kidd, Christina McDonald, Sarah McIntosh, Hannah Shawen, Courtney Stearns, Ashlyn Summers, Kanyawee Skulsillapakorn, Billie Leanne Bubnick, and Michael Mullins.
After Phi Theta Kappa Chapter advisors, Johnna Bigelow-Atkinson and Dr. Amanda Waterstrat welcomed the group and provided a new member orientation, co-vice presidents of scholarships Alison Causey and Amor Wolf welcomed new members and congratulated them on their accomplishments. Guest speaker Dr. Carey Castle, president and CEO of SCC addressed the inductees.
Castle shared his own passion for education and the pursuit of excellence in whatever you choose to do in life. He encouraged the inductees to be always interested in learning more, no matter where they are or what they are doing. He challenged them to rise to the standards of greatness as they lead and motivate others through their work. "Our society is aching for leaders," Castle emphasized. "Being a leader doesn't mean you yell a lot, it doesn't mean you're always right, and it doesn't mean that you will automatically have the respect of everyone around you. It DOES mean you care."
Phi Theta Kappa is an international scholastic honor society with a two-fold mission: to recognize and encourage the academic achievement of college students and to provide opportunities for individual growth and development through participation in honors, leadership, service and fellowship programming. Founded in 1910, it is the oldest and largest academic honor society of its kind.
To become eligible, students must have a 3.5 grade-point average after completing 12 or more credit hours of college-level work, be currently enrolled, and pursuing a two-year degree or certificate. Phi Theta Kappa members are eligible to apply for millions of dollars in scholarships each year, as well as gain leadership skills and network with other high achieving college students. Induction of new members occurs every fall and spring semester.
The Omicron Zeta chapter of PTK promotes and honors academic excellence at SCC and is active on campus. The current officers are Sherry Loveless, President; Alison Causey, Co-Vice President of Scholarship; Amor Wolfe, Co-Vice President of Scholarship, Emily Wombles, Vice-President of service, Jacob Wright, Vice President of fellowship.
For more information about Phi Theta Kappa, please contact any of our chapter advisors: Amanda Waterstrat amanda.waterstrat@kctcs.edu, Johnna Atkinson-Bigelow johnna.atkinson-bigelow@kctcs.edu, Alena Morrow alena.morrow@kctcs.edu, or Sarah Modgling sarah.modgling@kctcs.edu.