SCC Alumni Making A Difference at Bell County Area Technology Center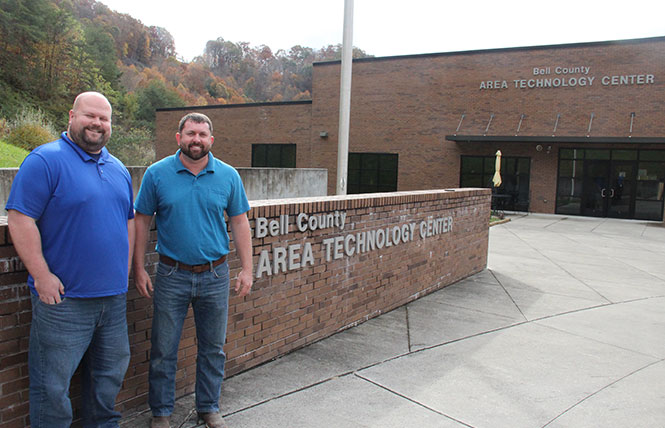 Many students complete technical programs to apply their knowledge outside the classroom, but two Somerset Community College (SCC) alumni are taking a different path. Steven Bowman and Joseph Hoskins are using their skills and education to teach others at Bell County Area Technology Center (ATC).
Steven Bowman, owner of Bowman Construction, is a native of Jellico, TN. He graduated from the SCC Construction Technology program at the Laurel Campus in 2010 and is a current standing member of the Advisory Committee for SCC's Construction Technology program. He was selected as one of the carpenters that helped build three houses for the premiere episode of the show Extreme Home Makeover, in Knoxville, Tennessee.
Bowman gives much credit for his success and passion for construction to Travis McQueen, Construction Technology professor at SCC.
"I was eager to learn, and Travis mentored me through the entire process," said Bowman, adding they still are in regular contact.
McQueen served as a reference for Bowman when he applied for the teaching job and feels the position is a natural fit. "I'm very proud of Steven as a graduate of the Construction Technology program, a contractor in the field, and now an educator helping to carry on a trade that is in such high demand," he said.
Joseph Hoskins, an Iraqi Freedom veteran, was also inspired by a professor to enter the teaching field. Hoskins completed the Automotive Technology program, as well as three Associate's degrees from SCC before working in an independent repair shop and becoming an ASE certified Master Automotive Technician.
Hoskins began doing automotive work when he was ten years old but didn't consider teaching in the field until his professor, Vern Chadwell, encouraged him to take that path. He completed an extensive interview process and was chosen as an automotive technology instructor at Bell County ATC in August 2018. He loves the position and says he will always be thankful to Vern for nudging him in that direction.
The respect is mutual. "It was a pleasure having Joseph in my classroom," Chadwell said. The two are currently working together on a Skills USA Competition at Bell County ATC next month.
Both Bowman and Hoskins attribute much of their success to SCC.
"…You have to learn and find what you love and [what] makes sense for you. At SCC [there are] so many programs to help you navigate your passion, prepare and educate you to join the workforce doing something that works for you," Bowman said.
Somerset Community College offers associates degrees, diplomas and certificates in more than 40 areas of study, including many dual-credit opportunities that allow high school students to complete up to 30 credit hours before graduating.
As these two alumni can attest "you have to find what your passion is, what works for you and then seek a path guided to the success you desire." SCC is dedicated to helping students find that path.