SCC Laurel Campus Cosmetology Program Hosted "Operations Kids Christmas"
Published on Dec 7, 2018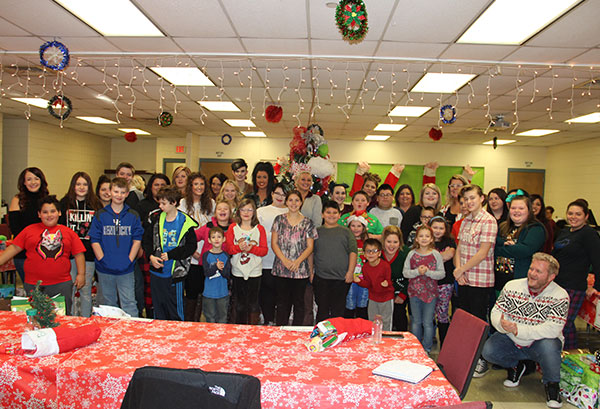 Christmas came early for 23 children from Wyann Pine Grove (WPG) Elementary School in London thanks to students in the Somerset Community College (SCC) Laurel Campus Cosmetology program. For the 16th year, the Cosmetology students hosted Operation Kids Christmas at the Laurel South Campus.
This year, SCC students joined with the Laurel Skills USA Club to raise more than $4,000 used to provide Christmas gifts for children in need. Funds were raised through candy bar sales, bake sales, selling Mixed bags, a silent auction, spa day and private donations.
Brandy Brock Program Coordinator in the SCC Laurel Cosmetology program, said the event is such a blessing to not only her but also the students and staff at SCC. "Giving back to the community is one of my passions, and I feel that exposing my Cosmetology students to this type of community service is a life-changing experience" Brock added. Brock said that she and co-worker Kay Swanner had been involved with this project for several years and it began before they were students at SCC.
At the event, children, who were identified by the school's family resource center, received clothes, shoes, toys, blankets, bicycles, and food baskets for their family. In addition, SCC faculty and staff members also provided coats for the kids. Koula Oakley, Family Resource Director at WPG, said: "to see how all the college students have opened their hearts and poured out such goodness to these children; it is what the true spirit of Christmas is all about."
Other than gifts and entertainment, the children from Wyann Pine Grove Elementary were treated to breakfast provided by Bojangles', a visit with Santa and lunch provided by Heavenly Pizza.
Other event donors for the 2018 event include: Modern Chic, Sheriff John Root, Shoe Inn, London Liquidators, West and Co., Jackie Steele, David Thompson, Martin's Peterbilt, Eldorado's, Mini Me Boutique, Salon BeYoutiful, One of A Kind Hair Salon, Mike Sharpe Regional president representing Forcht Bank, Greg Helton, Ronnie Messer, Shay Arnette, Bees Knees Bake Shop, Little House Photography, Southeast Eye Care, J & G Holdings, Powers Auto Service, Lee Family, Turning Heads Hair Salon, The Color Room, C and P meats, Somerset Community College Faculty and Staff, and many more community business and members.
Special guest Chloe White, a 9-year old singer from London, performed Christmas songs and danced for guests.
To see more photos from this event, visit the SCC Flickr account at https://flic.kr/s/aHsmx3F7gy.
To find out more about the SCC Laurel Campus Cosmetology program, contact Brandy Brock at (606) 878-4807 or brandy.brock@kctcs.edu. SCC will open an evening cosmetology class in Spring of 2019 on the Laurel and Somerset Campuses. Enroll Today!