SCC Theatre and Film to Hold Community Auditions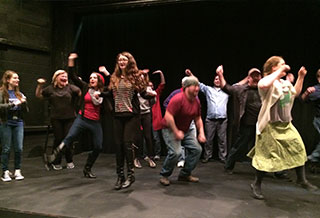 SCC Theatre & Film will continue its mission as a theatre program for the Somerset community by opening the auditions to the entire region for the 2018-2019 season. Auditions will take place on Monday and Tuesday, August 20th and 21st, in SCC's Stoner Little Theatre.
Sign in on both nights beginning at 7:00pm. Auditions begin promptly at 7:30pm. The theatre is looking for those interested in both on stage and backstage opportunities.
An audition packet is available in SCC's Fine Arts Suite in Stoner 104C. You may receive an electronic copy by emailing the director at Steve.Cleberg@kctcs.edu.
"We're a community theatre," states SCC Theatre Director Steve Cleberg. "Each year, professional people, retirees, teenagers and SCC students work together to create a series of community events."
The program is looking for people to fill roles in the fall play production, "A Midsummer Night's Dream." The production calls for 12 actors to play all of the roles. Shakespeare's classic comedy will be presented in unique and lively staging.
Theseus, Duke of Athens is planning to wed his beloved, Hippolyta when he is faced with the task of deciding the fate of a young girl who wishes to wed against her father's wishes. Two young couples take off into the woods on a midsummer's night in an attempt to sort out their dilemma. There they are entangled in the battle of sexes between the king of the fairies and his queen. Fast paced and fun.
The Theatre & Film program will also be looking for talent and crew for the film projects that will be produced next season. Shorts films, including the continuation of SCC's web series, Summerfalls, will take place in the spring of 2019.
The Summerfalls web series is featured on SCC Theatre & Film's Youtube Channel listed as SCCDVP. Somerset Community College Digital Video Productions has been producing feature films and educational video for over ten years.
You may follow SCC's Theatre & Film on our Facebook page. Contact us to be included on our newsletter distribution list for regular updates in your mail or through your email.
For further information regarding SCC's auditions and other events, contact SCC's theatre assistant Theresa Kibby at 606 451-6766 or by email at Theresa.Kibby@kctcs.edu.