Local Business Partners with SCC and Donates Equipment for KY FAME Program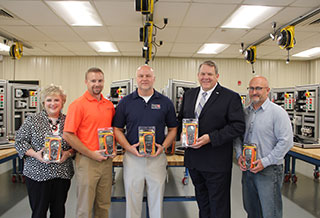 Leading automotive parts manufacturer, UGN, Inc. donated 20 Klein Tools Digital Multi-Meters to the KY FAME program under the Kentucky Work Ready Skills Initiative Grant. The project is a joint venture between Somerset Community College, Pulaski County Area Technology Center (ATC), Cumberlands KY FAME (Kentucky Federation for Advanced Manufacturing Education) Board and several other partners.
The KY FAME program, which seeks to create a stronger workforce that meets today's challenge of global competitiveness in manufacturing, involves employees from companies like UGN, Toyotetsu America (TTAI), American Woodmark, East Kentucky Power, Duraflame East, Chism Automation, Camtech Manufacturing Solutions, Team Modern, Cobb Vantress, Keystone Foods, Cable Contracting Incorporated (CCI), Tarter Farm and Ranch Equipment, and ABC Automotive.
One of the main initiatives of the Work Ready Skills grant involves partnerships between SCC, Pulaski County Schools and local industry in creating career pathways for students who wish to participate in work/study programs like KY FAME. Incumbent workers, displaced workers or veterans, or anyone interested in a career in advanced manufacturing can apply to the KY FAME program. Students accepted into the program are sponsored by local businesses like UGN Automotive. They attend college two days per week and work for three days and go to college for five consecutive semesters. Students graduate with the Associate in Applied Science in Industrial Maintenance Technology with the Advanced Manufacturing Technician certificate.
"We appreciate our local business partners like UGN Automotive and know their involvement in this grant is vital to the success of this project and our student's success as a whole," said, Alesa Johnson, Chief Workforce Solutions Officer. "Somerset Community College is committed to providing a highly trained and skilled workforce to meet the needs of existing business and industry and to help recruit new business and industry into the region."
UGN, Inc. was founded in 1986 as a partnership between Nihon Tokushu Toryo Co. Ltd., (Nittoku), and Autoneum Holding AG. They are a producer of high-quality acoustic, interior trim, thermal management products, and a recognized leader in customer satisfaction for the Japanese transplant automotive industry in North America. UGN Automotive opened the Somerset facility in 2005 and is an extremely dynamic and fast-paced plant with more than 345 highly engaged and responsive team members who supply Toyota, Honda, Nissan, and Subaru with acoustic insulation, carpet, and underfloor technologies.
"It took all-inclusive participation to come together to form this program and identify the most significant needs for skilled labor trades in our community. By adding additional training and curriculum within several industries with added funding from this grant, local manufactures here in Somerset do not have the shortage of workers they had four to five years ago" stated Chris Hicks, Plant Manager for the Somerset facility of UGN Automotive. "We are proud to work with SCC and look forward to our continued partnership."
The Cumberlands Chapter of the KY-FAME program is also looking for additional companies to participate in the program. To find out more, contact Richard Snowden, Toyotetsu Skilled Trade Training Specialist, and Cumberlands KY FAME president, at rsnowden@ttna.com or Alesa Johnson, Chief Workforce Solutions Officer, at (606) 451-6693 or alesa.johnson@kctcs.edu.