Don't Miss SCC's Fall Registration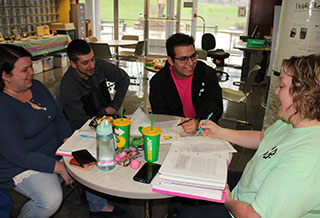 If you're considering furthering your education, now's the time to register! Registration for Fall Semester is underway, and it is a great time to get started on your goal of getting the education you need for a college degree or new career. Classes begin Monday, August 13th at Somerset Community College, where you can enroll in the degree, diploma and certificate programs or professional development and personal enrichment courses that best suit your needs.
"For new and returning students, we're offering extended hours August 6–9 from 8:00 a.m. – 6:00 p.m.," said Tracy Casada, Chief Student Affairs Officer at SCC. The last day for students to register for fall classes that begin on August 13 is Friday, August 10.
If you have not already submitted an application for admissions to SCC, you can go to our website and click on "Apply Now" to complete our free admissions application. "Once you complete your admissions file, an academic advisor will meet with you to discuss career plans, course/program requirements, and to sign you up for classes," added Casada. Advising appointments are not required. "Financial aid paperwork assistance is also available, and you can set up a payment plan."
SCC offers more than 40 programs with over 200 credentials and provides training in as little as six weeks to start you on your way to a great career. You can also explore SCC's online programs and certificates at somerset.kctcs.edu/programs. Local industries are desperate to fill skilled positions, but they need to be trained, and certified employees and SCC's program can help get you on the path to your dream job in under two years.
In addition to quality academic programs, SCC provides support and resources to encourage student success that includes financial assistance, scholarship options, a free on-campus tutoring center, veteran's resources, accessibility services, career guidance, and a number of clubs, activities, and events. SCC is much more than buildings and programs: we're a community where students find confidence, collaboration, compassion, and success. Let us help you start your path to a better life.
For more information about fall registration at SCC, please call 855-664-6722, or visit us online at somerset.kctcs.edu.