SCC Associate Nursing Students Celebrate Graduation
The Somerset Community College Associate Degree Nursing (ADN) Program graduated 25 students from the traditional day program and 13 students from the evening-weekend LPN to RN program on Friday, May 4th. Each student received an Associate in Applied Science in Nursing, and is now eligible to take the NCLEX-RN to obtain licensure as a Registered Nurse. Many of the students have already secured employment here in Somerset and surrounding areas. The college would like to congratulate these graduates on their accomplishment.
The Associate Degree Nursing program at SCC prepares graduates to use their skill and knowledge to fulfill the role of the nurse: enhance human flourishing, demonstrate sound nursing judgment, continually develop professional identity and possess a spirit of inquiry to improve the quality of patient care. Encompassed within these roles are the core components of context and environment, knowledge and science, personal/professional development, quality and safety, relationship-centered care, and teamwork. These core components are introduced, developed and built upon through the curriculum of the program. Graduates are eligible to take the National Council Licensure Examination for Registered Nurses (NCLEX-RN).
The SCC Associate Degree Nursing program is offered at the Somerset and Laurel Campuses. To find out more, contact Linda Ballard, program coordinator, at (606) 451-6737 or email linda.ballard@kctcs.edu.
First row from bottom, left to right: Brooke Isaacs, Taya Cook, LeAnn Ramsey, Elizabeth Garland, and Kendra Mullins. Second row from bottom: Renee Crawley, Devynn Guffey, Hope Chadwell, Samantha Saylor, and Zane Lowe. Third row from bottom: Kaitlyn Gregory, Morgan Davis, Chastity Sparks, Juliann Mullins, Kaitlyn Delph, and Adam Rogers. Fourth row from bottom: Brittany Fuson, Ethan Cook, Michael Wilson, Austin Thompson, Kristi Emerson, Brandon Perry, Bethany Harrison, and Adam Alcorn.
Not pictured: Sara Cornelison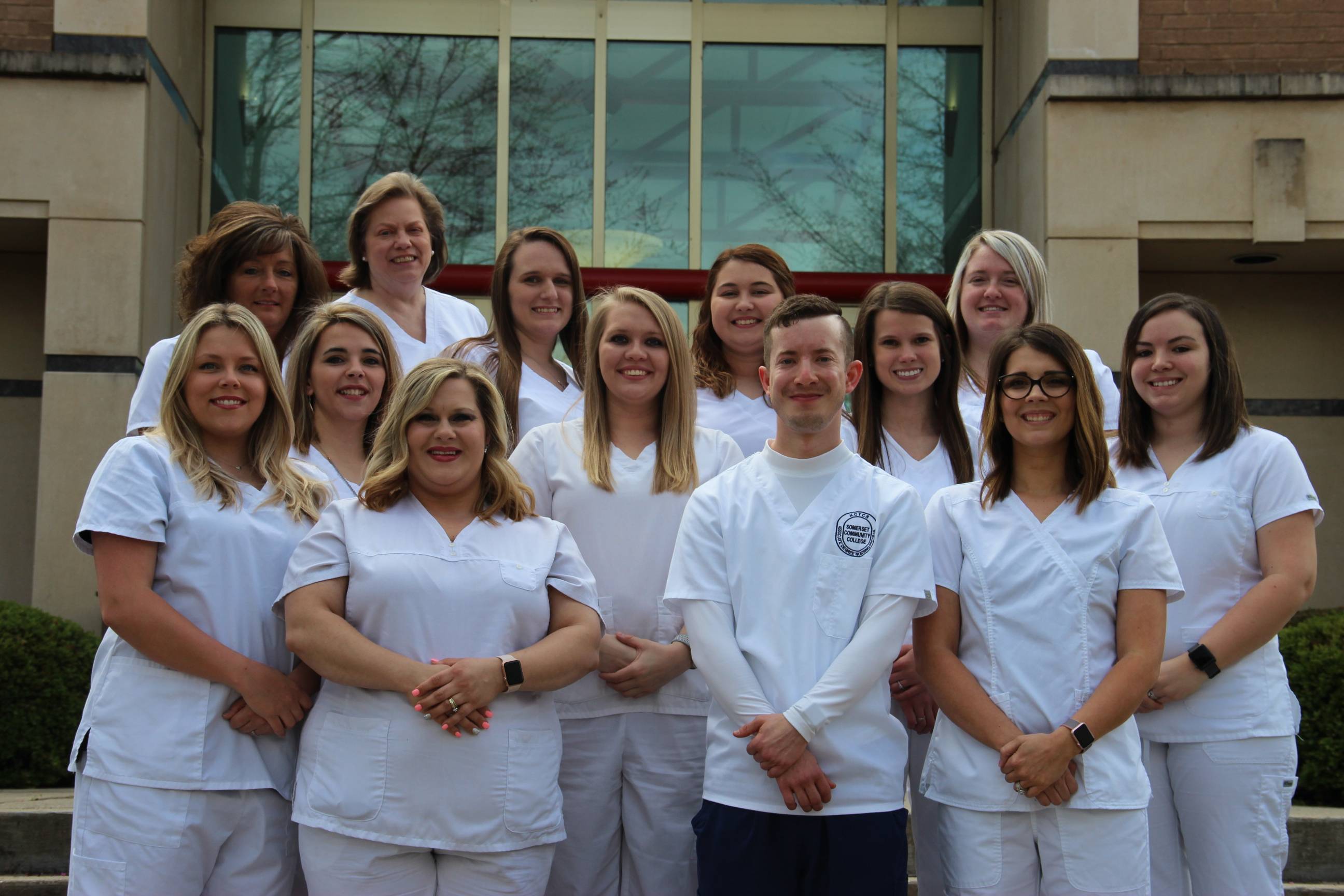 Front Row: Morgan Jackson, Kendra Collins, Lance Schmidheiser, Courtney Clarke. Second Row: Tara Watters, Patricia Brown, Lyndsey Russell, Brittney Jasper. Third Row: Regina Elam, Tisha Jones, Elainee Parrigin, Kristie Short. Fourth Row: Annette Corman