Review the Student Activities budget and allocate funds to student's clubs. Review any requests for student travel such as an instructor that requests travel for a student group.
Members: Tracy Casada – Chair, Sandra Bourne, Marsha Phelps, Jeff Brickley, Tammy Watters, Shanda Catron, Chelsea Oakes, LeAnna Bennett, Terri Flanary, Michael LaFavers, Eric Deaton, Carol Calcaterra, Jennifer Owens, Kay Swanner, Kevin Bradford, Lora Acrey, Barbara Hall, Billy Dobbs, Loris Sherman, Jenny Metcalf, Mary Taylor Huntsman, Julie Howe, Alyce Grover, Craylon Mills, Mike Goleman, Aaron Bradley, Johnna Atkinson-Bigelow, Terri Flanary
To review, identify, and propose ways in which the student newspaper can be more beneficial to the campuses of SCC.
Members: Jeffrey Harris, Stuart Simpson, Erin Stephens, Marci Randall, Rachel Stull, Cindy Burton, Ronald Mace, Richard Matika, Kelly Johnson
To plan the annual commencement ceremony.
Members: Tracy Casada – Chair, Hallie Ingle, Parker Tucker, JR Thompson, Crystal Melton, Natalie Winstead, Carla Deaton, Marsha Phelps, Paula Latham, Veronica Debord, Sharon Perkins, Angie Mills, Jason Asher, Karen Wynn, Karen Webb, Rebecca Jones, Debra Elam, Ruth Martin, Billie Duvall, Matt Rodriguez, Irene Larason, Kenny Lunsford, Larry Abbott, Rebecca Black, Jeff Callendar, Danny Compton, Dennis Dick, Kenny Estep, Tim Roy, Roger Stanton, Estel Ray Wesley, Marty Yaden, Elaine Kohrman, Cecilia Ramilo, Amanda Morris, Melinda Allen, Angie Broyles, Steve Cleberg, Matt Rodriguez
To promote inclusion across all areas of the College and support the College's commitment to cultural diversity; to advise College leadership in all areas in the design of policies, practices, and programs promoting inclusion and support cultural diversity.
Members: Melissa Adams, Melinda Allen, Aaron Bradley, CIndy Brown, Carol Calcaterra, Doyle Decker, Kenneth Jacques, Ronald Mace, Jo Marshall, George Martinez, Ronald Meade, Eduardo Nazario, Jennifer Owens, Betty Peterson, Christopher Phillips, Cecilia Ramilo, Marci Randall, Elle Robertson, James Taylor, Amanda Waterstrat, Noel Williams, Elaine Wilson, Natalie WInstead, Zhiming Xia
To oversee and serve as a resource for systematic hiring practices at SCC.
Members: Erin Stephens, Steve Cleberg, Mike Goleman, Robert Spencer, Richard Krause
To oversee the development, maintenance, and scheduling of the nature trail and amphitheater project.
Members: Jeff Brickley, Tammy Watters, Nikki Ware, Zhiming Xia, Stuart Simpson, Cindy Burton, Tina Watson, Holly Bowers, Kim Rose, Kenny Estep, Sara Tucker, Steve Tucker, Gary Sherman, Loris Sherman, John Starnes, Scott McClendon, Patrick Gaskin, Denny Fries, Jahurul Karim, April Kilgore, Ron Mace, Jeff Perkins, Wanda Fries, Carol Calceterra, Mark Isham
To support and promote Somerset Community College as an optimally effective learning college.
Members: Vicki Conaway, Melissa Chmura, Marci Randall, Frank Carothers, Carol Calcaterra, Stuart Simpson, Marie Hacker, Donna Logan, Jill Lawson, Kathy Lewis, Loris Sherman, DeAnna Proctor, Mandy Davis, Melinda Allen, Joanne Story, Robert Spencer, Richard Krause, Melissa Chmura
Recommend to the Chief of Operations items pertaining to safety on all campuses needing to be addressed and recommendations for energy conservation, when applicable.
Members: Jeff Brickley, Samantha Feldman, Karen Webb, Frank Carothers, Zhiming Xia, Kenneth Jacques, Jennifer Owens Mary Petry, Lois Owens, Kim Rose, Deana Caron, Larry Abbott, Denver Barrett, Michael Barrett, Jeff Callendar, Danny Compton, Dennis Dick, Johnnie Dick, Kenny Estep, Billy Fisher, Donald Guffey, Paul Hall, Doug Hampton, Jeff Jones, Darrell Lyons, Everett McGowan, Kevin Minton, John Roberts, Tim Roy, Ron Smith, Roger Stanton, Jerry Streeval, Ron Sumpter, Steve Thomas, Steve Tucker, Ralph Vanover, Sherry Warren, Ray Wesley, Tandy Withers, Marty Yaden, Mary Poynter, Shawn Stratmann, Denny Fries, Billy Dobbs, Ron Mace, Wanda Fries, Jeff Perkins, Billie Shelton, Laura Roberts
To support and enhance academic and non-academic student activities which enhance student life at SCC.
Members: Kathy Howard, Patrick Mayer, Janice Thomas, Nicole New, Irene Larason, Brandi Copenhaver, Carol Calceterra, Kenny Estep, Terrie Wilson, Amanda Humble, Nicole Laware, Roxanne Roark, Devin Phelps, Amanda Morris, Alyce Grover, Dana Muse, Nicole New
Representative from each sector: staff, faculty (each division), student population, and a community member. PD and events will be held each semester to promote excellence in teaching and learning, and to provide venues for communication between groups. The team will strive to provide a diverse variety of books from as many genres as possible, to include all college and community members.
Members: Tracey Franklin, Brandi Copenhaver, Teresa Hinkle, Kelly Johnson, Devin Phelps
Members: Melissa Adams, Shawn Anderson, Martha Ball, Winfrey Bates, Rosetta Berry, Jeff Callender, Christy Costello, Johnnie Dick, Kenny Estep, Michael Goleman, Bruce Gover, Hallie Ingle, Matthew Jones, Mickey LaFavers, Paula Latham, Stephanie Likins, Patrick Mayer, Kathy Patscheck, Dorothy Philips, DeAnna Proctor, John Roberts, April Russell, Emily Shafer, Judy Tallent, Evetta Thompson, Sara Tucker, Sherry Wilson, Elaine Wilson, Terrie Wilson, Melissa Winstead, Natalie Winstead, Dr. Marshall, Dr, Hayes, Donnia Sharpe
Members: Natalie Winstead, Jacob Held, Catherine Tackett, Melissa Chmura, Rosetta Berry, Janis Hatfield, Tammy Woodall, Carla Deaton, Amanda Vanhook, Stephanie Likins, Teri Flannery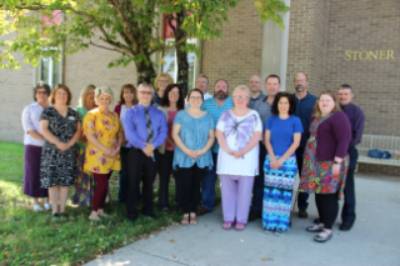 Members:
Billie Duvall, Lynn Shearer, James Taylor, Teresa Hinkle, Joni Upchurch, Vern Chadwell, Sy Gammage, Shelia Bentley, Tammy Eastham, Elle Robertson, Melinda Allen, Craylon Mills, Julie Howe, Cindy Byrd, Richard Matika, Michael Wells, Jeff Abner, Ricky Harris, Lynsey Flynn, Patrick Gaskin, Amanda Waterstrat