Behavioral Intervention Team (BIT)
We're here to help.

SCC is concerned with the safety, health, and well-being of its students, faculty, staff and community. The Behavioral Intervention Team (BIT) works to promote the sharing of information when significant circumstances pertaining to the health and safety of SCC students or employees arise. Members of the team intake and assess information, take action when necessary and track details about behavior concerns noted on campus. The team connects distressed individuals to the appropriate resources while balancing the person's confidentiality with the rights of all others for safety.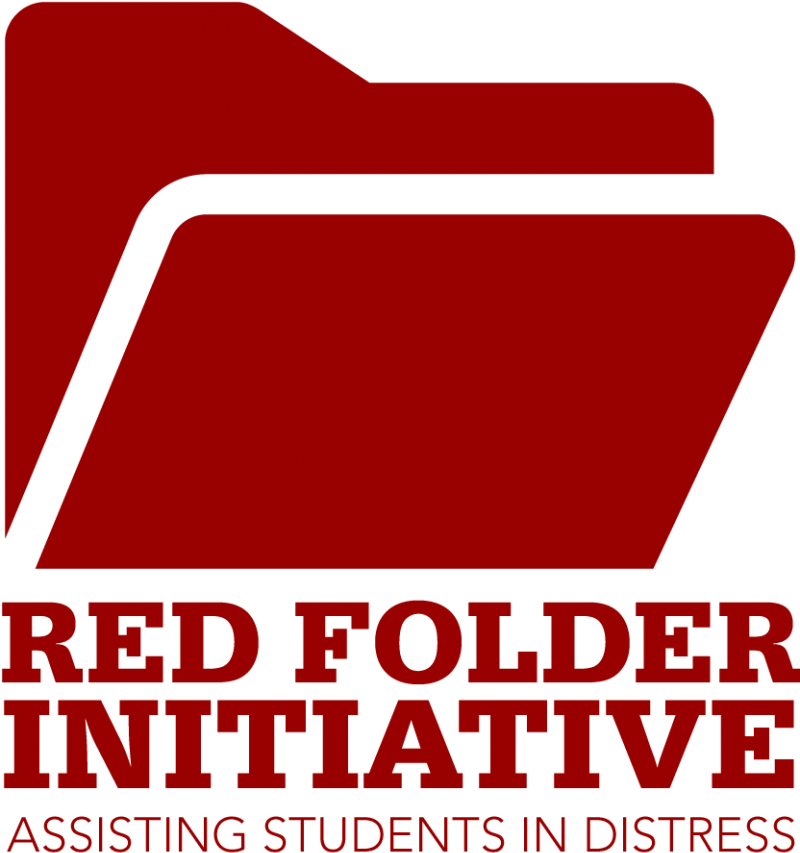 The Red Folder serves a quick reference guide to:
Identify and better understand the signs of psychological distress exhibited by students;
Address student issues (behavioral, psychological, personal threatening and safety; and
Intervene with appropriate support staff if you suspect that a student or other community member may needed assistance.
The Red Folder was adapted from an initiative created by the University of California (UC) system. In collaboration with the UC, the California State University System (CSU) developed a workshop of peer health educators and counselors to develop a program to meet the needs of the CSU and its students.
SCC recognizes that students seek support and counseling from faculty and staff members whom they have fostered a trusting relationship. For this reason, SCC is providing a tool that will assist its faculty and staff in connecting students with the appropriate campus services.
What to look for:
Look for clusters, frequency, duration, and severity - not just isolated symptoms.
Sudden decline in quality of work and grades.
Repeated absences.
Disturbing content in writing or presentations (e.g., violence, death)
You find yourself doing more personal rather than academic counseling during office hours.
Continuous classroom disruptions.
Marked changes in physical appearance
including deterioration in grooming hygiene, or weight loss/gain.
Excessive fatigue/sleep disturbance.
Disoriented or "out of it".
Self-disclosure of personal distress that could family problems, financial difficulties, depression, grief or thoughts of suicide.
Excessive tearfulness, panicked reactions, irritability or unusual apathy.
Verbal abuse (e.g., taunting, badgering,
intimidation).
Expressions of concern about the student by his/her peers.
Unprovoked anger or hostility.
Making implied or direct threats to harm self or others.
Academic assignments dominated by themes of extreme hopelessness, rage, worthlessness, isolation, despair, acting out, suicidal ideations/violent behaviors.
Response Protocol
Follow the chart to determine who to contact when faced with a distressed or distressing student.
Is the student a danger to self or others, or does the student need immediate assistance?
The student's conduct is clearly and
imminently reckless, disorderly,
dangerous or threatening including
self-harm behavior.
Example behaviors:
Expressed intent to harm self or others
Brandishing a weapon
Suicide attempt or threat
Response:
Call campus security at 606-451-6938 or 911.
The student shows signs of distress
but I am unsure how serious it is. My
interaction has left me feeling uneasy
and/or really concerned about the
student.
Example Behaviors:
Not typically life threatening; may
signal that an individual's coping skills
are being challenged.
Indirect threats to self or others, of
disturbing content in academic work
Response:
Document the behavior and submit
online SCC BIT Referral form below.
I'm not concerned for the student's
immediate safety, but he/she is having
significant academic and/or personal
issues and could use some support.
Example Behaviors:
Frequent class absences
Changes in appearance or hygiene
Difficulty adjusting to college
Response:
Refer to Campus Resources or submit
online SCC BIT Referral form.
The BIT provides administrators, faculty, staff and students with one place to report their concerns about a persons behavior that may pose a threat to students, faculty, staff or the community.
Reasons for a BIT Referral:
Person states intent to harm him/herself;
Person states intent to harm others;
Person demonstrates erratic behaviors that significantly disrupt the learning or working environment.
Making a referral initiates a review process and/or coordinated response involving the appropriate individuals, staff, and offices.
See something, say something, do something.
A person of concern is any individual who demonstrates disruptive or disturbing behavior, personal difficulties, mental and/or emotional instability, or otherwise causes another member of the campus community to feel distress.
Persons of concern are reported to the BIT, whose goal is to take a proactive approach to help our College maintain a safe and supportive community.
Who: Who was involved? Multiple persons? Witnesses?
What: What happened? Details of observation?
When: When did the event occur? Date/Time?
Where: Where did the event take place?
Why: Did something else happen leading to the event?
Depending upon the situation, immediate action may be taken. The BIT reviews the concern, collects additional information as needed, makes a determination for a plan of action and follows up.
The BIT can provide additional resources and individualized help to those who are experiencing difficulties. This support is beneficial to both the individual and the campus community. Your report to the BIT can make a difference.
Campus Resources:
Accessibility Services: 606-451-6706 or scc-accessibility@kctcs.edu
Behavioral Intervention Team: scc-bit@kctcs.edu
Campus Safety & Security: 606-451-6938
CARE (Center for Advising, Retention & Engagement):
Somerset 606-677-8310, Laurel 606-878-4833 or scc_care@kctcs.edu
CCAMPIS (Child Care Access Means Parents in School Program): 606-677-8306
College Navigators: 606-451-6936
Early Alert Hotline: 606-451-6926 or sccearlyalert@kctcs.edu
Learning Commons (Academic Support): 606-451-6710 or ask@somerset-kctcs.libanswers.com
Share & Care Centers: Somerset North Campus – Meece Hall – Room 132
Laurel South Campus – Ready to Work Office - Room 112
Vice President of Student Affairs: 606-451-6631


Community & National Resources
The Adanta Group: 1-800-954-4782 – private, non-profit organization community-based mental health; developmental and intellectual disability; alcohol, tobacco and other drug prevention; & sexual assault resource services. (Counties served Adair, Casey, Clinton, Cumberland, Green, McCreary, Pulaski, Russell, Taylor, Wayne)
Crisis Center & 24 Hour Hotline: 1-800-633-5599
Crisis Text Line: Text "Brave" to 741-741, free 24/7 support for anyone in crisis. A real-life human being will receive the text and respond, all from a secure online platform. The trained, volunteer, crisis counselor will help you move from a hot moment to a cool moment.
Cumberland River Behavioral Health: 1-866-640-9335 or www.crbhky.org - non-profit community mental health center including developmental and intellectual disabilities, & substance use services. (Counties served Bell, Clay, Harlan, Jackson, Knox, Laurel, Rockcastle, & Whitley)
Disaster Distress Helpline: 1-800-985-5990 or Text "TalkWithUs" to 66746, free 24/7 crisis counseling & support for anyone experiencing emotional distress related to natural or human-caused disasters.
Local Nami (National Alliance on Mental Illness): 1-800-257-5081 or namiky@namiky.org
National Domestic Violence Hotline: 1-800-799-SAFE (7233)
National Eating Disorders Hotline: 1-800-931-2237, free, confidential, chat available at nedawareness.org
National Sexual Assault Hotline: 1-800-656-HOPE (4673), free, confidential, 24/7
Suicide Prevention Hotline: 1-800-273-TALK (8225), free 24/7 support for anyone in suicidal crisis
Trevor Project: 1-866-488-7386, free, confidential, 24/7. Crisis intervention & suicide prevention services for lesbian,gay, bisexual, transgender, and questioning (LGBTQ).
Veterans Crisis Hotline: 1-800-273-8255 or Text to 838255