Kentucky's Touchstone Energy Cooperatives Awards Lineman Scholarships to SCC Students
Published on Aug 9, 2022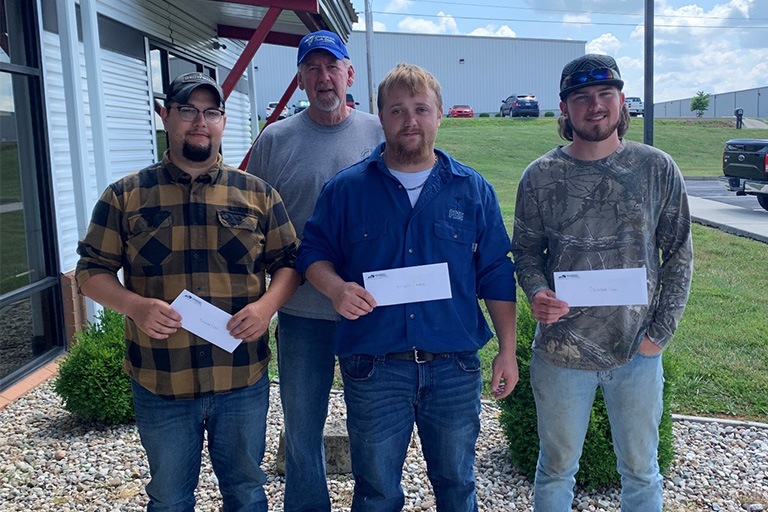 Three students enrolled in the Somerset Community College (SCC) Lineman Training program received $2,000 scholarships from Kentucky's Touchstone Energy Cooperatives. The scholarships may be used for tuition, supplies, fees, and other expenses related to the program.
Martin Carter is from Whitley County and graduated from Whitley County High School. Carter stated, "The lineman program is a good career and future for me, and I know that I can make a good living and I won't have to worry about asking others for help."
Christopher Cook lives in Spencer County and graduated from Abeka Academy in Pensacola, Florida, in 2017. He is excited about the opportunity to become a lineman and commented, "I am excited for this opportunity to no longer just work towards having a job but securing my future with a new, exciting and secure career."
Nicholas Pippin is from Adair County and graduated from Adair County High School in 2014. Pippin stated, "The lineman program is something I have been interested in for a long time and would be a step towards a better life for my family. Having a career with a steady income is something many people strive for and I personally want a future where I can give our kids what they deserve."
The SCC Lineman Training Center has one of the most expansive indoor training facilities and a comprehensive curriculum in the nation.
It is an 8-week program that will prepare apprentice-level students for employment in the electrical industry. Students spend approximately 200 hours in the field performing various training activities, including tool & equipment operation, climbing, rigging, underground distribution, and simulated emergency storm restoration.
For more information about the program, contact Carol Wesley, lineman recruiter, at (606) 451-6697 or carol.wesley@kctcs.edu.
To view other scholarships available at SCC, visit somerset.kctcs.edu/scholarships. To learn more about giving to Somerset Community College, contact Cindy Clouse, vice president of advancement at cindy.clouse@kctcs.edu or call (606) 451-6618.