Fruit of the Lens upcoming photography exhibit "From Here to There: Roads, Paths and Railways"
Published on Nov 3, 2021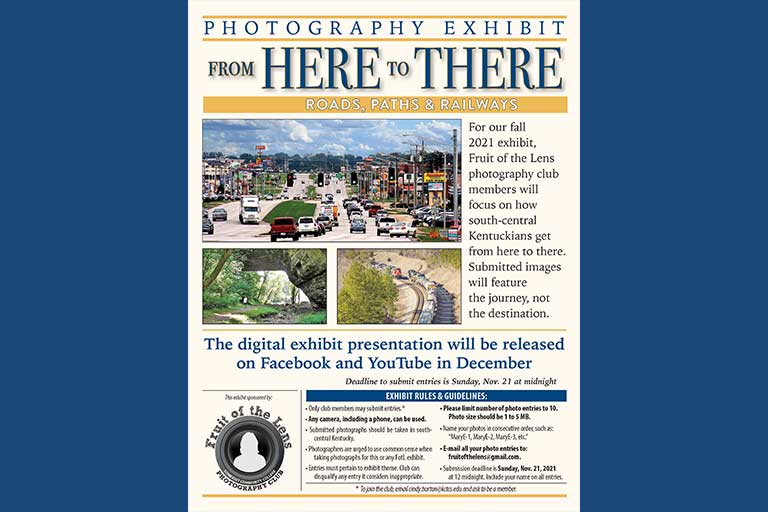 As people, we're always on the move. Road trips, hikes, and other adventures open up a lot of opportunities to see the paths we travel. This year's upcoming exhibit by SCC's photography club gives us a look into this.
"From Here to There: Roads, Paths & Railways" is the theme for the digital exhibit that will be released on Facebook and YouTube in early December. Fruit of the Lens club members will focus their cameras on travel in south-central Kentucky and can submit up to 10 images for the show.
And while only club members may participate in the exhibit, it's easy to become a member, and anyone can join. Simply email SCC faculty advisor Cindy Burton at cindy.burton@kctcs.edu and ask to be in the club. The deadline to send in photos is Sunday, November 21.
"The main criteria for joining the club is just to enjoy taking photographs," Burton said. She noted that members can use any type of camera, even the camera on their phone, for their submissions.
"I'm really excited to be a part of the club as president this semester!" said Fruit of the Lens new student president, Makayla Scott. "I've always liked photography, and I think it will be neat to see everyone's different takes on the same subject."
Ten club members submitted photos for last fall's digital exhibit and that presentation has been viewed well over 100 times. It can be accessed by searching "Outreach: Picturing A Pandemic" on YouTube.
The mission of Fruit of the Lens photography club is to provide a setting where SCC students, staff, faculty can come together to share digital images and discuss photography. This is an awesome opportunity to bring out your creative side!
Additional information is available on the poster attached and on the club's Facebook page, which will also include a link to the "From Here to There" exhibit when it is released.