Utility Technician Apprenticeship Program is coming to SCC
Published on Oct 28, 2021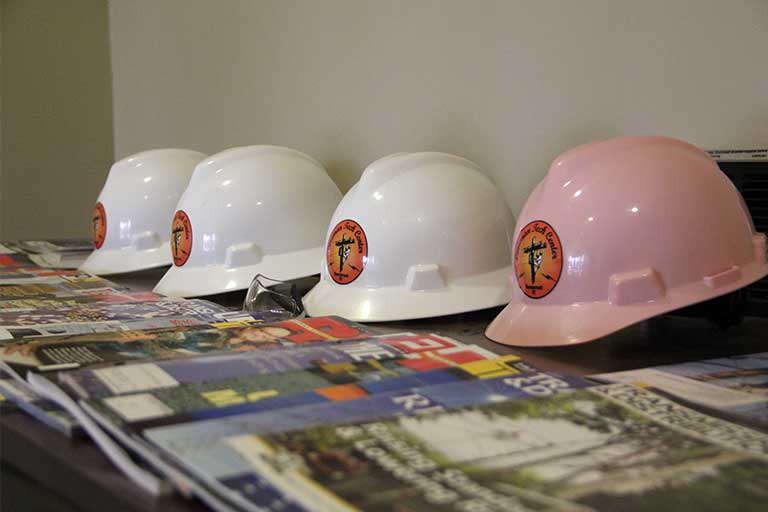 Only a handful of colleges have been selected to help secure the future of this country's utility ecosystem. Somerset Community College is one of them.
This November, SCC will begin a Utility Technician Apprenticeship Program (UTAP). The program has been established to fast-track utility technicians in a field that greatly needs workers. "The telecommunications and utilities industries are looking at something like a 30,000-worker shortage in the next 10 years," says Eric Harris, apprenticeship project coordinator with SCC's Workforce Solutions.
To make sure these essential workers are available, the Wireless Infrastructure Association (WIA), the Power & Communication Contractors Association (PCCA) and the National Utility Contractors Association (NUCA) have worked with SCC and four other community colleges from across the nation to "build the (UTAP) program," Harris says.
Program participants will be employees of one of more than a dozen of UTAP partners, according to Harris, and have two pathways to choose from—Overhead Utility Technician or Underground Utility Technician. They will spend two weeks training at SCC's Somerset Campus in the classroom and the lab before returning to their regular job for two months. This cycle of two weeks study, and approximately eight weeks work continues for about 18-months.
"We're going to provide them with specialized hands-on training in all aspects of telecommunications and utility work," Harris says. "They could have the opportunity to move a year ahead of anybody that would start the job with no experience today ... I think it's going to make a huge difference in a lot of people's lives."
While attending the training, participants will have their expenses covered and continue to be paid "progressive wages" by their employers.
Those taking part in SCC's UTAP will come "from all over the state... and we could have some from out-of-state," Harris says. And he's expecting a lot of participants. "We're looking at a full first class, we're capping (the classes) at 20," he said. "Many (of the partners) will be sending apprentices ... it's going to be full."
For the "hands-on" training, Harris said they "plan to utilize (SCC's Lineman Training Center) facility and SCC's Somerset Campus."
After completing the 480 hours of training, plus the year and a half of on the job training, participants will be awarded a Certificate of Completion of Apprenticeship by the Department of Labor, an OSHA 10 card, CPR/First Aid card, 3 Fiber Optic Association certifications, and a Class-A CDL license. Harris says that "our goal is to have this as an Associate' Degree program within the next two years."
Current UTAP partners include: Altec, Blue Diamond, Cleary Construction, Continuum Capital, ElectriCom, Highland Telephone, Martin Contracting, NUCA of Kentucky, Somerset Community College, South KY RECC, Vermeer, Wireless Infrastructure Association, Midwest Mole, Davis H. Elliot Construction, and Unicom South.
SCC selected because of proven success
It wasn't by accident that Somerset Community College was selected to become one of five colleges in the nation to establish a Utility Technician Apprenticeship Program (UTAP). It was because of proven success.
In 2019, ElectriCom Right of Way Services in McCreary County wanted to establish an apprentice program for their tree trimming business. They contacted SCC's Workforce Solutions department whose mission is to design services and training opportunities to increase economic development in our region.
"We built a year-and-a-half-long program for them" through SCC's McCreary Center, said Harris.
The Whitley City facility was "the perfect location" to host the program, says director Jill Lawson, noting that the McCreary Center "is located in close proximity to the Daniel Boone National Forest" and offered "classroom space for in-house training" and "ample space outdoors for hands-on training in a safe environment."
The program was a success and "they (ElectriCom) were really pleased with the results," Harris said.
ElectriCom personnel mentioned how well the apprenticeship program through SCC was working to their Power & Communication Contractors Association (PCCA) and they passed along the success story on to the Wireless Infrastructure Association (WIA).
Harris said that when WIA heard of the program they said "'this is exactly what we've been working on.' They had partnered with four other colleges already—we were number five—to build programs like this." He noted that more colleges may soon be providing in the training.
So, as a result of its proven record, this fall SCC will be working with members of PCCA and WIA to begin UTAP—helping to secure this country's utility ecosystem for years to come.
Other college currently providing the training are State Technical College of Missouri in Lynn, Missouri; Terra State Community College in Fremont, Ohio; Northwood Technical College in Wisconsin; and Monroe County Community College in Michigan.
How to enroll in UTAP
If an employee from any of the partner companies is interested in enrolling in UTAP, they should talk with their Human Resources representative. They can also contact Eric Harris at eric.harris@kctcs.edu or Amber Craft with SCC's Workforce Solutions at acraft0026@kctcs.edu.