8 PCDC inmates become first graduating class of community reentry program
Published on Oct 1, 2021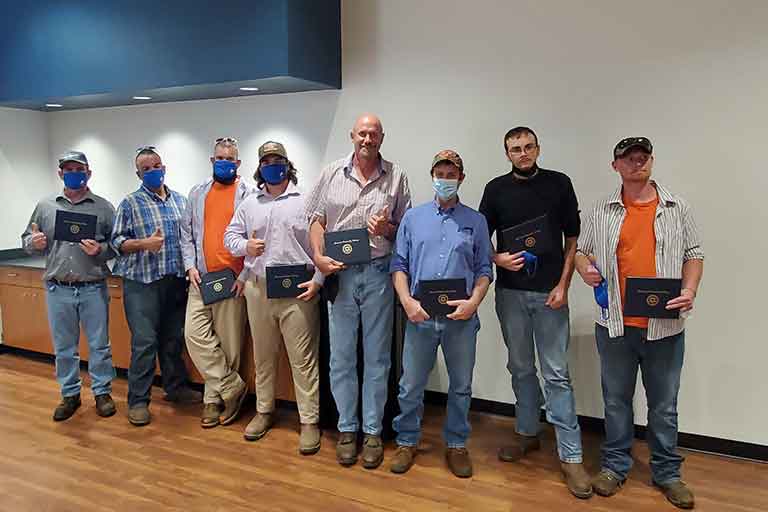 By CARLA SLAVEY Commonwealth Journal
"Sometimes an individual's success is a group effort," said Jailer Anthony McCollum.
He was speaking in front of a crowd of several during a graduation ceremony being held Thursday at Somerset Community College, but he was directing most of his comments toward the eight special graduates – the first graduates of a community-wide effort to give job skills to inmates of the Pulaski County Detention Center.
Known as the CRITICAL program – Comprehensive Rehabilitation of Inmates Transforming Individuals, Community and Livelihoods – the effort to offer training and a possible career to a group who may have difficulty finding jobs after serving their sentences is an effort that started with a meeting of various community leaders in 2019.

This week, the community got to see the first of hopefully many who will benefit from that partnership.
The graduates were Ryan Anderson, J.T. Coffey, Frank Hall, Mark Madden, Larry Ramsey, Brady Shultheiss, Andrew Scott and Corey Upchurch.
After completing an eight-week course, those eight can now consider themselves college graduates with a welder helper certificate.
The graduates themselves look at the certification as a great opportunity.
"I like welding. I'm glad I learned how to do it. I'm going to try to get out and do a good job doing it, and see where it takes me," said graduate Corey Upchurch. "It opened a lot of doors."
Larry Ramsey said earning the certification was something he wouldn't have been able to do on his own. "It's good what Anthony McCollum has done," he said. "It will be a great help for us when we get out."
Ramsey said he wanted to give a special thanks to everyone involved, while Upchurch specifically mentioned that he wanted to thank the course's teachers, instructor Karl Watson and adjunct instructor Mark Calhoun.
Watson said he was happy to be a part of the program and that he enjoyed being its instructor. "It was a very good class. Far exceeded my expectations. But I don't know what my expectations were."
Calhoun, who also works at Gatormade, also seemed happy to help out the men.

"I've been in the exact same place," Calhoun said, meaning he understood what those men were going through. "That's how I started out, coming from that to this."
As part of the classwork, the students made a fire pit that Watson said had required them to use every piece of fabrication equipment in the shop to make.
After the graduation ceremony, that fire pit was presented to Jailor McCollum, who admired the craftsmanship and seemed pleased to have a reminder of what the students had learned.
McCollum said the students were eager to be a part of such a program, and they put in a lot of hard work to get where they are now.
So did the jail's deputy jailers, who not only worked their shifts at the jail, but put in overtime to make sure the students could get to class and be successful at it, he said.
During the graduation ceremony, Somerset Community College's President Dr. Carey Castle said it was a unique and significant ceremony for both the students and the college.
Dr. Castle told the audience that the program was a collaboration of many community partners and organizations, and not only gave the students a certificate, but helped them to build a resume, take part in mock interviews, and even have a real interview with local employers which gives them the potential to find a job when they get out of jail.
"Prior to being released, the third step [is] having additional workforce partners and agencies that provide support services for you, and include transportation services, clothing, housing – some of the very important things that are necessary to go back into society," Castle said.
The program began as a meeting in 2019 between Castle, McCollum, SCC's Vice President of Workforce Solutions Alesa Johnson and Chris Girdler, president and CEO of the Somerset-Pulaski Economic Development Authority.
Other partners like the Workforce Development Board and Goodwill Industries helped the program succeed, Castle said.
Girdler, who was in attendance at the graduation, called the first graduation "a long time coming, but well worth the wait. It's such an exciting time for these men and their families. This is a win-win for Somerset, Pulaski County and the Lake Cumberland Region."