Nine students selected for SCC's Math and Science Scholar Excellence program
Published on Aug 31, 2021
On Tuesday, August 10, Somerset Community College (SCC) hosted an orientation event for the inaugural group of Math and Science Scholar Excellence Scholarship (MSSE) recipients.
These students were selected from a pool of candidates because of their academic talent and their intent to major in a STEM-related field: mathematics, physics, biology, chemistry, or engineering. The scholarship is offered with support from the National Science Foundation and is intended to help prepare students in the STEM fields by making their education more accessible.
This year's scholars are Nicole Abbott, Aaron Cook, Danielle Gilliam, Mackenzie Goodin, Allyriann Kidd, Jonathan King, Samuel Moore, Wesley Reynolds, and Harley Proffitt. As recipients of the scholarship award, students will be a part of a Learning Community specifically designed for STEM majors.
Furthermore, the scholars will participate in select campus events for service and leadership. In addition to the scholarship awards received at SCC, these students will receive a one-time transfer scholarship to the university of their choice upon graduation. The scholars will follow a specified pathway while at SCC.
In addition to their major's required math and science courses, students will take supporting classwork that has been specifically redesigned with STEM students in mind. SCC faculty who have redesigned their courses as part of this grant include: Erin Stephens, Jeff Harris, Dr. Mike Goleman, Alyce Grover, James Taylor, and Kim Toby.
The grant is being led by Kathy Lewis and Debra House. Further support for the grant is being provided by Dr. April Kilgore, Elaine Kohrman, Dr. Cecilia Ramilo, Kelly Johnson, Dr. Chris Phillips, Dr. DeAnna Proctor, Jacob Held, Scott McClendon, and Eric Wooldridge.
Visit the SCC Scholarship page at somerset.kctcs.edu/affording-college/paying-for-college/scholarships.aspx to learn more about eligibility requirements and to apply or contact the SCC scholarship office at 606-451-6644 or email sccscholarships@kctcs.edu.
For more information on what SCC offers students in these specific programs, visit the website or contact SCC's Department Chair, Dr. April Kilgore, at april.kilgore@kctcs.edu.
The National Science Foundation supports this scholarship under Grant No. 2030801.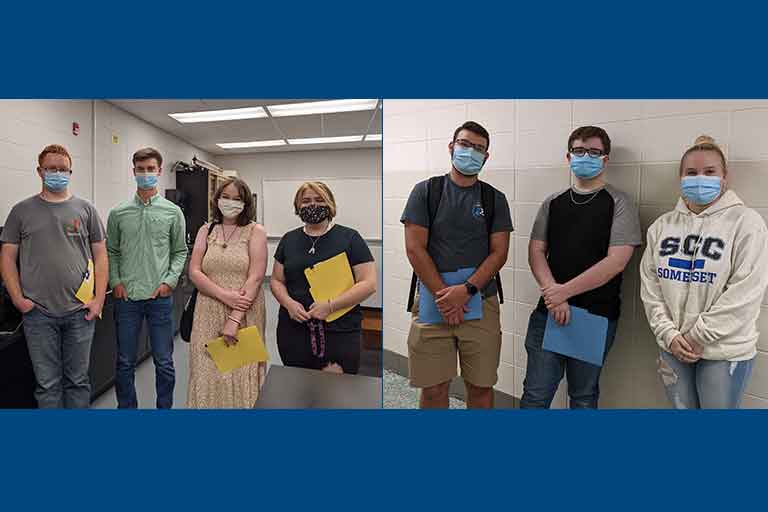 From left to right: Students attend the MSSE orientation. Jonathan King, Aaron Cook, Mackenzie Goodin, Allyriann Kidd, Samuel Moore, Wesley Reynolds, Nicole Abbott