SCC Extended Hours for Fall Registration
Published on Aug 5, 2021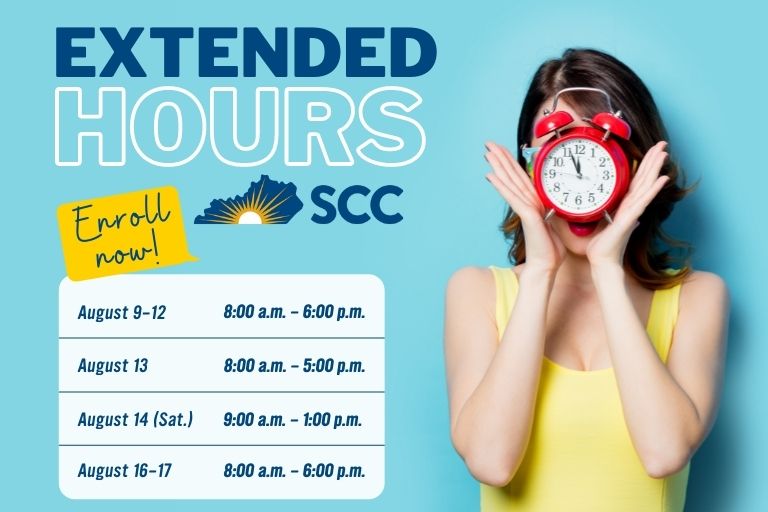 Fall 2021 is in the air, and the upcoming semester is full of new opportunities for all students. It is not too late to sign up for classes.
Somerset Community College (SCC) offers extended hours, enabling all students who want to come in person and register as the fall semester inches closer. Classes begin on August 16.
SCC is fully open and students who enroll for fall could apply for a free semester. The time is now to register in classes and take advantage of this opportunity. Check out more information about attending SCC for free https://somerset.kctcs.edu/landing/free-fall-semester-2021.aspx
The extended hours will be offered on August 9-17 for enrollment and student services. Monday through Thursday 8:00 a.m. to 6:00 p.m., Friday 8:00 a.m. to 5:00 p.m., and Saturday 9:00 a.m. to 1:00 p.m. on the Somerset and Laurel campuses. For more information, contact SCC at 606-679-8501.
Staff will be available to assist students with the Work Ready Kentucky Scholarship application as well. This scholarship provides free tuition for select associate degrees and short-term certificate programs in high-demand fields for students without a college degree. The Work Ready Scholarship is applied after all other federal and state aid is posted. SCC has over 40 programs eligible for the scholarship.
For a complete list of academic classes offered this fall at SCC visit our website https://somerset.kctcs.edu/class-search.aspx. To schedule an appointment with an advisor or a tour a campus, contact the college by calling (606) 679-8501 or emailing sccrecruiting@kctcs.edu.
As we continue to combat this pandemic, be aware that students are expected to wear masks while on campus. You can review our college guidelines to stay healthy and safe https://somerset.kctcs.edu/healthy-at-scc/.
Take charge and don't delay, enroll in SCC this semester for free. Get a jump start on your education and career goals. Never underestimate you!