SCC to expand Aviation Maintenance Technology program to accommodate growth
Published on Jun 16, 2021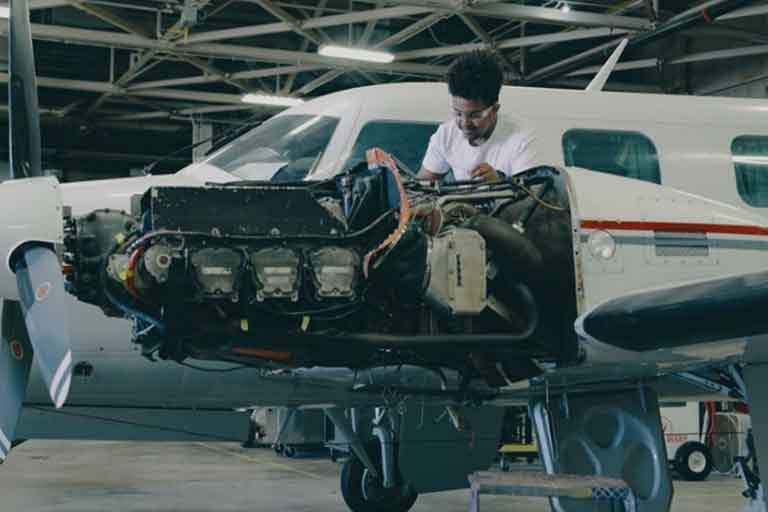 Somerset Community College(SCC) is playing a strategic role in addressing the growing demand for skilled workers through our career and technical programs, specifically in Aviation Maintenance Technology (AMT). Because of this demand, we are excited to announce that we will offer evening classes this fall at our Somerset Campus.
"Enrollment in SCC's Aviation Maintenance Technology is steadily rising. We are extremely pleased to be in the position to add more offerings and classroom space to accommodate the needs of our students and community," said Chris Hall, department chair of Career and Technical programs.
At a time with continuing technological growth, the aviation industry faces a critical labor shortage. The Aeronautical Repair Station Association reported more than 2,500 unfilled technical positions in 2020. With the industry continuing to expand, SCC works to fill the gap while helping new students and veterans along the way.
The Veterans Accelerated Learning for Licensed Occupations Initiative, known as VALLO, assists veterans during the transition into civilian life by helping them get Federal Aviation Administration certified.
SCC aviation maintenance professor David Phelps said the program gives students hands-on experience. "For veterans, getting them out there and getting them gainful employment is the number one goal for the program. That's what we want to do. We want to assist them in any way we can. They've taken care of us. We want to return the favor," Phelps said.
This program is not the only way SCC is meeting the workforce needs. There are many programs offered with free tuition through the Work Ready KY scholarship. The scholarship provides tuition assistance for students and adults to obtain an associate's degree in applied science, diploma, or certificate at Somerset Community College.
This AMT evening class offering would be an excellent opportunity for those working during the day and yet wishing to upgrade their skills and get into a trained career.
SCC continues to expand Career and Technical education programs that will be offered in the evenings this fall, including; Construction, Diesel, HVAC, Electrical Technology, and now Aviation. The fall semester starts on August 16, 2021. Enroll TODAY!
For more information about the Aviation Technology program, please contact Donnie Hammonds at Donnie.hammonds@kctcs.eduor call Heather Gambrel at 606-677-8329.