University Center of Southern Kentucky is expanding to Laurel Campus & SCC centers
Published on May 25, 2021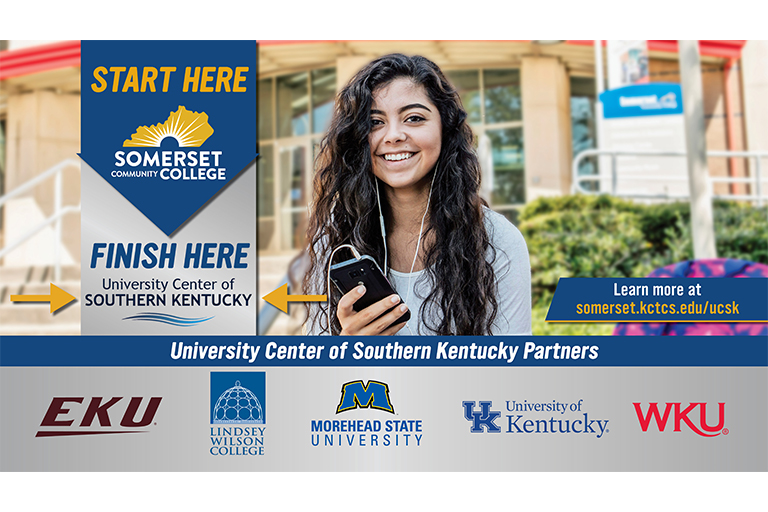 Despite COVID setbacks, the University Center of Southern Kentucky (UCSK) is pushing on ... and thriving. We have learned during this pandemic that flexibility and technology have proven to us that there are options in how we can effectively teach classes.
As the recipient of a USDA Distance Learning grant that provides funds to purchase technology, this fall semester the University Center will be able to expand its reach to more area students. Utilizing this new technology, some UCSK program offerings will be extended to SCC's Laurel Campus and the college's four centers through web-based face-to-face classes. Up until now, UCSK services have only been available on SCC's Somerset Campus.
Besides this extensive expansion of services, there will be several new degree options available as well. This fall, Western Kentucky University (WKU) will begin offering bachelor's degrees in Sociology, Criminology, and Management through UCSK. WKU will have an advisor in person available at each location for additional advising with students.
Completing bachelor degrees at WKU has become a very popular option for SCC students with transfers to the university having increased a whopping 184 percent in the past two years!
Classes are available online or through a hybrid format which combines in-person and online course delivery. Students have access to WKU resources, including academic advising, admissions support, and financial aid counseling.
For information about programs offered at SCC, visit www.somerset.kctcs.edu or contact the University Center office 606-451-6667 or e-mail sccuniversitycenter@kctcs.edu.
For details about programs available through WKU, visit wku.edu/regionalcampuses/somerset or email stephanie.prichard@wku.edu.