SCC students compete in state SkillsUSA and advance to Nationals
Published on Apr 21, 2021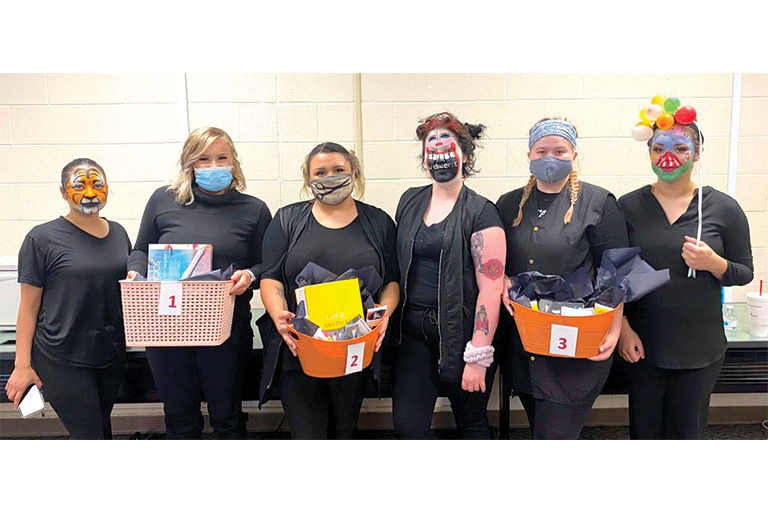 Five Cosmetology students from Somerset Community College (SCC) found beauty in competition recently and will now test their style skills against the nation's best.
SCC hosted the state SkillsUSA Cosmetology competition on Friday, April 9 at the Somerset Campus. Winners of contests for Esthetics, Nail Care and Cosmetology will now advance to national competition.
"The contests went really well," said Brandy Brock, coordinator of SCC's Cosmetology program. She noted that this was the first time that the college had hosted the state event.
SkillsUSA is a nonprofit national education association that partners students, teachers and industry. The group promotes a skilled workforce for students preparing for careers in trade, technical and skilled service occupations. Brock said that the national contests are usually held in June and that they will be held virtually this year because of the pandemic, "We'll see how that goes," she said.
SCC students who will compete in the national competition are: Skylar Claywell (Cosmetology); Heather Lindsey and model Brandi Huff (Nail Care); and McKinzie Smith and model Sandra Quezada (Esthetics).
Brock said that while there are certain areas of each contest that stand out, the students are judged on a wide range of skills during the four-hour competition.
"The fantasy makeup (in Esthetics), the long hair design (in Cosmetology), and the nail art (in Nail Care) are the three things that everybody is like 'wow,' but it's not just judged on that," she says. In each contest students take a written test and are required to show proficiency in several other skills. "All these areas are factored in (the judging)" she said
Brock noted that during previous trips to the national SkillsUSA stage a couple of SCC's Cosmetology students have been winners.
"In the past we have had a national winner—Kendra Roberts," she said. "Dena Fugate, who is now a Cosmetology instructor (at SCC's Laurel Campus) came in second place when she was a student."
SCC's Cosmetology program is offered on the Somerset and Laurel campuses and at the Clinton Center. Successful students in the program can earn a diploma and certificates in Cosmetology, Esthetician, Apprentice Cosmetology Instructor, and Nail Technician.
Working with Brock are SCC instructors Tabitha Bottoms, Dena Fugate, Megan Noel, Jennifer Owens, Darlene Lawson, and Joni Upchurch.
All Regional SkillsUSA winners...
Following is a list of top three winners from each of the state SkillsUSA contests and the SCC campus or center that they attend.
Cosmetology Contest
First—Skylar Claywell, Clinton Center
Second—Blair Smith, Laurel Campus
Third—Natasha Ray, Laurel Campus
In the contest, students were judged on two different haircuts, a long hair design and a written test.
Nail Care Contest
First—Heather Lindsey and model Brandi Huff, Laurel Campus
Second—Amber Carder and model Vanessa Short, Clinton Center
Third—Hailey Hutton and model Shana Rednour, Clinton Center
In this contest, students were judged on applying acrylic, gel overlay, and red polish to nails along with showing off their artistic skills with nail art. They must also do a pedicure and take a written test.
Esthetics Contest
First—McKinzie Smith and model Sandra Quezada, Laurel Campus
Second—Rosalie Thompson and model Alexia Waid, Clinton Center
Third—Loran Conner and model Gracie Shelton, Clinton Center
Participants in this contest were required to do a facial, day makeup, fantasy makeup and take a written test.
For more information about enrolling at SCC, please call 855-664-6722, or visit us online at somerset.kctcs.edu.