SCC graduates start a new career within 4 weeks through CDL program
Published on Feb 22, 2021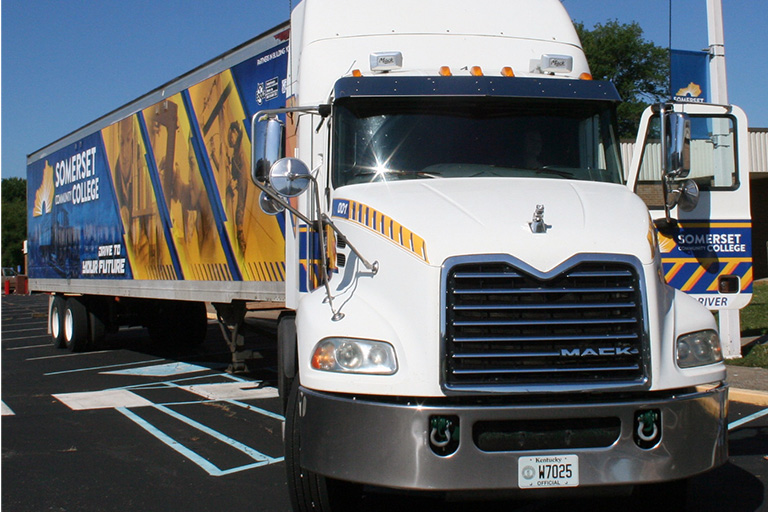 Workforce Solutions at Somerset Community College (SCC) is currently enrolling students in the Commercial Driver's License (CDL) program for March classes. Despite the effects of the pandemic, shutdown of testing sites, and clerks' offices, SCC had 19 students to complete the CDL program in 2020.
SCC offers Class A CDL training with a course designed for individuals with little or no commercial driving experience. The program includes all the learning tools needed to pass the Class A CDL driver's test. Students will receive 160 hours of classroom training and "on the road" training. Students will learn how to drive tractor trailer trucks, apply their knowledge of commercial driving regulations, maintain truck logs according to state and federal regulations, and inspect trucks and their equipment.
"The instructors are patient, understanding and have a great sense of accomplishment in what they do," said recent graduate, Howard Floss
Students that have graduated the course are currently driving for Coca-Cola, U.S. Express, U.S. Mail, Schneider, MAC Transportation, and Amazon. There were 19 students who successfully gained their Class A CDL during the year of 2020 through SCC's accelerated program.
"The CDL program at Somerset Community College was a great help for me. They worked with me until I understood everything from getting my permit to passing my CDL test to get my license. I have been driving for over a year now and my income has really improved. I highly recommend this program," stated SCC alum, Reida Helton.
Classes are Monday through Thursday from 7:00 a.m. to 5:30 p.m. at the Somerset South Campus. Students may register at any time; however, class size is limited. Enrollments are accepted on a first-come, first-served basis. Training is scheduled around holidays and interruptions caused by weather or other unforeseen circumstances.
A high school diploma or GED is preferred but not required. You must be able to read and write the English language and be over 21 years of age. You also must be able to meet the Federal DOT physical requirements and have a valid driver's license at the time of registration.
SCC's current CDL class schedule for 2021 is as follows:
March 22 - April 15, 2021
April 26 - May 20, 2021
May 31 - June 24, 2021
July 5 - July 29, 2021
For more information on how to enroll call (606) 451-6692 or email sccworkforcesolutions@kctcs.edu. The time is now to start your better life and a new career in a high demand, high wage career.