SCC's Laurel Campus Cosmetology program provides gifts for elementary school students
Published on Dec 7, 2020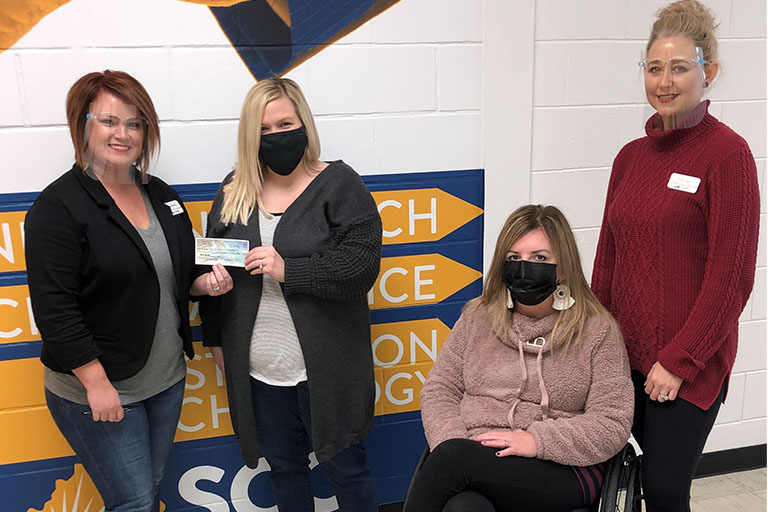 Lots of presents, holiday music, puppet shows, giddy elementary school kids, and even Santa Claus usually fills the rooms on the Laurel South campus this time of year for Somerset Community College (SCC) Laurel Cosmetology Operation Kids Christmas annual event.
However, after twenty-five years of having Operation Kids Christmas parties, this year was different. Covid-19 prevented SCC students from hosting the party in person, but it did not keep them from giving back to children in the area. SCC students found ways to still make Christmas happen for those who need it most.
Thanks to the students at the SCC Laurel Campus Cosmetology program, they fundraised and donated money to the Laurel County Resource Center to purchase needed items for selected children. The funds raised will make it possible for school officials to buy gifts of clothing, shoes, toys, and blankets.
A check for one thousand three hundred and fifteen dollars was presented to Hillary Morris of London Elementary Family Resource Center by SCC Cosmetology instructors Tabitha Bottoms, Brandy Brock, and Dena Fugate.
Brandy Brock, Program Coordinator of the SCC Laurel Cosmetology program, said, "giving back to the community is one of my passions, and even though we have to do things differently this year, I still felt led to do something. I feel that exposing my Cosmetology students to this type of community service is a life-changing experience," Brock added.
Brock said that she and co-worker Kay Swanner had been involved with this project for several years and it began before they were students at SCC.
2020 has been difficult for so many but kindness and generosity are always in season, even if it may look a little different this year. Kudos to all the SCC faculty, staff and students who had a part of something bigger than yourself.