Wayne County Judge Executive Remembers His Days at SCC
Published on Mar 11, 2020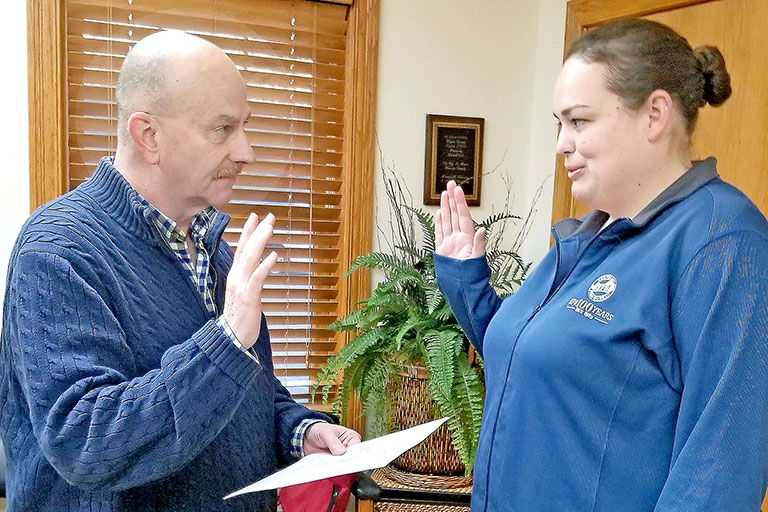 It's been nearly 50 years since Mike Anderson made regular trips from his hometown in Monticello to Somerset Community College, but his recollections are fresh.
He remembers:...sharing rides with his buddy John Perkins who "played basketball for the school (SCC Cougars) back in those days," ...scheduling classes for early in the morning so he could "finish by noon," which allowed him to be back working in his family's store during the afternoons, ... "meeting life-long friends," and being able "to work and begin my life..."
But now, as Wayne County's judge-executive, Anderson says it's also the "good education" he received at SCC that he remembers.
"My use of (instructor) Glyncon Garrett's accounting principles and lessons learned in Ms. (Goldie) McCann's psychology class are practiced daily," he says, "not only in my current position as county judge-executive, but throughout my entire 31 years in manufacturing." And, as a public official, Anderson says he speaks "almost weekly at many local clubs in Wayne County," and that the speech classes he had at the community college "prepared me for what I do today."
Anderson attended SCC from 1970 through 1972 and received an Associate Degree in Management Technology.
He says another class that helped prepare him for the future "was a co-op class which I received credit for actually on-the-job training."
"The instructor would visit my father's Western Auto Store and interview me about my job there," he said. "We went over the importance of accurate inventories, accounting practices, and every day (soft skills) using psychology, accounting, etc."
And, Anderson notes that what made SCC special for him is still available to students today.
"Going to school there and living in Monticello was a huge plus for me, not only on what I was taught, but the convenience of a small college and the relative short drive for those of us from Monticello and Wayne County schools."
Anderson also pointed out that while some things have remained the same, there have been many changes at SCC.
He noted the benefits of the University Center of Southern Kentucky (UCSK), which allows students to partner with other colleges and universities to complete a bachelor's degree while continuing to study at SCC's Somerset Campus.
"We are so proud of the community college and now that students may receive a four-year degree is perfect for those that excel in a smaller environment," he said. (UCSK currently partners with Eastern Kentucky University, University of Kentucky, Western Kentucky University, Morehead State University, and Lindsey Wilson College.)
Anderson also said that technology has played a major role in changes at the institution. "Now that I'm an elected official, I have attended many functions at the school and all were positive," he said. "Meeting the technology group and watching the importance of 3D printing is one of those examples. One of our local companies used a part made by the printing class and now have trained employees who use the process."
Another obvious change since Anderson was a student is the size of the college. In 1972 enrollment was 690 and there were only two buildings at one location—Somerset.
Today, SCC has an enrollment of over 7,300 and the Somerset Campus not only has a cafeteria, but eight more buildings than when Anderson attended. And the community college has a regional reach with the Laurel Campus that features state-of-the art buildings, facilities and programs; plus, centers in four area counties—Casey, Clinton, McCreary, and Russell.
"The community college was a huge plus for myself and those from surrounding counties," Anderson says.
SCC, a college for the real world with real people, real stories, real success!