SCC's The Bridge Wins Nine Kentucky Press Association Awards
Published on Feb 4, 2020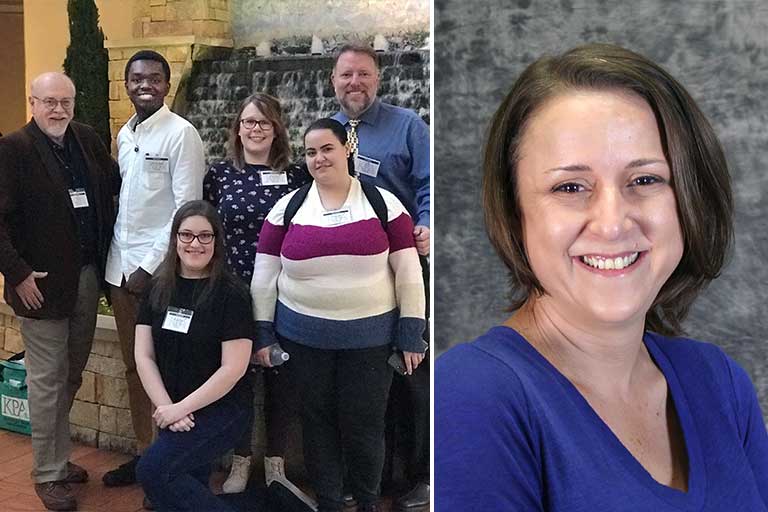 As the lone community college student publication competing in the Kentucky Press Association's annual Excellence in Kentucky Newspapers contest, Somerset Community College's The Bridge would seem to be at a disadvantage.
Larger schools with larger staffs and larger budgets are in direct competition with The Bridge for the KPA awards, which are given each January in recognition of outstanding work by reporters, columnists, photographers, designers, and advertisers from the commonwealth's professional and college newspapers.
"Our students don't look at it that way," said Jeff Harris, faculty co-advisor for The Bridge. "It's about the work we do, not what others are doing. The awards are gravy.
"But then again," Harris added with a grin. "Who doesn't like gravy?"
The Bridge and its staff garnered nine awards in the 2020 Excellence in Kentucky Newspapers contest, announced at KPA's Winter Convention in Lexington on January 24, including third place in the prestigious General Excellence category.
Murray State University's The Murray State News finished first in General Excellence in the contest's Student Publications Class 1 category (schools with fewer than 10,000 students). The University of the Cumberlands' The Patriot placed second.
Other newspapers competing in Class 1 included Kentucky State University's Thorobred News and Campbellsville University's Campus Times.
"It's been an exciting year for SCC, and (the KPA awards) just add to it," said Stuart Simpson, another faculty co-advisor for The Bridge. "I hope it encourages other students to join the staff."
In addition to the overall third place award, The Bridge staff took home three first-place awards, three second-place awards, and two third-place awards in individual categories.
Ray Hunter, The Bridge's managing editor, led the way with a total of four awards, including second place for Best Breaking News Coverage. Contest judges praised Hunter for her "clear, concise reporting."
Hunter also received second-place awards for Best Sports Picture Essay and Best Feature Picture, as well as a third-place award for Best Columnist.
Kaitlyn Kulpa, The Bridge's assistant editor, won two awards, including first place for Best On-going/ Extended Coverage for her series of articles on the University Center of Southern Kentucky, a new consortium of four-year institutions housed on the campus of Somerset Community College that is enabling SCC graduates to pursue a bachelor's degree and other educational opportunities while remaining close to home.
Kulpa also received a third-place award for Best General News Picture.
Staff writer Shandi Johnson won a first-place award for Best Enterprise Story for her coverage of local reaction to the rumored storming of Area 51 in Nevada last August. The judges gave her high marks for the quality of her sources.
Staff writer Christen Gibson won a first-place award as Best Columnist. Judges called her monthly feature "Get Totally Thrifted" a "really creative, fun column," adding that each "took a bit of work to put together but was clearly a labor of love."
For Simpson, the year-to-year performance of The Bridge staff is a point of pride. Over the past four KPA contests, the staff has received a grand total of 59 awards, including one first-place finish, two second-place finishes, and this year's third-place finish in General Excellence.
"The staff takes the work seriously," Simpson said. "And they produce three high-quality issues every semester. They are also getting more involved in social media and are about to start a Bridge podcast."
Simpson added that "we want to thank the college's administration, faculty and staff for the support they've shown The Bridge and its students. We couldn't do it without them."
Somerset Community College is a comprehensive two-year institution of higher education with campuses in Somerset and London, and centers in Casey, Clinton, McCreary, and Russell counties. For more information about The Bridge, contact faculty advisors Stuart Simpson (stuart.simpson@kctcs.edu) or Jeff Harris (jeff.harris@kctcs.edu).