UK College of Nursing, University Center of Southern Kentucky Partner to Offer Innovative, Hybrid Bachelors Program
Published on Jan 27, 2020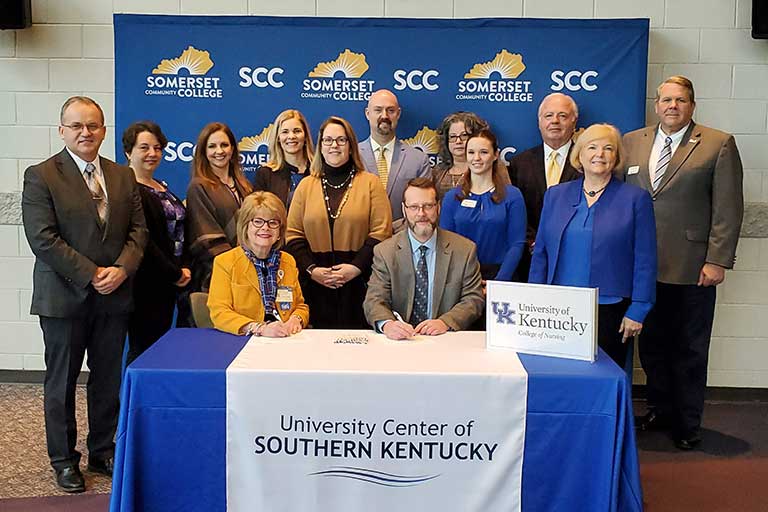 The University of Kentucky College of Nursing and the University Center of Southern Kentucky (UCSK) joined together today to sign a Memorandum of Agreement announcing their new hybrid RN-to-BSN bachelor's degree program.
The new program provides a track for students who earn an Associates Degree in nursing from Somerset Community College to go on and earn a Bachelor of Science in Nursing from UK without having to leave the Somerset campus.
"For years, we have suffered from a nursing shortage in Southern and Eastern Kentucky, but this new program will help educate aspiring nurses right here at home, boosting our medical workforce and opening access to wonderful opportunities in the medical field," said Congressman Hal Rogers, who helped launched the University Center of Southern Kentucky last year. "I applaud the University of Kentucky for being one of our stellar partners for the University Center of Southern Kentucky, and extending its prestigious nursing program for students in our rural region. It will undoubtedly provide our local hospitals with a more expansive skilled workforce to draw from in the years ahead."
"We are thrilled to partner with UCSK to offer this innovative, academic nursing program in the Somerset community," said Janie Heath, dean and Warwick Professor of Nursing at UK. "The University of Kentucky College of Nursing is proud to extend our footprint in southern Kentucky and be a part of helping local RN's achieve their next goal to advance nursing practice and healthcare delivery through higher education."
The UK College of Nursing is the latest school to partner with the UCSK, which serves as catalyst to provide four-year degree programs from participating schools across Kentucky. The Center is uniquely located within the Somerset Community College Campus, which makes it easier for students who have earned two-year degrees from SCC to continue their education without commuting.
"This agreement further solidifies our partnership with UK, but more importantly provides much-needed education and training for nursing careers in our region. It also demonstrates how the UCSK plays a key role in helping our area grow. I am proud of our SCC people and programs as well as the willingness for UK to partner with us for the benefit of our service area," stated Dr. Carey Castle, president of CEO of SCC.
The UCSK opened in Fall 2019 and was created based on community demands, workforce needs, and student access. SCC service area high school graduates now have the option to stay close to home to get a four-year degree at an affordable rate, and local non-traditional students have an option to further their educational goals.
For more information on the University Center of Southern Kentucky, visit their official website call (606) 451-6667 or e-mail sccuniversitycenter@kctcs.edu. You can also follow and like the UCSK on Facebook @SCCUniversityCenter. For more information on Somerset Community College, visit somerset.kctcs.edu.
The UK College of Nursing is proud to have celebrated more than 50 years of education, research, practice and service. Visit uky.edu/nursing to learn more about its nationally ranked undergraduate and graduate degree programs.
Photo caption: Back row from left to right: Carlos Cameron, Deputy District Director, Congressman Hal Rogers; Dr. Amanda Culp-Roache, College of Nursing faculty; Tara Grana, CON academic advisor/recruiter; Dr. Kristin Ashford, Associate Dean of Undergraduate Faculty and Interprofessional Education Affairs; Trent Pool, Director, UCSK; Billie Duvall, Program Coordinator Associate Degree Nursing, SCC; Bill Turpen, Chairman of UCSK Founders Club; Dr. Carey Castle, President and CEO, SCC. Middle row from left to right: Christine Harper, UK's Associate Provost for Enrollment Management; Krista Atwood, Administrative Assistant, UCSK; Nancy Powell, Dean of Health Sciences, SCC. Front row from left to right: Dr. Janie Heath, Dean of the UK College of Nursing; Dr. Clint Hayes, VP of Academic Affairs.