SCC Medical Assisting Students Recognized during Pinning Ceremony
Published on Dec 19, 2019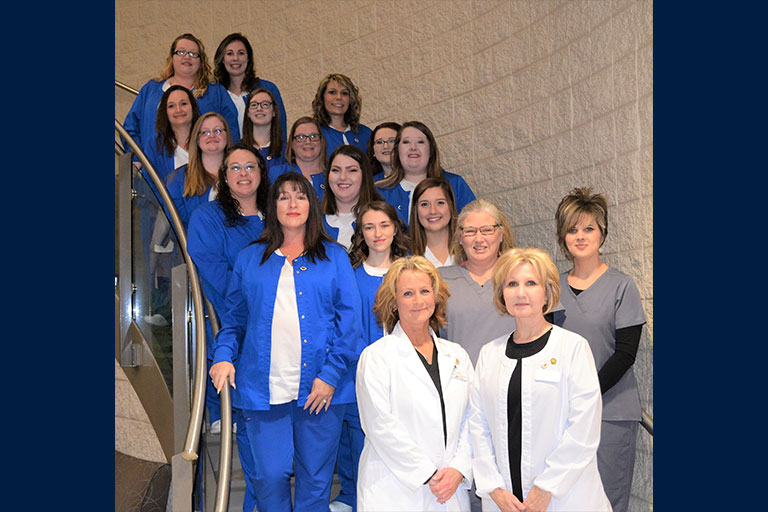 The Medical Assisting Program at Somerset Community College (SCC), Laurel North Campus, recently graduated 17 students and celebrated the conclusion of their studies with a pinning ceremony and reception. The event was held in the Health Sciences Building on the SCC Laurel North Campus with more than 75 family and friends attending.
Nancy Powell, Dean of Health Sciences, began the event with introductions and greetings. Debra Elam, the Program Coordinator, welcomed guests and explained how the pinning ceremony signified months of intense training and studies for the students and congratulated them on their success. Medical Assisting student, Kari Evans, sang the inspirational song, 'Rise', by Katy Perry.
Students were pinned by family members as faculty, Debra Elam and Tina Meier, read words each student had written. Students recited the Medical Assisting Creed pledging their commitment to their profession, followed by the lighting of the candles.
Nancy Powell ended the ceremony with closing remarks. The ceremony was followed by a small recessional. On behalf of the Medical Assisting faculty, they would like to thank special guests, Dr. Carey Castle, SCC President and Dr. Clint Hayes, SCC Executive Vice President for their attendance.
They would also like to thank the SCC Student Ambassadors: Krystal Johnson, Nicholas Lee, and Rhiannon Lovelace for their assistance. Special thanks to Nancy Powell, Dean of Health Sciences; Kathy Howard and Deane Allen Administrative Assistants; Mike Barrett and John Roberts (Laurel Maintenance), and Bruce Nicely (IT Dept.), for their support.
Acceptance into the Medical Assisting Program at SCC Laurel Campus is through selective admissions each spring. Students in the program complete college-level coursework along with 240 hours at an assigned facility during their last semester. Students completing classes with a grade of "C" or higher and pass the Registered Medical Assisting exam through the American Medical Technologist (AMT), carry the prestigious title of Registered Medical Assistant, American Medical Technologist – RMA, (AMT).
To find out more about the SCC Medical Assisting program, contact Debra Elam, program coordinator at (606) 878-4778 or debra.elam@kctcs.edu.