SCC Alumni Says the College Provided More Than an Education it Provided a Sense of Community
Published on Dec 3, 2019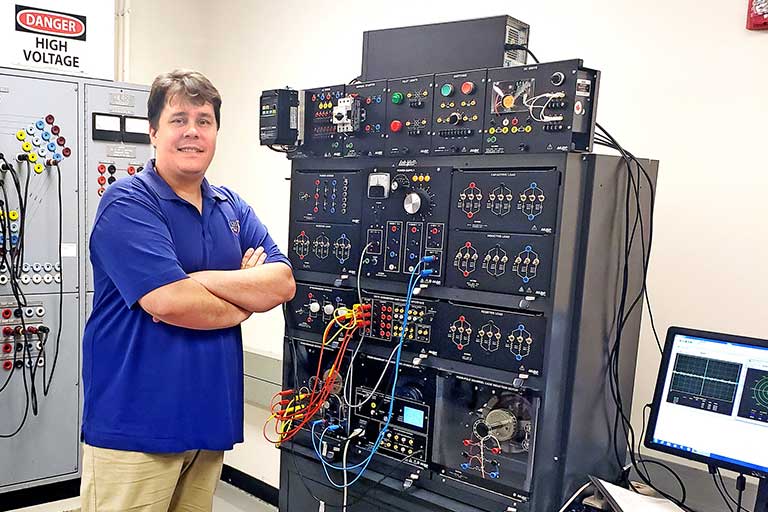 In fall 2013, Joshua Hayes was a factory worker in Russell County. In spring 2020, he will graduate from the University of Kentucky with a degree in Electrical Engineering.
The journey Hayes has taken over the past six years is one he is proud of and one he says he could not have done alone. In fact, he credits an extended "support group" for making it happen. "My success is not my own, but it is accredited to everyone who took the time to care. Who took the time to see potential and help shape it. Who simply took the time."
Hayes' said his first line of support came from his parents, Ellen and Richard Hayes; his wife, Ayla; and from several mentors at Somerset Community College (SCC).
A homeschooled student, Hayes said he went "straight to work," after earning his General Education Degree (GED). After a few years at a factory, Hayes says he was "going to look for another job," when he learned of an opportunity to attend college through the Workforce Investment Act (WIA). (WIA, a federal law, was repealed and replaced by the 2014 Workforce Innovation and Opportunity Act.)
"I never thought I would actually go to college," he said. "I never thought I could afford it. I never thought it was possible..."But, with his wife's support and encouragement, Hayes entered the Electrical Technology program on SCC's Somerset Campus in January 2014. (The program is also taught on SCC's Laurel Campus.)
Program instructors Curt Null and Phillip Moran (now retired) "were just fantastic," he says. "Actually, I've used a lot of what they taught me to help succeed in these (UK) engineering courses."
After receiving his AAS degree and realizing that he could do well in college, Hayes accepted a scholarship to take pre-engineering classes at SCC. Although he had some background in math and science, Hayes said that "chemistry was a challenge" and "I had never laid eyes on calculus."
"Oh boy, that first semester was a tough one," he now says. He credits his success in these classes to his instructors. "Mrs. (Kathy) Lewis was absolutely wonderful," he says. "Every time I felt like I was hitting a brick wall, her slogan was 'You'll be fine.' She told me to step away 25 minutes, take a walk ... come back and look at it with fresh eyes."
Hayes said that the advice worked. "That really changed a lot of my study habits," he says.
Other SCC instructors in the Math and Natural Science division that Hayes gives credit to are Debra House, Billy Dobbs and the recently retired Tony Armstrong. He also says Communications instructor Alyce Grover was one who gave him "the confidence needed to succeed."
But Hayes' accomplishments weren't restricted to the classroom. As a tutor for several areas of study in the Learning Commons, Hayes gives credit to Mary Taylor Huntsman and Bill Phelps for pushing him "a bit further into doing more than just succeeding."
Working as a Student Ambassador with coordinator Melissa Winstead "allowed me to do things that I have never done before, like talk to Holocaust survivor Inge Auerbacher," he said.
However, it was his relationship with the late Margo Hamm that Hayes says he most appreciates. Hamm, who died in 2015, was Associate Dean of Library and Learning Resources at SCC and an advisor and regional coordinator for Phi Theta Kappa (PTK).
"Margo took me under her wing and was one of the first mentors I had," Hayes says. "(She) saw something in me (and) talked me into joining Phi Theta Kappa and I am really glad I did."
After Hamm's death, Hayes "made great friends" and was mentored by Johnna Atkinson-Bigelow , Alena Morrow and Julie Howe.
As vice president of the group's Honors in Action, Hayes and his team captured the top award for their project at the PTK national convention in San Antonio, Texas.
"I never anticipated going to college and I never anticipated doing anything else," he says. "I was like, 'I'm here. I'm gonna get my paper and I'm gonna get out.'"
But, Hayes did much more than simply attend classes at SCC and now says his stay at the community college "was a great experience." "Because of my time at SCC and with PTK, I received a transfer scholarship to UK that has made this dream a reality."
Now at the University of Kentucky, Hayes continues to impress and continues to receive support from those around him...most recently from his peers. He was selected by his classmates as the Outstanding Student in the junior class for 2018-2019.
"People believing in you, that made the biggest difference of anything," he says. "And that's really what you get at Somerset. You get a community of people who believe in you and they invest themselves in you. So, knowing that people have invested that much in you, it makes you work that much harder."
After graduating next May, Hayes says his plans are "to get a job."
And, with his extensive education, his extracurricular experiences, and his growing "support team," it's a safe bet that this this SCC alumni will have no trouble finding a company to invest in him.