American Woodmark Foundation Donates Funds to Support the Skills U Program at SCC
Published on Nov 22, 2019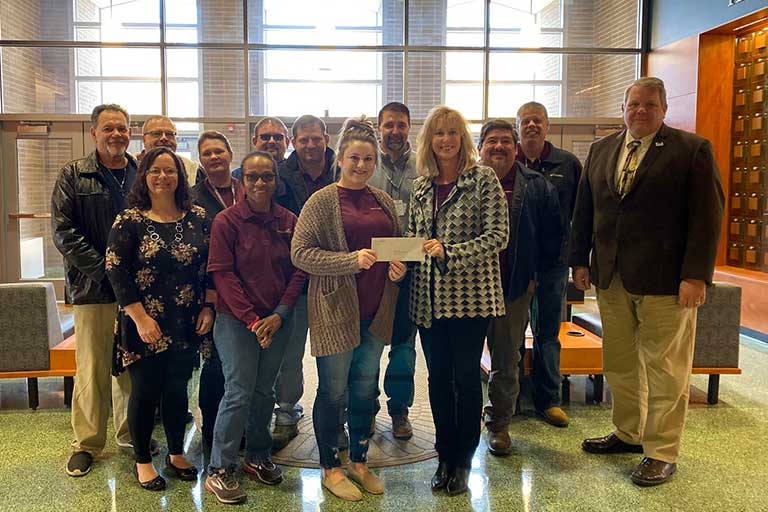 The American Woodmark Foundation recently presented a gift to the Somerset Community College (SCC) Foundation to support the Adult Education Program-Skills U in Wayne County. The funds will be used to assist students with paying the GED (General Educational Development) testing fees.
The American Woodmark Foundation was formed in 1995 to support organizations in the communities where their employees work and live. They have a long history of outreach programs focused on sustaining their communities, helping charitable organizations fulfill their mission and simply being good neighbors.
SCC Skills U program provides free adult education services in many of our surrounding counties. The vision of Skills U is that people in SCC's service area will experience a higher standard of living and quality of life through increased educational attainment. SCC Skills U is committed to providing academic and essential skills instruction to help ensure that adults get the education they need for long-term jobs in high-demand fields that provide sustainable wages.
The Skills U program at Somerset Community College provides an opportunity to earn your GED regardless of how long you have been out of school.
The GED testing program gives adults of all ages a way to demonstrate competency equivalent to a high school education. The GED tests are designed to measure major academic skills and knowledge. The test includes four subject areas tests: Reading/Language Arts, Math, Social Studies, and Science. Every year thousands of people get their GED diplomas.
SCC offers the Skills U program in Casey, McCreary, Pulaski, Russell, and Wayne counties. For more information about Skills U or the new GED plus program at SCC, please contact the Director of Skills U, Cindy McGaha, cynthia.mcgaha@kctcs.edu or call her cell 606-305-9394.
Somerset Community College is a comprehensive two-year institution of higher education. SCC has campuses in Somerset and London, and centers in Casey, Clinton, McCreary, and Russell counties. For admission and program information, visit our website at somerset.kctcs.edu.